Dreger Report: Could Vermette stay put?
In Friday's Dreger Report, Arizona Coyotes centre Antoine Vermette talks to TSN Hockey Insider Darren Dreger about all the trade speculation surrounding him, while some new player percentages are in place as the Toronto Maple Leafs plan out their Mar. 2 deadline strategy.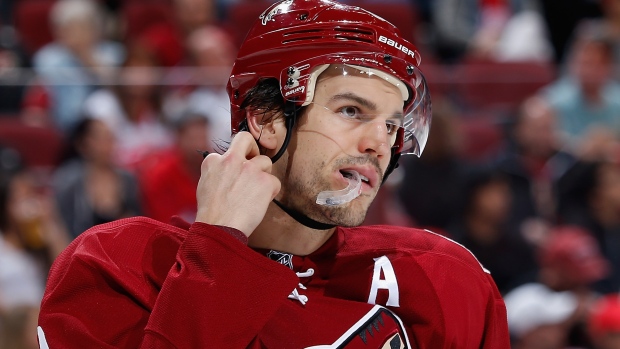 Antoine Vermette's name remains at the top of TSN's Trade Bait Top 10 and will likely remain there until the 32-year-old centre is finally traded.
Vermette has spent much of the season as fodder for ongoing trade speculation, but doesn't seem phased by the daily questioning or uncertainty of his playing future. He's a pro and has wisely avoided the temptation of social media, but he's constantly reminded of the strong possibility of being traded for the third time in his career.
"It comes from people around you, and TSN does a good job of keeping me updated, he told The Dreger Report on Thursday. "But, I'm not focusing on the rumours. It's just part of the situation.
"Being from Canada, I know how passionate fans are. I get that and I just try and deal with it as best I can."
With an 18-month-old daughter and his wife Karen due in June with their second child, Vermette has learned how to roll with the punches over his 12 NHL seasons. He and his family love Arizona, and Coyotes general manager Don Maloney has been up front with him throughout this season - including a discussion prior to the All-Star break.
"We talked about the interest and Don said he would meet with (Andrew) Barroway (new owner) to see if the direction has changed," he explained. "He said there was no guarantee he would wait until the deadline, but he also said he didn't see anything happening quick. It was nice and respectful."
A pending unrestricted free agent who will command between $5 million and $6 million per year on the open market, trade interest in Vermette - a potential rental - remains strong and varied. The Montreal Canadiens, Boston Bruins, Detroit Red Wings, New York Rangers, Anaheim Ducks and Colorado Avalanche are believed to be among a group of teams in the mix, although a steep asking price (which includes a first-round pick and prospect or young roster player) to this point has been more than teams are willing to pay.
And this is one side of the business Vermette chooses to stay out of. He says he has no preference in a move either East or West and when pushed, admitted he was excited about the opportunity that awaits. But he was also careful not to get caught up in the process.
"I don't want to get ahead of myself," he said. "Plus, I like it here and I'm always happy being around the guys."
So, here comes the twist. While this waiting game continues, based on the belief Maloney has yet to receive an offer matching the asking price, we can't excuse the possibility Arizona makes a last-ditched effort to re-sign the highly sought after centre. It's unlikely - and doesn't sound like the path ownership wants to follow - but until Vermette is traded, this remote scenario shouldn't be dismissed.
There's a lot to like in Antoine Vermette, but his birth certificate just doesn't fit with the Coyotes plan to get younger.
Playing The Percentages
The Toronto Maple Leafs' management will not state for the record that the franchise is in full overhaul mode. But it should be accepted as fact.
Ripping through a roster in a rebuild is a calculated process and while Toronto is sure to be active in the days ahead, bigger contracts and more significant pieces (such as Phil Kessel or Leafs captain Dion Phaneuf), if moved, will likely happen during the offseason. Regardless of how they are vilified in Toronto, both are considered outside the market as very good players.
It's also possible that the Leafs' brass manages to acquire players they see as upgrades, with the potential to work with Kessel in the supporting role he's clearly better suited for. So with change imminent, let's revisit a percentage based forecast of Toronto's primary players in play we introduced on TSN's varying platforms earlier this month (Click on the image to enlarge):
From the graphic provided, Cody Franson and Daniel Winnik were given an 85 per cent chance of being traded ten days ago. Tyler Bozak, Joffrey Lupul and Mike Santorelli were grouped in the 60 per cent bracket, followed by Nazem Kadri, Jake Gardiner and James Reimer at 30 per cent. Phaneuf and Kessel checked in at 20 per cent.
Now for the new chart we put together on Friday afternoon:
Likelihood Of Deadline Trade - Updated Feb. 13
| Player | Age | Pct. |
| --- | --- | --- |
| Cody Franson, D | 27 | 85% |
| Daniel Winnik, LW | 29 | 85% |
| Mike Santorelli, C/RW | 29 | 85% |
| Korbinian Holzer, D | 26 | 75% |
| Joffrey Lupul, LW | 31 | 60% |
| Tyler Bozak, C | 28 | 60% |
| Jake Gardiner, D | 24 | 30% |
| Nazem Kadri, C | 24 | 30% |
| James Reimer, G | 26 | 30% |
| Dion Phaneuf, D | 29 | 20% |
| Phil Kessel, RW | 27 | 20% |
| Jonathan Bernier, G | 26 | 20% |
| James van Riemsdyk, LW | 25 | 5% |
| Morgan Rielly, D | 20 | 0% |
This updated version shows that in the case of Franson, Winnik and Santorelli, the percentage of each pending unrestricted free agent getting dealt is inching higher with the deadline looming. Phaneuf and Kessel remain at 20 per cent because of the financial burden of their contracts. However, look for their trade percentages to jump to at least 50 per cent in the offseason.
Jonathan Bernier and James van Riemsdyk have been added to the new chart based on teams calling with interest. Now Toronto is more likely to re-sign Bernier than trade him, but because of a rebuild strategy, such a move can't be ruled out. Understandably, there's tons of interest in van Riemsdyk, but because of his age and talent there's a low percentage chance of him being shipped out.
Morgan Rielly's name appears only to illustrate he's the lone Leaf who should be viewed as untouchable.
So far, the blockbuster deal between the Winnipeg Jets and Buffalo Sabres has had little impact on trade activity, but discussions on the usual suspects identified on our Trade Bait Top 10 seem to be intensifying. Be sure to check out Insider Trading on Monday on SportsCentre and TSN.ca as our march to the Trade Deadline picks up pace.