Dreger Report: Keller staying focused after strong start
The Arizona Coyotes rookie has heard the Calder Trophy chatter amid his impressive start, but he remains focused on his meticulous daily practice and game routine, TSN Hockey Insider Darren Dreger writes.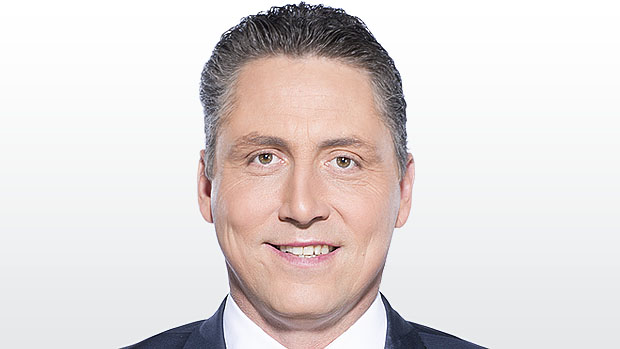 As we were setting up for Mike Babcock's visit to the Dreger Cafe at the World Men's Hockey Championship in Paris last May, the Toronto Maple Leafs head coach gave a quick overview of his stop in Cologne, Germany, where Team USA played its preliminary round.
Babcock said he couldn't take his eyes off of Clayton Keller. The diminutive forward's combination of speed, skill, determination, confidence and hockey IQ gave the veteran coach a sense that Arizona's 2016 first-round draft pick (seventh overall) had the skill set to be a star.
Keller scored five goals and seven points in eight games at the World Championship, serving notice he was ready to play pro and that the National Hockey League would be his next challenge.
Now 18 games into his first full NHL season, the 19-year-old is the early front-runner for the Calder Trophy. With 11 goals and 17 points in 18 games, Keller has quickly established his place among the Coyotes' most dangerous players.
He's heard the chatter and read some of the commentary suggesting he's the man to beat for rookie of the year, but Keller wants no part of it and looks at the individual praise as a distraction. Instead, he prefers to stay in his lane, remaining focused on his meticulous daily practice and game routine. He's willing to acknowledge an impressive start, but pays respect to those around him for making it possible.
"I've been put in a lot of great situations. Me and coach [Rick] Tocchet have a really good relationship and he's been great to me," Keller told the Dreger Report. "He trusts me and puts me out there in key situations and also my linemates have made it easy on me. Sometimes if I'm not in the right spot they're there to help me out. Just little things like that. So it's good to have the start that I'm having, but we're more focused on the team and I believe we're moving in the right direction."
Growing up in the St. Louis area, Keller had the privilege of playing for Keith Tkachuk, Jeff Brown and, for a short time, Blues great Al MacInnis. He credits these men for instilling a work ethic and unselfishness that has helped him develop so quickly.
"I think that was huge," he said. "All of us players now are unselfish and like to pass the puck because that was how we were taught and it just kind of stuck with us."
A student of the game, Keller embraced technology and feasted on a steady diet of watching YouTube highlights or nightly games, fixated on goals and assists generated by some of his favourite players, like Patrick Kane and Johnny Gaudreau. Keller wasn't watching as a normal hockey fan, he was studying every detail in an effort to improve his own game.
"I watched both those guys to see the way they created offence...how they used their body position...their speed and their shot," Keller said. "I really tried to watch their games and see how they create offence and get around guys and just little plays that really make a huge difference. It's cool to see other small guys have success and I try to emulate my game after them.
The Coyotes chart Keller at 5-foot-10 and 168 pounds. By NHL standards he's described as an undersized forward. He's always been a highly skilled and productive player, so his stature has never been a deterrent. In fact, Keller has channelled any discussion on his size into motivation.
"I got told when I was younger, a couple of times because I'm a little bit smaller, I have to work twice as hard just because of my size," he said. "That motivated me and kind of pushed me a bit – just knowing the bigger guys can get away with some things and I needed to be really detailed and take care of myself in every possible step, like shooting extra pucks or going down to the basement once more than the other guy and just try and work on an advantage because of my size."
TSN Director of Scouting Craig Button once said he doesn't scout with a tape measure, and Button's opinion on Keller during the U18 championship in 2016 and before his introduction to the NHL now seems prophetic.
"He's elusive. He's got great vision. He's got great hands, great competitiveness, quickness, speed and everything. It will be easy to track Clayton Keller in the NHL because all you're going to have to do is pick up the scoring stats every morning...because he will be in the top 20," Button predicted.
Keller is currently leading the rookie scoring race with Brock Boeser, Mathew Barzal, Jesper Bratt, Mikhail Sergachev and Will Butcher among the group of first-year players all hot on his trail.
Immersed in the sport at a young age, Keller's father, Brian, a St. Louis Blues season-ticket holder, took his son to countless games, including one Clayton recalls as a highlight when longtime Blues defenceman Barret Jackman, winner of the 2003 Calder Trophy, gave him his first NHL puck. His passion for the game grew from there.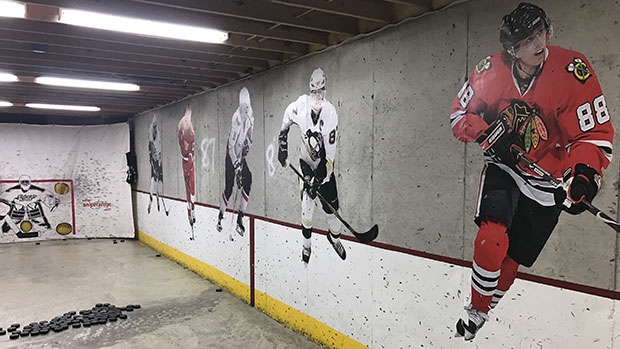 Keller spent hours shooting pucks in the family's basement arena. It's a hockey oasis, decorated with a collection of Fathead posters featuring the NHL's brightest stars. Evgeni Malkin, Pavel Datsyuk, Alex Ovechkin, Sidney Crosby and Patrick Kane provided the inspiration for this developing young talent and, despite falling to the Penguins Tuesday night, Keller – a fierce competitor – still allows himself to recognize how lucky he is.
"Even today, I was in my basement and I was looking at the wall and thought, 'Wow, I just played against them,'" he said. "It's definitely something that is pretty cool to see, but at the same time you just have to think about it as just another game and not worry about the other team...just go out there and play your game."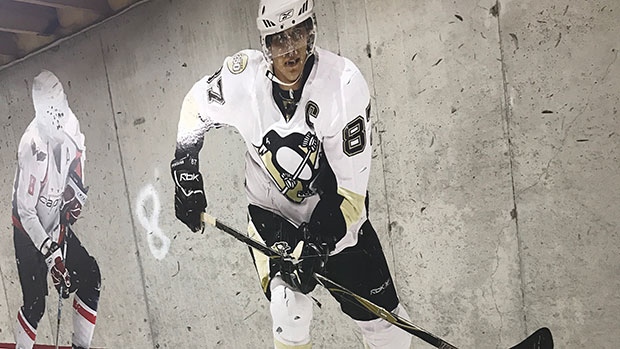 Keller was kept off the scoresheet in the 3-1 loss, while Malkin factored in all three of the Pens goals. Yet, as impressive as Malkin was, Keller was focused on Crosby. Encouraged by Tocchet, Clayton paid close attention.
"Just little things around the net. You see Crosby and how good he is with his stick in front in tipping pucks and what he does on the power play when he gets it low," Keller said. "There are so many things in his game you can take out and try and put into yours. He's the best player in the world, so you definitely try and watch everything that he does all around the ice."
A product of the highly acclaimed prep school Shattuck-St. Mary's, Keller spent two years in the U.S. National Team Development Program before becoming a standout at Boston University. He knew he was good enough to play in the NHL, so adjusting to the speed of the pro game hasn't been an issue. The biggest challenge for Keller has been the daily grind.
"The schedule has been pretty tough this year for us," he said. "It's been an adjustment for me. Last year, I only played 35 games in college and this year we've already almost played 20. It's pretty crazy, but you get used to it. You just have to take care of your body and get the right food and get a good night sleep every night."
That's his in-season focus. Off-season, when not working out, Keller plans on taking advantage of the abundance of golf courses in Arizona.
A 3 handicap, Keller says golf is the sport he would have pursued if it wasn't for hockey.
"I think I could have been pretty good at golf. If hockey wasn't in the picture I would have tried to get a scholarship somewhere for golf," he said. "The best part of my golf game is my short game...around the greens and chipping, so I can definitely see a relationship between hockey and golf in that sense."
Obviously, Keller is hoping to delay the start to his golf season as long as possible. While the Coyotes haven't enjoyed the start to the season they were hoping for, the team remains hopeful. With the collection of quality young players Arizona has gathered, the future has to be brighter.