Dubnyk stops all 30 shots as Wild blank Flames
Zach Parise scored the only goal and Devan Dubnyk stopped all 30 shots he faced Thursday night as the Minnesota Wild picked up an important two points with a 1-0 victory over the Calgary Flames. The goal, Parise's sixth in his last six games, came halfway through the first period.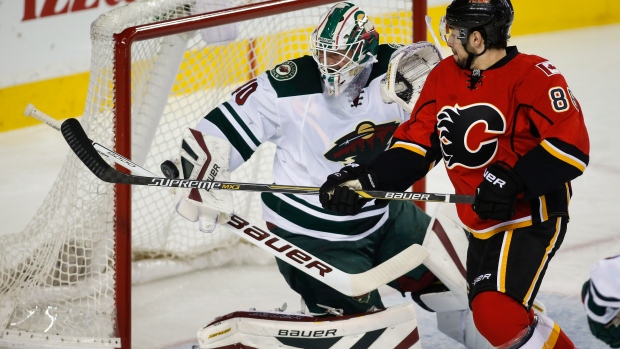 CALGARY - Minnesota Wild goaltender Devan Dubnyk hasn't changed a thing since being acquired in a trade with the Arizona Coyotes.
What has changed is he's playing in meaningful hockey games.
Zach Parise scored the only goal and Dubnyk stopped all 30 shots he faced Thursday night as the Wild picked up an important two points with a 1-0 victory over the Calgary Flames.
The win moves Minnesota (22-20-6) within five points of the Flames and the second wild card spot in the Western Conference.
"It's fun to play important games," said Dubnyk. "I was happy with the way my game was in Arizona so I wanted to really concentrate on sticking with the same things I was doing there that was helping me be successful there."
Dubynk's best stops came in the third period as the Flames — who lead the NHL with eight wins when trailing after two periods, generated several dangerous chances in trying to pull out yet another comeback win.
Six minutes in, Johnny Gaudreau got around Jared Spurgeon and fired a dangerous wrist shot at the top corner that Dubnyk caught with his glove. With six minutes left in the period, Dubnyk thwarted Paul Byron on a clear breakaway.
Then, as the final couple seconds ticked off the clock, he jabbed out his pad to rob Mikael Backlund at the side of the net.
After the game, Dubnyk was asked which chances stood out.
"I think the breakaway is the obvious one," he said. "They kept trying to stretch guys and finally got one. I got a toe on the puck with about two seconds left at the side of the net. I guess that probably turned out to be the most important one."
The 2004 first round draft pick by the Edmonton Oilers was acquired from the Coyotes on Jan. 14 in exchange for a third round draft pick. Minnesota is his fourth team in the past two years.
Dubnyk provided the stability in net that the Wild were not getting from Darcy Kuemper or Niklas Backstrom. With five out of six points so far, Minnesota wraps up its four-game road trip Sunday in Vancouver.
"I think we owe a lot to Dubnyk tonight. He bailed us out on a lot of different breakdowns we had. He was really good," said Parise. "We've got a long ways to go but playing against these guys tonight, like we said this morning, five looks a lot better than nine had we lost this game. It's a good start to the trip."
Calgary (26-20-3) falls to 1-1 on a six-game homestand, which continues Saturday against the Edmonton Oilers.
"Close, man," said Calgary defenceman Mark Giordano. "(Jonas Hiller) played awesome. Their guy played awesome. One bad mistake — I made a bad one in the first there — and they get a goal. At the end of the night, that's the mistake that cost us."
The goal, Parise's 20th goal of the season and sixth in his last six game, came at 8:59 of the first period.
Attempting to send a cross-ice pass from his own corner, Giordano's pass was knocked down by Thomas Vanek and immediately picked up by Parise all alone in front, who quickly tucked a shot through Hiller's pads.
It was the first time Calgary has been shutout this season after going 71 games since last being blanked.
Hiller, spectacular at times himself, finished with 31 stops to fall to 14-14-2.
"It was one of those nights — I thought Dubnyk played well and we didn't get the bounces. It happens," said Hiller. "We have to stay positive. I thought we played well. If we play like that every night, we have a chance every night and that's what we need."
Notes: Just called up from Iowa (AHL), Minnesota D Matt Dumba played in his hometown for the first time in his NHL career. His parents and brother were in attendance... Dumba took the spot of Christian Folin, who along with Erik Haula were healthy scratches... Byron has gone 28 games without a goal while LW Brandon Bollig has no goals on the season in 41 games... The Flames have scored 59 third period goals, tied with Tampa Bay for most in the NHL. They've only given up 32.