Duchene and Landeskog haven't clicked in Colorado
The numbers show the talented forwards and frequent linemates just don't work well together, Travis Yost writes.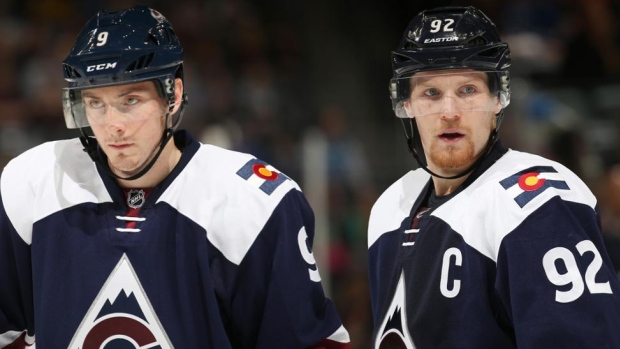 Although the NHL off-season has entered a near hiatus for the next eight weeks, we're still waiting for the shoe to drop on a couple of expected moves. One of those concerns the fate of Matt Duchene in Colorado.
Duchene's name has been on the trade block for some time. It's not entirely clear if Colorado just wants to move on, thinks his game has regressed, or thinks he's the piece that can land the franchise a badly needed defenceman. Whatever the case, it seems more likely than not he'll be moved at some point this season.
Duchene is a tremendously interesting trade name. We're talking about a 26-year-old centre who has averaged 25 goals per-82 games over the last four seasons. Players of this calibre aren't made available often, and he's arguably the best name available for teams looking to upgrade down the middle.
One of the things I keep coming back to in a hypothetical Duchene deal is why the Avalanche seem so eager to move on. The franchise is in a full-blown rebuild, sure, but Duchene is a player in his mid-20s on a reasonable contract through the 2019-20 season. Colorado isn't really trading out of a position of strength here, either. Duchene is coming off of his worst season and the Avalanche are coming off of their worst season. It's the exact sequence you're looking to avoid when trying to trade a player at his maximum value.
There are some interesting quirks with Duchene's game though, and that's especially true on the offensive side of the ice. One of the things I've noticed watching the Avalanche, especially during last season's debacle, is how deferential he had become on the ice. When Duchene first came into the league, I looked at him as a pretty balanced centre – a player who would generate as much shot activity as he would create for his teammates. Lately, and last season in particular, Duchene has trended towards the latter.
I'm not sure this is what you want from a player who is a career 11.2 per cent shooter at 5-on-5 (which is equivalent to Brad Marchand and better than Tyler Seguin and T.J. Oshie, for those keeping track at home). You'd like to think that the offence should be funneling through Duchene and not away from him, but that hasn't been the case.
On the deference point: Here are the percentage of shots Duchene's taken at 5-on-5 over the last four seasons. Here, 20 per cent would indicate one in every five shots generated with Duchene on the ice was taken by Duchene himself. You can see that this is a pretty steady downward trend from where it was even a few years ago.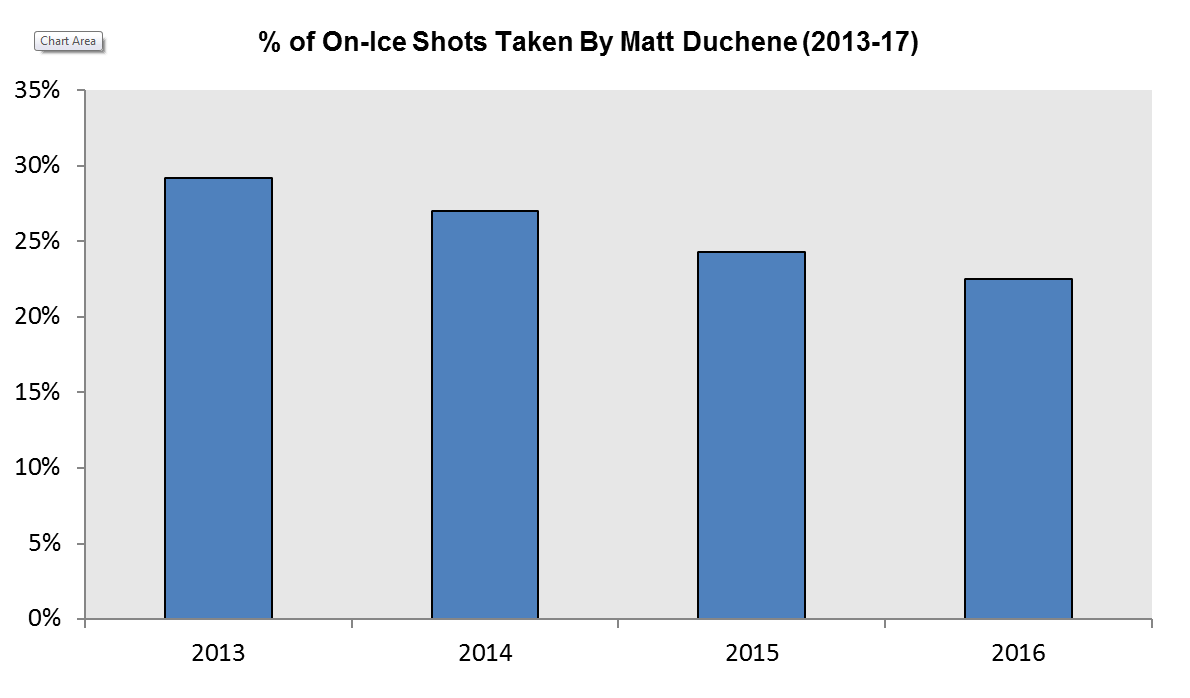 Keep in mind that forwards are responsible for generating nearly 70 per cent of total shots across the NHL. So Duchene taking only 22 per cent of on-ice shots last year meant that 78 per cent of shots were taken by either his wingers or defenders.
Now, that in and of itself isn't bad. If Duchene had an elite scorer on his wing (he doesn't), you'd expect his percentages to be pretty flat. If you had a shot-generating defender like Brent Burns or Erik Karlsson on the Avs, you'd expect the same thing. Duchene doesn't have that either.
The question you might ask: How weird is it for a player to see his shot share percentage consistently drop over multiple seasons? Well, it's pretty rare. There are only about 20 other players who have similar looking drop-offs, and some of them – like Ryan Johansen (great linemates), Joel Ward (age), and Brian Gionta (also age) – have perfectly explainable situations.
But here's another name on that list: Duchene's teammate Gabriel Landeskog.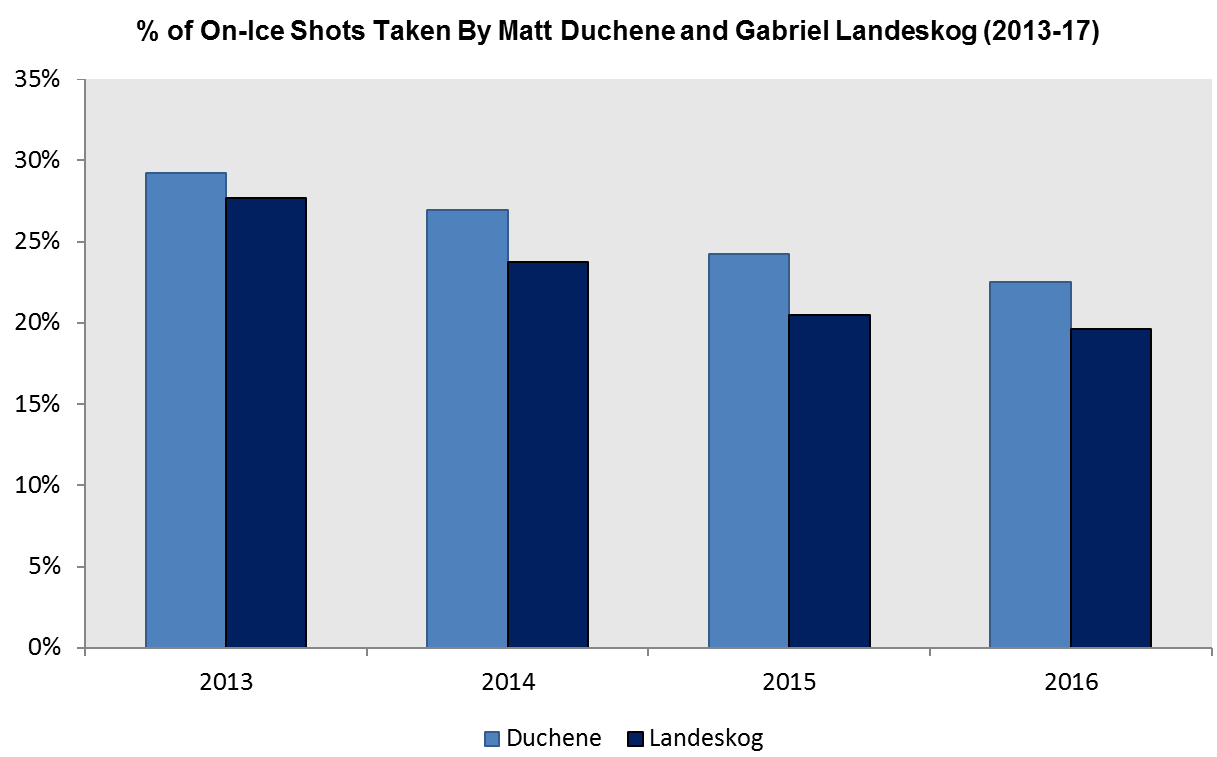 Two players, on a reasonably talent-void team, have suddenly started to take fewer and fewer shots as a fraction of the total shots Colorado's generated. That's peculiar.
Duchene and Landeskog, of course, are no strangers to one another. They aren't just teammates, they're also frequent linemates. Landeskog is Duchene's fourth most common linemate over the last four seasons; Duchene is Landeskog's second most common linemate over the same interval. They have played more than 20 per cent of 5-on-5 minutes together, so although it's not Patrice Bergeron/Brad Marchand frequency, it's still material.
One of the things I wondered about in light of the above is whether or not Colorado has a chemistry issue. Not only have Duchene's offensive numbers gone into the tank, but so too have Landeskog's – this is a guy who has seen his scoring slip in four consecutive years, eerily similar to his shot share decline. Is it possible that Duchene and Landeskog – for whatever reason – just don't work well as teammates?
An easy way to check this off is to measure how well they have scored as a unit together in comparison to other possible linemates. Here, you have the per-60 goal scoring rates for Duchene with every regular teammate including Landeskog. This is ordered by frequency of minutes played together, so I'd focus on the guys towards the left of this graph – where sample size really isn't as much of an issue.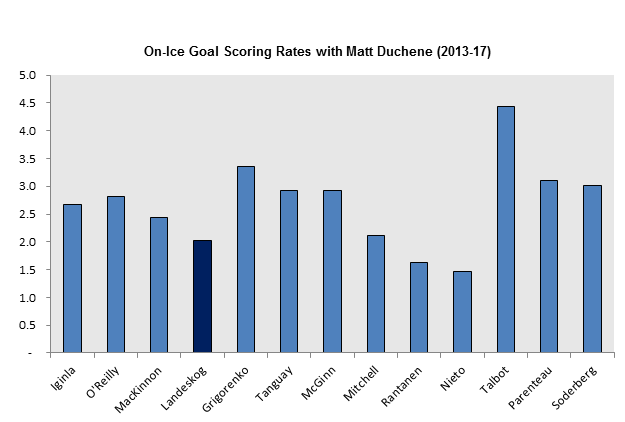 This is a pretty big red flag. I get that Landeskog has been forced into some tougher defensive minutes over the years, but that goal-scoring rate – just two goals per-60 minutes – is remarkably low. Duchene has had better success with guys like Alex Tanguay and Jamie McGinn and John Mitchell, none of whom were in the primes of their respective careers when they were taking regular shifts for Colorado. (Also, though it's not the focus of this post, the defence of the duo doesn't balance the lack of goal-scoring – Duchene and Landeskog have been outscored when paired together.)
So, what's my end theory? There might be a million things that can, in part, explain why Duchene and Landeskog have offensively degraded over time. But one of those reasons sure seems to be that neither really excels when playing with the other. And the increased deference in both players has created situations where Colorado struggles to score when they are on the ice.
Remember my point about forwards taking nearly 70 per cent of total 5-on-5 shots? Here is the percentage of shots taken by Duchene with Landeskog, Duchene with MacKinnon, and Landeskog with MacKinnon over the same interval: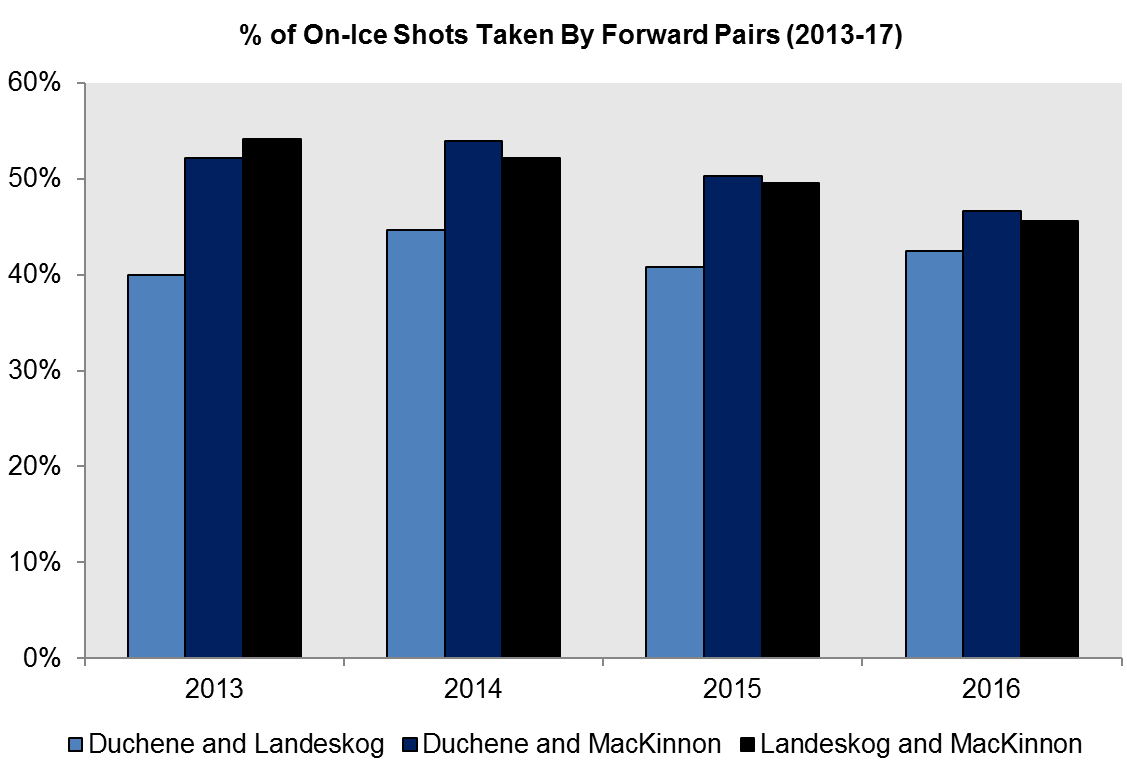 Last year the three groups came closer together, but the larger point this graph makes is that whenever Duchene and Landeskog playing together, about 60 per cent of the shots are taken by a combination of the team's third forward (who is almost certainly going to be the worst of the three forwards on the ice) and a pair of defenders. This is a fantastic way to suppress your goal-scoring rates, though it's obviously not Colorado's intention.
When these guys get away from one another and with more offensive-oriented players, look at how their collective shot shares spike. When Duchene plays with MacKinnon, for example, that third forward plus defenders combination is only getting about 45 per cent of shots. And roughly the same thing is true when Landeskog and MacKinnon play together.
All this to say: If you are a team interested in acquiring Duchene, I'd take a long and hard look at why Duchene has become more passive in the offensive zone. Clearly there are team-level issues (and quite possibly chemistry issues with one of his most common linemates), but you would like to see Duchene try to carry more of the offensive burden for an Avs team that just doesn't have a lot of top-end talent. Easier said than done, but there's plenty of opportunity here.
It seems like Duchene's a goner, but in the possibility he sticks around, head coach Jared Bednar and company might want to kill the Duchene/Landeskog tandem for the time being. If they want to keep playing Landeskog in tough minutes, let him do it away from Duchene. The two just simply haven't worked together.