Ducks use power play to rout Senators
Antoine Vermette and Corey Perry each had a goal and an assist and the Anaheim Ducks scored a season-high three power-play goals to beat the Ottawa Senators 5-1 on Sunday.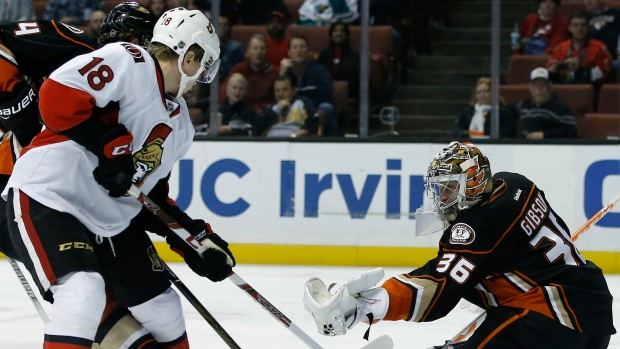 ANAHEIM, Calif. — Veteran Antoine Vermette is managing to look every bit as fresh as his 21-year-old linemates.
Vermette and Corey Perry each had a goal and an assist, and the Anaheim Ducks scored a season-high three power play goals to beat the Ottawa Senators 5-1 on Sunday afternoon.
Joseph Cramarossa, Sami Vatanen and Vermette's linemate Nick Ritchie also scored for the Ducks, and John Gibson made 21 saves.
"He's a dominant centre iceman with the puck and that's a huge advantage," Ducks coach Randy Carlyle said of Vermette, his third-line centre. "And we like to play into that."
Ryan Dzingel scored for the Senators, who lost their second straight game in Southern California. Mike Condon made 10 saves before being removed for Andrew Hammond in the second period. Hammond made 16 saves.
"Trying to get something and give Hammond some ice time, too," Senators coach Guy Boucher said. "We had Condon starting the game, we wanted to see what it would look like to get him in on a back-to-back. If our players were in the game and we're playing very good, with the same score I probably would have done something different. But I saw right away that our guys just weren't in this game."
Boucher lamented the team's lack of effort the day after a 4-1 loss in Los Angeles.
"It was a no-show all around. Not good," Boucher said. "We wanted to rebound from yesterday. We played a hard game yesterday and it didn't turn out our way but we didn't give much to the opponent and played a physical game. Today, we didn't play a physical game at all."
The 34-year-old Vermette facilitated Ritchie's goal with a beautiful backhand pass into the slot at 10:29 in the second period, giving the Ducks a 4-1 lead — 21-year-old linemate Ondrej Kase also assisted on the tally.
Vermette capitalized on the power play with 47 seconds left in the first period to make it 3-1.
"Nothing too special," Vermette said. "We want to create some shooting lanes with good positioning, we have our setup and good players on the team. It's a matter of executing and eventually the puck goes in. Tonight was one of those nights."
Vatanen closed the scoring with a power-play goal off the crossbar at 7:59 in the third period.
Perry scored his first power-play goal of the season at 12:05 in the first to break a 1-1 tie. Perry has scored twice in the last three games after going 18 games without a goal.
Dzingel scored at 7:53 in the first when he finished off a feed from the corner boards by Bobby Ryan, momentarily tying the game at 1-1.
Cramarossa scored on a rebound 2:58 into play to give the Ducks a 1-0 lead.
"We wanted to have a strong first period, give ourselves a chance with a good strong start," Ducks coach Randy Carlyle said. "Get our skating game going, get our forechecking game going. Then we can build on it the rest of the game."
The Ducks have won three in a row at Honda Center.
"We had a pretty strong homestand up until this point, and we wanted to win another one before hitting the road," Ritchie said. "That's a big win for us heading out for a six-game road trip."
NOTES: Ottawa's Mark Borowiecki served the first game of his two-game suspension for a boarding hit on the Kings' Tyler Toffoli. ... The Senators gave up three power-play goals for the third time this season, including Saturday night in a 4-1 loss to the Kings. The other time came on Nov. 29 in 5-4 loss to Buffalo. ... Anaheim D Korbinian Holzer and RW Jared Boll were healthy scratches. ... Ottawa RW Buddy Robinson was a healthy scratch. ... Ottawa G Craig Anderson remained away from the team for the third straight game on personal leave with his wife as she undergoes cancer treatments.
UP NEXT
Senators: Return home to host the Sharks on Wednesday.
Ducks: Open a six-game road trip in Dallas on Tuesday.