Durant denies malice in Aldridge closeout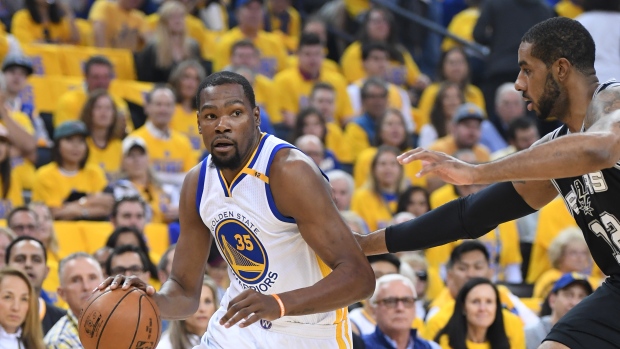 With bad blood running high between the Golden State Warriors and San Antonio Spurs following the injury to Kawhi Leonard in Game 1 of the Western Conference Finals, Kevin Durant said he didn't think there was any malice in a closeout by LaMarcus Aldridge in the second quarter of the Warriors' Game 2 blowout win.
"Bigs are not used to being out on the perimeter and guarding guys out on the perimeter," Durant said. "Basically their whole thing is to give you space, and when you pull up, they just contest. That's just part of the game, it's been happening forever since I've been in the League."

As Durant attempted a three-pointer, Aldridge came in under Durant's landing foot in a manner similiar to that of Zaza Pachulia on the play on which Leonard rolled his ankle and was forced out of Game 1.
Durant believes that Aldridge's inexperience with perimeter defending was the reasoning behind the closeout.
"Bigs just try to contest shots and sometimes that stuff may happen," Durant said. "But it's not on purpose at all. You know LaMarcus. He's a standup guy. He just plays the game the right way. It wasn't anything more than that."
Meanwhile, Spurs coach Gregg Popovich called out Aldridge after the 136-100 loss, demanding more out of the 31-year-old Dallas native after he finished with only eight points.
"LaMarcus has got to score for us," Popovich said. "He can't be timid. He turned down shots...He's got a major responsibility in Game 3.
Game 3 of the best-of-seven series goes on Saturday night at the AT&T Center. The Warriors lead the series 2-0.