Eight starting pitchers the Blue Jays could target via trade
In their pursuit of controllable starting pitching, the Toronto Blue Jays will have to send significant pieces the other way and that likely means finding redundancies within the farm system to target these eight starting pitchers in trades this off-season, Scott Mitchell writes.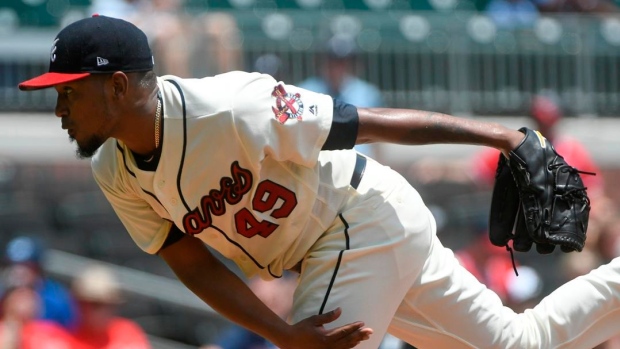 CARLSBAD, Calif. — Let's start with this caveat: It's really hard to trade for controllable starting pitching because no one has too much of it and everyone is looking for it.
That's going to make Blue Jays GM Ross Atkins' search for it this off-season a difficult one.
If it's a controllable arm coming back, it means significant pieces are going to have to go the other way.
In other words, you're parting with prospects, not just roster fodder (although Ken Giles is an interesting trade chip given his strong finish to the season).
That likely means finding redundancies within the farm system — there's lots of middle infielders — and Atkins turning that surplus into what they lack, which is pitching.
Looking around the league, here are eight starting pitchers the Blue Jays could target in trades this off-season:
RHP Julio Teheran, Atlanta Braves
The Braves organization has been stockpiling pitching depth during their rebuild, and they're all starting to bubble up to the top of the system as Atlanta has turned into a contender. That may make a guy like Teheran expendable. Heading into his age-28 season, the Columbian righty is under team control for two more seasons before he's set free in the winter of 2020 in the same free-agent class as Marcus Stroman and Aaron Sanchez. Teheran has oscillated between really good and mediocre, similar to the Blue Jays duo. In 2017, Teheran pitched to a 4.49 ERA, but he bounced back a bit this season to register a 3.94 mark, allowing just 122 hits in 175.2 innings. Even though he was tough to hit, Teheran was worth just 0.7 fWAR and his 4.83 FIP doesn't paint as pretty of a picture. Teheran is scheduled to make $11 million in 2019 and $12 million in 2020.
LHP Steven Matz, New York Mets
With new GM Brodie Van Wagenen taking over, changes are likely on the horizon in Queens. As of right now, their rotation would be Jacob deGrom, Noah Syndergaard, Zack Wheeler, Matz, and veteran lefty Jason Vargas. It wouldn't be surprising to see one or two of those arms traded if Van Wagenen wants to put his stamp on the Mets this winter. A 27-year-old lefty under team control through 2021, Matz has groundball-leaning tendencies (career 48.9 per cent), something the Jays front office is into.
RHP Jon Gray, Colorado Rockies
The third overall pick in the 2013 draft, Gray looked to be breaking out in 2017 with a 3.67 ERA and 3.2 fWAR, which was supported by a 3.12 FIP over 20 starts. He couldn't ride that momentum into 2018. Gray posted an ugly 5.12 ERA across 31 starts, but the underlying numbers paint a much more interesting picture of the big 27-year-old righty. The Oklahoma native struck out 9.6 K/9 and walked just 2.7 BB/9, but was hurt by home runs, allowing 27 of them in 172.1 innings pitched. Gray is arbitration eligible for the first time this winter.
LHP Danny Duffy, Kansas City Royals
Signed to a five-year, $65-million backloaded contract in January of 2017, Duffy responded with a 3.81 ERA and a 3.5 fWAR season that summer. In 2018, he went backwards, walking way too many hitters and registering a 4.88 ERA. The Royals are in full-on rebuild mode, so the southpaw with the career 3.92 ERA is a phone call away. Heading into his age-30 season in 2019, Duffy is owed $46 million over the next three years, which is right in the range of what J.A. Happ might get in free agency.
RHP Tyler Chatwood, Chicago Cubs
Saying the three-year, $38-million deal the Cubs signed Chatwood to last winter was a swing and a miss would still be a giant understatement. Amazingly, the right-hander ended up walking more batters (8.3 BB/9) than he struck out (7.4 K/9), which is really hard to do, and Chatwood made 20 starts on the north side before losing his rotation spot. If the Cubs sent over a bunch of cash to offset the $25.5 million remaining on his deal, he could be an interesting — and mostly free — reclamation project, if only because of his extreme groundball rate (career 54.7 per cent).
RHP Michael Fulmer, Detroit Tigers
Rumoured to be on the move for a couple of winters now, the rebuilding Tigers may finally pull the trigger over the next six weeks. Heading into his age-26 season, Fulmer already has 75 MLB starts under his belt, pitching to a 3.81 ERA over 456 innings. His strikeout totals underwhelm (career 7.0 K/9) but the right-hander was worth 3.0 WAR in 2016 and 3.5 in 2017, before registering a disappointing 4.69 ERA in 24 starts this season and finishing the year on the disabled list with a knee injury. The most attractive aspect is that he's heading into his first arbitration year and is controlled through the 2022 season, which aligns nicely with the competitive window the Jays are hoping to re-open by 2021.
RHP Zack Godley, Arizona Diamondbacks
After a breakout 2017 season that saw this groundball artist pitch to a 3.37 ERA, Godley suffered through some bad luck this season, finishing with a 4.74 ERA across a career-high 178.1 innings. With his strikeouts (9.3 K/9), groundballs (career 51.6 per cent) and low home run totals (only 16 allowed in 2018), he's the type of pitcher that you would think could succeed in the AL East. He's also going to cost a lot to trade for thanks to four more years of control.
RHP Danny Salazar, Cleveland Indians
If the Indians are really going to entertain offers for studs Corey Kluber and Carlos Carrasco, an under-the-radar target might be this oft-injured arm. When healthy, Salazar's stuff is nasty, but the problem is he's rarely on the mound. Shoulder troubles shut him down this year after 103 innings, but he struck out 145, showing off elite swing-and-miss ability. There's top-of-the-rotation potential if his arm doesn't fall off, and obvious familiarity with the Cleveland connection. Heading into his age-29 season, Salazar made $5 million in 2018 and is under control for two more years.