English paper says Toronto FC has lowered price tag on Defoe
An English newspaper says Toronto FC has reduced the price tag on striker Jermain Defoe. The tabloid Daily Mirror says Toronto has slashed its asking price from six million pounds (C$10.8 million) to three million ($5.4 million).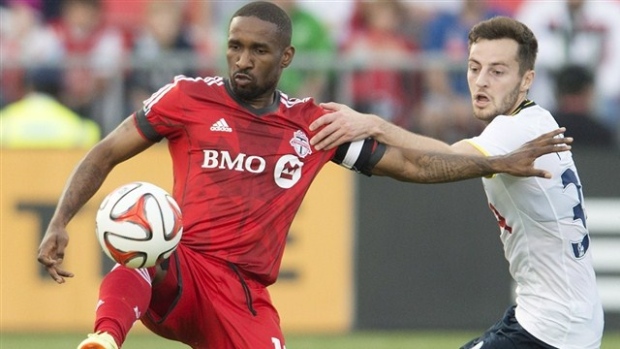 TORONTO - Time is ticking on Jermain Defoe and there are a lot of moving parts for Toronto FC.
While reports focus on Toronto's price tag for the England striker, The Canadian Press has learned that a Defoe sale is part of a series of complicated moves designed to strengthen the MLS club on a number of fronts.
Toronto has several legitimate offers on the table for Defoe. But rather than a strict sale, it is currently looking at a cash and swap deal that will bring a viable striker in return and start a domino effect elsewhere on the roster.
U.S. international striker Jozy Altidore, currently with Sunderland, is high on the TFC shopping list.
The club will then use the cash to help pay for a creative, attacking midfielder with Toronto identifying two possible marquee targets, both of whom would not be available until July 1. That wish list for a No. 10 includes a highly touted "impactful" player in his 20s currently plying his trade in Europe.
Essentially Toronto is working on a string on deals — coming to terms with MLS headquarters, Defoe and the team buying Defoe, the targeted attacking midfielder and his club, and two other players.
Toronto also has its sights set on Real Betis defender Damien Perquis, a 30-year-old French-born Poland international. Reports in Italy have also suggested an interest in 27-year-old Juventus forward Sebastian Giovinco.
While the transfer window for English clubs does not close until the end of the month, Toronto is working on a tighter internal deadline. Defoe is due to report back next Saturday and the team does not need a repeat of the drama that surrounded the striker at the end of the summer transfer window.
The team is exploring other trade options with the league and has bargaining chips with five of the first 37 picks, including Nos. 6, 9 and 11, at next week's MLS SuperDraft in Philadelphia. Whatever happens, the club should emerge with some young, inexpensive talent from the draft.
Star midfielder Michael Bradley, like Defoe a designated player, is being kept up to date on all the moves and is involved in the decision-making.
Should Toronto achieve all its goals, it will need a DP slot come July 1, since the replacement striker and attacking midfielder would bring TFC's DPs to four.
Brazilian striker Gilberto is currently Toronto's third and last DP. There is the hope that the league might institute some kind of hybrid fourth DP slot which would solve Toronto's numbers problems. If not, something would have to give with the Brazilian in the crosshairs.
While it has its eyes set on a new set of stars, Toronto appears to be taking a more holistic approach to the roster heading into the 2015 season. In the leadup to the 2014 campaign, Toronto made a loud splash with Defoe, Bradley and Gilberto but failed to address holes and lack of depth elsewhere in the squad.
The 32-year-old Defoe is currently on a one-week training stint with Tottenham as he continues his rehab from a groin injury.
Defoe started 2014 with a bang and proved, that when healthy, he can score in MLS — with 11 goals in 19 appearances. But injuries forced him to the sidelines the second half of the season and the club finished out of the playoffs for the eighth straight year with an 11-15-8 record.
While more than a few Premier League managers have publicly mulled over Defoe and Toronto's price tag, the MLS club has insisted that it will only move him for a fair price.
Nevertheless, an English newspaper has reported that Toronto has reduced the price tag on Defoe. The tabloid Daily Mirror says Toronto has slashed its asking price from six million pounds (C$10.8 million) to three million ($5.4 million).
That goes against GM Tim Bezbatchenko's recent declaration that good strikers are hard to find and come with a "market price" in the January transfer window.
January is traditionally a seller's market. Reliable, experienced strikers are hard to find and, while expensive, their price tag pales in comparison to the money a team can lose by falling out of the Premier League.
Follow @NeilMDavidson on Twitter