Ennis taking advantage of chance with Matthews
Shifty winger has two goals and an assist in two preseason games while taking William Nylander's usual spot on the Auston Matthews line, Mark Masters writes.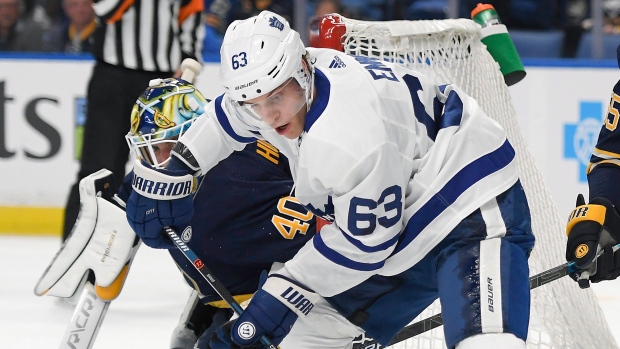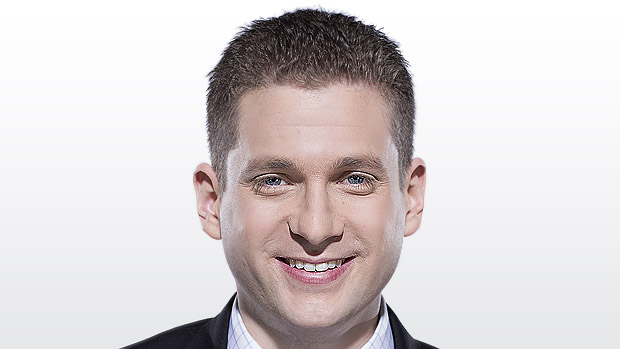 TSN Toronto reporter Mark Masters checks in daily with news and notes on the Maple Leafs. The team held a morning skate and practice at the MasterCard Centre on Monday.
---
Has Leafs head coach Mike Babcock been game planning for a scenario where William Nylander misses the start of the regular season?
"No, just got ready for today," he said ahead of Monday's preseason game against the Canadiens.
But the coach seems generally pleased with how Tyler Ennis has filled in so far in Nylander's usual spot as the right winger on the Auston Matthews line. Ennis has produced two goals and an assist in two preseason games.
"He's really shifty and can get in and out of areas really quick," Matthews observed. "He sees the ice well. He gave me an unbelievable pass Saturday night [leading to a goal] and he's good one-on-one so when he has the puck, get open for him, because he's quick and slippery and will find you in open areas."
Ennis, who reached the 20-goal mark in three different seasons with the Sabres earlier in his career, is playing with a chip on his shoulder after being bought out by the Wild after last season.
"He's been fine," Babcock said. "I thought [Saturday] night he had some real jam in him. It was good for him. Matty is at another level now and his speed through the neutral zone is going to help anybody."
Patrick Marleau, the left winger on that line, has certainly noticed that Matthews has lifted his skating to the next level.
"I think last game, I went low trying to cover for him and I look up and he's right next to me so he's getting to the spots in a hurry," Marleau said with a smile.
So, even if Nylander misses some regular-season games, the Leafs – with a super-charged Matthews and a motivated Ennis – should be able to find some success, right?
"I mean, he's a big part of this team, but we got a lot of talent, a lot of players, a lot of guys who are looking to step in and have bigger roles this season," Matthews noted, "But he's a big part of this team and we want him here."
"He's a heck of a player," defenceman Jake Gardiner noted, "obviously, complements Matthews really well. They work well together. But, if that's the case [with him missing] to start the season, Ennis is a good fill-in and I'm sure we'll do pretty well without him."
----
Monday's practice was the first time all of Toronto's NHL regulars got together for the same on-ice workout during training camp.
It was, therefore, the first opportunity for the new power-play units to get a feel for each other.
PP unit No. 1: Rielly, Matthews, Kadri, Marner and Tavares
PP unit No. 2: Gardiner, Ennis, Johnsson, Leivo and Marleau
The Leafs had the second-best power play in the NHL in each of the last two seasons while running out two balanced groups. So, why stack one up this year? Babcock bristled when posed the question by a reporter.
Here's the exchange:
Babcock: "Who said I did?"
Reporter: "Well, why'd you decide to put Matthews and John Tavares together?"
Babcock: "Well, what'd you want me to do?"
Reporter: "No, I'm not saying you shouldn't."
Babcock: "Oh, okay. I didn't know I stacked one. The way it's going to work is just like I always do, whoever scores goes out there more. Last year, we started with two equal power play groups. Which group got out there the most?"
Reporter: "The Marner one."
Babcock: "The one that scored. Not a bad idea. Going to stick with that. What's next?"
The new-look power-play units will see game action for the first time on Wednesday in Montreal.
----
Gardiner, who missed the first two preseason games after his wife, Lucie, went into labour with the couple's first child last week, didn't feel very fresh in his exhibition debut on Saturday in Buffalo.
"I think it's going to take some time," he admitted. "I didn't feel like I played very well. First game, shake off the rust a little bit and hopefully the next one's better."
----
The group that plays tonight for the Leafs will include mostly players destined to start the season in the AHL with a few exceptions.
The line of Andreas Johnsson, Par Lindholm and Kasperi Kapanen will dress. That trio projects to be Toronto's fourth line at the start of the season, but will serve as the top line tonight. The defence pairs will be headlined by Andreas Borgman with Justin Holl and Martin Marincin with Connor Carrick.
"We're trying to give different guys an opportunity to play way more minutes," Babcock explained. "In this game, our top four is going to play all the key minutes against their top players and our top line in the game will get more. Instead of playing 10 minutes ... you'll play 20 minutes tonight. That's important for us to evaluate them and that's why we're doing it and they know that."
----
When he arrived at Scotiabank Arena on Friday, Jordan Subban had no clue where the home dressing was located. The 23-year-old defenceman, signed by his hometown Leafs in the summer, needed directions from a cameraman.
That camera, by the way, was rolling the entire time and the video made it onto the game broadcast that night.
"Yeah, I got a bone to pick with that guy," Subban said with a smile. "I heard about it from everybody. I mean, I didn't know! I'd never been there."
Once Subban made it into the Leafs dressing room he was blown away.
"It's awesome," he gushed after Monday's morning skate. "It's amazing. A cool room. I really liked it. The lounge is really nice. I can see myself, one day hopefully, spending lots of time in there."
Subban, the younger brother of Predators defenceman P.K. Subban and Golden Knights goalie Malcolm Subban, grew up in Toronto so the chance to suit up in tonight's tilt is meaningful.
"I've been looking forward to getting this opportunity since I signed and, you know, just to put on that jersey in front of my family and friends will definitely be a moment I'll never forget, even though it's the preseason," he said.
Subban will start the game skating alongside Rasmus Sandin, Toronto's top pick in June's draft.
----
Projected lineup for tonight's game:
Johnsson-Lindholm-Kapanen
Grundstrom-Brooks-Bracco
Greening-Jooris-Engvall
Timashov-Cracknell-T.Moore
Borgman-Holl
Marincin-Carrick
Sandin-Subban
McElhinney, Sparks