Epping says he received lots of support after coming out
It has been over five years since curler John Epping told family, friends, and peers in his sport's community that he was gay.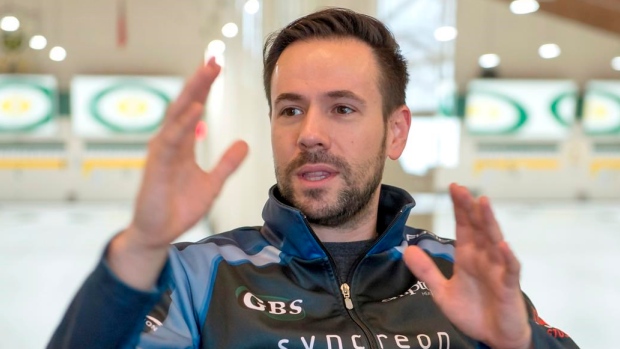 TORONTO — It has been over five years since curler John Epping told family, friends, and peers in his sport's community that he was gay.
"I got a ton of messages," he said. "And the way people tried to relate it to me was just to say, 'Hey it's OK, we've got your back.' It came in so many different ways. It was pretty special."
Epping knew there was growing interest in his story about being a gay athlete in a men's team sport, but held off on sharing the news more widely as he didn't want it to be a distraction for his team. So there was no news conference, no statement, no television feature.
"If somebody asks, I just talk about it," Epping told The Canadian Press in his first in-depth interview on the subject. "And I know I probably should do more of these because it can help people. But I just look at it like, I haven't thought about going around broadcasting that I'm a gay person curling.
"This is my life. This is me ... it's a part of life, it's what it is."
The number of active elite male athletes who have revealed that they're gay has risen in recent years, although it's still a rarity at the professional level and in the curling world. For Epping, it's a bonus to weigh in on a subject that could make things easier for someone — a curler, athlete, or anybody — who might be thinking about following his lead.
"If it can make a difference for one person reading this story or even just one person in my life, if I can influence or help in a positive way — right on," he said. "That's fine with me. That's great."
While it was difficult to initially come out, Epping felt it worked out very well. The three-time Grand Slam winner said he received "loads of support" from teammates, friends, family, and sponsors.
"I would say I was very, very lucky and spoiled," he said after a recent practice session at the Leaside Curling Club. "I hope it would be that way for everybody but I know it's not. I know we still have a long way to come in sports in general."
Epping, a 33-year-old native of Peterborough, Ont., won his first Grand Slam in 2008 — The National — as a second on Wayne Middaugh's team. His first Slam title as a skip came in 2012 at the Players' Championship and he won the Canadian Open in 2015 with his current lineup of Mat Camm, Patrick Janssen and Tim March.
The 2006 Canadian mixed champion has also played in the last two Olympic Trials.
"I think it's big to see somebody maybe that's in the prime of their sporting career right now," Epping said. "On that end, I think I (should be) in my prime the next four or five — or eight years hopefully — I hope people see that as a good thing or a positive thing, that there's a gay athlete out in their sport, in their prime. I think that's good to see."
His rink is currently ranked seventh in the world. Epping also plays mixed doubles — a discipline that will make its Olympic debut next year — and holds the No. 8 spot in the Canadian rankings with Lisa Weagle of Ottawa.
Epping serves as an ambassador for You Can Play, an organization that works to ensure safety and inclusion for all who participate in sports, including LGBTQ athletes, coaches, and fans.
"It's great to be involved with an organization like that, and trying to promote that and spread that," he said. "But like I said I've been lucky. The locker-room culture — nothing changed. But like I said I've been very spoiled and it's curlers, curlers are the best people around. What other sport do you see the curlers after a game in the Patch (party area) or hanging out after with the fans. You don't see that in a lot of sports.
"It's a very unique sport that way. But that's the type of people I think curlers are too."
Gay curling leagues are quite popular throughout the country and the 12th edition of the Canadian gay curling championship is on tap next month in Montreal. Epping threw out the first stone at the 2015 playdowns in Toronto.
"We really take pride as an organization that curling truly is a welcoming and inclusionary sport, regardless of age, ethnicity, level of ability or sexual orientation," said Curling Canada chief executive officer Katherine Henderson. "The labels really don't matter. You'll always be welcomed into a curling centre with a handshake and a smile.
"We've never thought of John as a gay athlete. He's an athlete, plain and simple, and one of the world's best, who would do us proud if he wins the right to represent Canada at the 2018 Winter Olympics."
Epping, who will be getting married in June, is playing in this week's Ontario men's curling championship in Cobourg. A victory would allow him to participate in the Tim Hortons Brier for the first time.
He also has his eye on landing a berth in the Olympic Trials in December.
"I know the support isn't always there in every person's situation that they face," Epping said of coming out. "In mine it was, and I'm very fortunate for that so I owe a lot of gratitude to those people. But I think it says a lot about curlers and I also think maybe it says something about the people I've surrounded myself with too in my life.
"So thank you to them and if anybody ever needs to talk about these things, I'm always there for anybody, for any person that is having difficulty with that side of it. You can always pop me a message somehow."
———
Follow @GregoryStrongCP on Twitter.