Eskimos sign Chambers, Rottier, Sharun, Young to contract extensions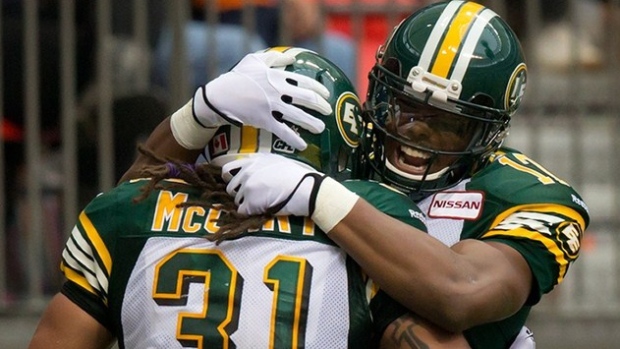 The Edmonton Eskimos got to work early on their off-season to-do list, announcing the contract extensions of four players.
Wide receiver Shamawd Chambers, offensive lineman Simeon Rottier, safety Corbin Sharun, and defensive back Marcell Young all signed extensions with the team Friday.
Chambers had 30 catches for 366 yards and one touchdown in 10 games this season. The former first-round draft pick has 109 catches for 1,221 yards and seven scores in 45 career games, all with the Eskimos.
Rottier was named a CFL All-Star this season, his third in Edmonton. The 30-year-old is a former first overall pick of the Hamilton Tiger-Cats.
Sharun, a 2010 draft pick of the Eskimos, plays mostly on special teams where he has 77 career special teams tackles, and Young, another former Tiger-Cat, had 43 tackles, two sacks, and an interception last year. The 27-year-old has 150 tackles, five interceptions, and two sacks in his four-year CFL career.