Faking It: The real cost of fanwear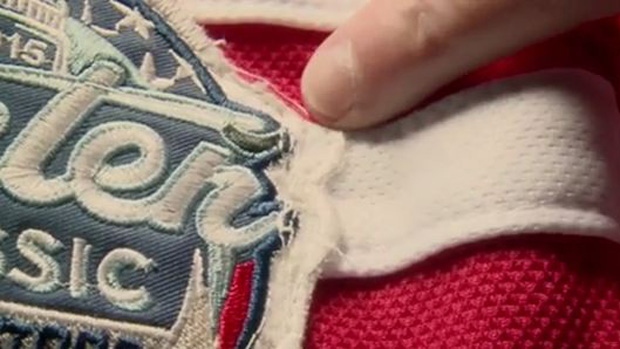 Professional sports are big business. With the billions of dollars generated annually though game tickets, merchandise and memorabilia, it should come as no surprise that counterfeiting has become a major issue.
In 'Faking It,' a special TSN/CTV W5 co-production on SportsCentre, Senior Correspondent Rick Westhead investigates how some sports memorabilia is not what it seems, how fans are being taken in by fake tickets, and how bogus team jerseys from China make their way to Canada.
Part 3 (Saturday on SportsCentre) JERSEY PLOYS

Sports fans spend a lot of money on their favourite teams' jerseys. But the market for officially licensed apparel is being undermined by knock-off products, most of which are illegally imported from China.
It's a big concern for major pro sports leagues. Rick takes a hidden camera inside Chinese factories where the fake jerseys are produced, showing how easy it is to order these cheap, bogus products that look just like the real thing.
Need To Know:
- Retail sales of sports-licensed merchandise in the U.S. and Canada rose 2.8 per cent in 2013, to more than $13.4 billion, according to The Licensing Letter, an industry publication.
- About half of a sport's licensed merchandise sales can be attributed to jersey sales, sports industry executives say.
- The NHL said in January that Patrick Kane had the top selling jersey in the NHL in 2004. Sidney Crosby, tops overall in 2013, was second, ahead of Jonathan Toews, Henrik Lundqvist, and Alex Ovechkin.
- In 2011, MarkMonitor, a brand protection company, estimates that almost 1.2 million suspicious jerseys were sold online each year. The company found 1,300 web sites, most linked to Chinese domain names – selling fake jerseys.
- Authentic game jerseys are more expensive than ever. In April 2014, Nike raised price of NFL game jerseys to USD $295.
- Reebok currently has a licensing agreement with the NHL that allows the company to sell Reebok logo jerseys to the public. The company's agreement expires next year, and it's widely expected that Under Armour will bid for the business against Reebok's parent company Adidas.
- NHL authentic game jerseys retail in Canada for as much as $330.
Where does the money go?
TSN interviewed current and former executives with Reebok and other sports apparel companies and came up with these estimates:
Reebok pays about $15 to produce the jersey - including material, labour wages and other related expenses. Reebok's parent company Adidas says it works with more than 1,200 independent factories in 65 countries, including Indonesia, China and Vietnam.
Production costs for jerseys made in Canada or the United States can be higher than those for overseas factories, garment industry sources say.
When the NHL's fee is factored in, along with marketing and ad costs, each game NHL jersey costs the company about $75.
Reebok then sells those jerseys to wholesalers and retailers for about $150.
Retailers tend to double that price to give themselves a profit margin after expenses. That leaves the customer paying about $330.