Finally, some life in the QEW rivalry
TSN Toronto reporter Mark Masters checks in daily with news and notes on the Maple Leafs. The Leafs (optional) and Sabres (optional) skated at KeyBank Center before tonight's game in Buffalo.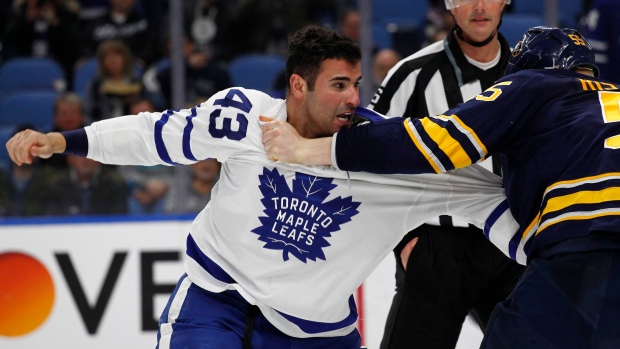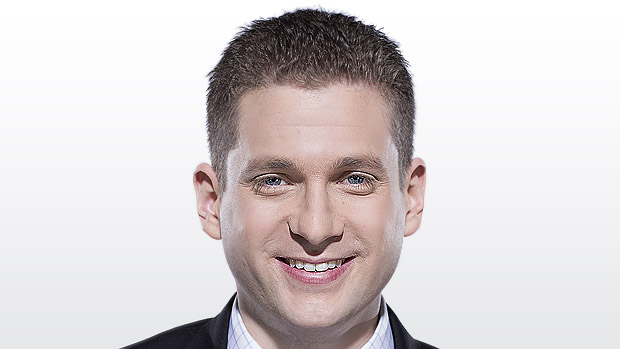 TSN Toronto reporter Mark Masters checks in daily with news and notes on the Maple Leafs. The Leafs (optional) and Sabres (optional) skated at KeyBank Center before tonight's game in Buffalo.
---
Kyle Okposo did his best to stir the pot when asked about the Maple Leafs this morning.
"I think their power play is pretty bad," the Sabres forward said letting the words sit for a moment.
Greeted with dumbfounded stares, Okposo immediately broke into a smile.
"No, I'm just kidding. Their power play's been spectacular, obviously."
Okposo ​later joked that he was simply trying to give the Toronto media something to talk about now that the William Nylander saga is over. He's a self-proclaimed "hockey junkie, hockey nerd" and was well aware of the breathless coverage surrounding the Swede's contract.
He also knows the Leafs power play is 4-for-5 since Auston Matthews returned two games ago.
Meanwhile, Buffalo has allowed a power-play goal in four straight games so discipline is a key this evening. Although the power play is far from the only part of Toronto's game that Buffalo has to be concerned with.
"They're able to get the puck from defence to offence extremely quickly so we're going to have to make sure we're staying on top of our checks and we have to take the fight to them," Okposo declared. "This is our building and we've been pretty good here at home so we want to defend it."
The Sabres are 9-2-1 at the KeyBank Center this season owning the best home points percentage (.792) in the NHL. A win tonight would be Buffalo's seventh straight on home ice, which is something they haven't accomplished since 1999.
"The last three games that we've played at home have been louder than any game against Toronto that I've played in and I'm sure tonight will be a step up from that and we're looking forward to it," Okposo said.
It wasn't long ago that the Leafs simply couldn't win in Buffalo, dropping 17 of 19 contests from 2009 to 2016. But two seasons ago, as Toronto's rebuild took the next step, the tide turned and the Leafs have now won three of five in Buffalo. And many blue-and-white-clad fans have enjoyed making the short trek across the border to rub it in.
"Usually the chants going back and forth are always exciting and, for us, it's about trying to get our fans involved right away," said shifty Leafs winger Mitch Marner. "I think everyone's ready to play this game, both sides, everyone comes ready to play. It's always a war out there."
Now that the Sabres rebuild seems to have turned a corner, the hope in Buffalo is they can re-establish a little home-ice advantage in this rivalry.
"Hopefully it will be loud, electric," said defenceman Rasmus Ristolainen, "and more Sabres fans than the Maple Leafs fans."
"Just the proximity of the two teams make it that every time we came here before there was energy in the building," said coach Mike Babcock, "a lot of Leafs fans and now, pretty soon, Leafs fans won't be able to buy tickets here because Buffalo fans will have bought them already."
Has Sabres captain Jack Eichel conveyed to his buddy and old U.S. National Development Program teammate Matthews that there's a special meaning to beating the Leafs?
"No, but I'm sure there is," Matthews noted. "Just like for us, we want to beat them. It's always a big game for us ... we expect their best game tonight and we expect ours as well."
----
The Sabres surged to the top of the standings thanks to a 10-game winning streak in November.
"They were on that hot stretch and I think everybody in the league kind of took notice," said Matthews. "They're for real."
"I've been impressed," Babcock agreed. "I've seen these guys a number of times and then obviously the last two games they've played, we've really dialed in on. I'm impressed with their team, their structure, their speed, their work ethic, the whole thing. I think they've got a good hockey club and it's going to be a good game."
This is the first time these divisional rivals have met this late in the season with both teams in a playoff spot since Dec. 16, 2011.
What's the biggest difference with these Sabres?
"They've always had skilled players," observed Marner. "I think the confidence of their team just keeps getting higher and higher as the games go on so that's probably something they didn't have before."
"It's our resiliency and the buy-in that we have," explained Okposo, who's in his third season with Buffalo. "We have a tight-knit group here and we never really seem to change the way that we play and we have a lot of belief in each other and when you have that I think some pretty powerful things can happen."
Buffalo just returned from a tough three-game trip, losing to Tampa Bay, Florida (overtime) and Nashville. What's the confidence level like right now?
"The confidence better be there, it's only a few games," Ristolainen said. "Got a point in Florida, could've got more. In Tampa, we weren't ready to start, but just measure us as a team tonight. We need to answer from last night and we need the win."
The schedule hasn't done Buffalo any favours as the Leafs were in town waiting for them last night while the Sabres lost a tight one against the Predators. Buffalo​​ should have at least one fresh body in the lineup as winger Conor Sheary is expected to play after missing four games with an upper-body injury. Meanwhile, defencemen Jake McCabe (upper body) and Marco Scandella (upper body) will be game-time decisions.​
Buffalo will start backup Linus Ullmark in goal while Toronto is expected to counter with Frederik Andersen.
----
Nylander wasn't at the rink this morning in Buffalo and a timeline for his return to game action remains unknown. So, the Leafs are also being forced to make a lineup change after Josh Leivo was traded on Monday. Frederik Gauthier draws back in tonight after sitting as a healthy scratch in the last two games.
Which centre will play on the wing: Gauthier or Par Lindholm?
"That's a real good question, one of them does," Babcock said. "Lindy is going to play on the wing at times, for sure, because he's going to be in the top nine at times. He's going to play in the middle. Someone is taking the faceoff and the first guy back will play down low."
----
Having coached in Spokane of the Western Hockey League for six seasons, Babcock has a pretty good idea of what the NHL will be getting by awarding a franchise to Seattle.
"It's one of the best cities in the world," Babcock gushed. "That waterfront there, I don't know if you've ever come in – I don't know if it's the University of Washington where all that rowing is done there – you come in and the sun is going down and they're out there rowing. It's spectacular. The waterfront, all the seafood and the restaurants, this is a home run for the National Hockey League."