Flames acquire Hanifin, Lindholm from Hurricanes
The Calgary Flames dealt star defenceman Dougie Hamilton, forward Micheal Ferland and a college prospect to the Carolina Hurricanes in exchange for forward Elias Lindholm and defenceman Noah Hanifin in a swap of talented players all 26 years of age or younger.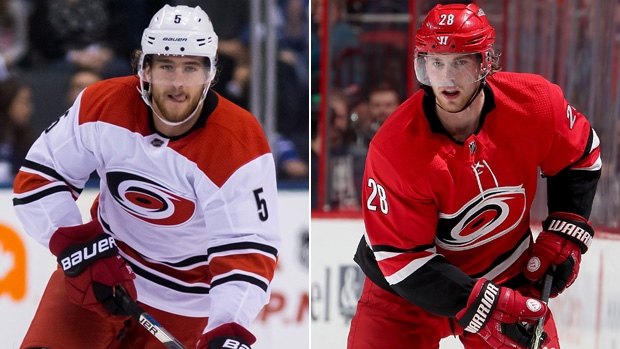 DALLAS — The NHL draft provided few fireworks in Friday's first round.
It looked like there would be a repeat Saturday until a five-player trade finally shook things up.
The Calgary Flames dealt star defenceman Dougie Hamilton, forward Micheal Ferland and a college prospect to the Carolina Hurricanes in exchange for forward Elias Lindholm and defenceman Noah Hanifin in a swap of talented players all 26 years of age or younger.
"We've been talking for a while," Calgary general manager Brad Treliving said. "(Talks) start to get more momentum as you get closer to today."
It didn't seem like there would be much action other than the usual trading of picks up and down the draft board until the Flames-Hurricanes deal.
There was talk Ottawa Senators defenceman Erik Karlsson, who can become an unrestricted free agent next summer, could be shipped out of the nation's capital, but nothing came of that on the draft floor at the American Airlines Center.
And there was plenty of chatter about the future of New York Islanders captain John Tavares, who is set to become an unrestricted free agent July 1 and can begin talking to other teams on Sunday.
"I have no disappointment, no discouragement," Islanders GM Lou Lamoriello said. "He's earned every right to make whatever choice he has.
"The most important thing is that we hope in the end that he's an Islander."
There were also rumours on social media that the Montreal Canadiens were on the verge of trading captain Max Pacioretty to the San Jose Sharks, but that never materialized.
"It was interesting," Toronto Maple Leafs Kyle Dubas said of the mood at the draft. "It seemed like (Friday) afternoon there was going to be a lot of stuff happening all at once.
"It seems like it's just waiting for everything to unleash in the next couple days. Depending on whose available and whose not on July 1, I think you're going to see trades come very fast and be more of a frenzy. But we'll see. I think everyone's just kind of sitting and waiting and being patient."
One move before the start of the second round saw Los Angeles agree to a three-year, US$18.75 million deal with Ilya Kovalchuk as the Russian sniper chose Los Angeles over several interested teams for his return to the NHL after leaving North America in 2013 for the Kontinental Hockey League.
After the Buffalo Sabres selected Rasmus Dahlin first overall Friday, they opened rounds two through seven on Saturday by grabbing American defenceman Mattias Samuelsson at No 32.
The Canadiens, who took centre Jesperi Kotkaniemi third, wound up with three picks in the second round, taking Finnish forward Jesse Ylonen (35th), Russian defenceman Alexander Romanov (38th) and Swedish centre Jacob Olofsson (56th).
Montreal then selected centre Cameron Hillis (66th), defenceman Jordan Harris (71st), centre Allan McShane (97th), winger Jack Gorniak (123rd), and centres Cole Fonstad (128th), Samuel Houde (133rd) and Brett Stapley (190th).
"It's the first step, now it's time to work," McShane said. "I have skills that the Montreal Canadiens saw in me. They expect me to grow and be a player they can have in their lineup in the future."
Ottawa, which selected winger Brady Tkachuk fourth overall and defenceman Jacob Bernard-Docker at No. 26, took blue liner Jonathan Tychonick at No. 48, centre Jonathan Gruden (95th), winger Angus Crookshank (126th), goalie Kevin Mandolese (157th), and forwards Jakov Novak (188th) and Luke Loheit (194th).
"I waited up there all day yesterday with the mindset of I want to cheer on everybody that got picked," Tychonick said. "Today it felt like the real deal."
The Vancouver Canucks, who drafted blue liner Quintin Hughes at No. 7, picked defenceman Jett Woo at No. 37, centre Tyler Madden (68th), defenceman Toni Utunen (130th), winger Artyom Manukyan (186th) and goalie Matthew Thiessen (192nd).
"I'm still shaking," said Lee, just the second player of Chinese descent to be drafted. "Like every other person that's come through this, there's no way to describe it."
The Edmonton Oilers, who selected defenceman Evan Bouchard at No. 10, grabbed centre Ryan McLeod with the 40th pick and took goalie Olivier Rodrigue at No. 62 before adding defenceman Michael Kesselring (164th) and forward Patrik Siikanen (195th).
The Leafs, who took Rasmus Sandin at No. 29, got fellow defenceman Sean Druzi at No. 52, centre Semyon Der-Arguchintsev (76th), centre Riley Stotts (83rd), defenceman Mac Hollowell (118th), defenceman Filip Kral (149th), winger Pontus Holmberg (156th), goalie Zachary Boutillier (209th) and forward Semyon Kizimov (211th).
"(Teams) almost did me a favour last year not being picked," said Durzi, who was passed over in 2017. "I definitely grew from it and came out of that draft more motivated than ever."
The Winnipeg Jets didn't have a pick in the draft until No. 60 when they scooped up centre David Gustafsson. The club then added centre Nathan Smith (90th), defenceman Declan Chisholm (150th), defenceman Giovanni Vallati (153rd), goalie Jared Moe (184th) and centre Austin Wong (215th).
The Flames didn't have a pick until the fourth round after trades for defenceman Travis Hamonic and goalie Mike Smith at last year's draft, but got into the action at No. 105 when they took winger Martin Pospisil and forward Demetrios Koumontzis three selections later.
Calgary then took forward Milos Roman (122nd) centre Mathias Emilio Pettersen (167th) and winger Dmitry Zavgorodniy (198th).
The New York Rangers took the first goalie off the board at No. 39 when they selected Olof Lindbom, while another notable selection was Kody Clark, the son of former NHLer Wendel Clark, who went to the Washington Capitals at No. 47.
---
Follow @JClipperton_CP on Twitter