Flames down Jets for ninth straight win
Brian Elliott's 31-save performance gave the Calgary goaltender his second straight shutout as the Flames defeated the Winnipeg Jets 3-0 on Saturday to extend their win streak to nine games.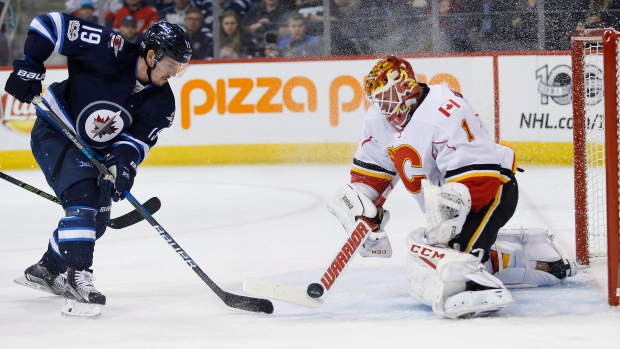 WINNIPEG — Nine straight wins is something to talk about, but not for the Calgary Flames.
After the Flames blanked the Winnipeg Jets 3-0 Saturday with Brian Elliott's 31 saves and second straight shutout, the players said it wasn't a big topic of conversation for them.
"Just stay level-headed," said defenceman Dougie Hamilton, who had three assists to reach a career-high 44 points. "I think we're just trying to keep going. You can't get too high or get too low in this league."
Added Elliott: "You can't sit back and look at the little run we've been on. You have to look forward to the next game."
It was a bit more than a little run. The nine-game win streak set a new record since the franchise moved from Atlanta in 1980. The franchise record is 10 games in 1978.
Mikael Backlund and Michael Frolik each scored on the power play as the victory also gave Calgary (38-26-4) points in 11 straight games. Alex Chiasson also scored, while Frolik added one assist.
The Flames were 2 for 5 on the power play, a feat considering they only had two power-play goals in their 12 previous games.
Elliott's second shutout of the season, and 36th of his career, followed up Thursday's 24 saves in a 5-0 win over Montreal on Thursday.
Connor Hellebuyck stopped 26 of 29 shots for the Jets (30-33-6), who lost their third straight and wrapped up a six-game homestand (2-4-0).
"We can't be taking that many penalties," Hellebuyck said. "And, like I said, they got some lucky bounces off the bar and even pucks that hit me kept going through. Sometimes it just happens."
Winnipeg defenceman Ben Chiarot was in the penalty box for Calgary's first two goals, one in the first period and one in the second.
The Jets were 0 for 3 on the power play. In a 7-4 loss to Pittsburgh on Wednesday, they gave up three power-play goals.
"You just don't really feel like you're in these games," captain Blake Wheeler said. "It's just playing from behind all the time now.
"It makes it really difficult, especially when things aren't going well and guys aren't feeling good about themselves, to really get anything going. You're always behind by a goal or two and sometimes three."
The Flames also jumped in the NHL standings. Calgary is now second in the Pacific Division. Anaheim, which is tied with the Flames with 80 points, drops to third in the division. Edmonton moved from third to the first wild-card spot in the West. Winnipeg is nine points out of the second wild-card spot held by St. Louis.
"You're not focusing too much on scoreboard watching," Elliott said. "We're in a position where we control our destiny.
"That's the best way to approach it and not worry about any other teams or what's going on in the league."
Hamilton was a game-time decision after the veteran Flames defenceman was injured in the game against Montreal.
"Just got stepped on or cut or whatever," Hamilton explained. "I knew there was something wrong right away.
"Just got lucky, really lucky, wore the right socks. It didn't touch my tendon. I think they said it was as close as it could be to the tendon so lucky I didn't touch the tendon."
Chiasson made it 3-0 at 3:24 of the third, a period where tempers flared.
Jets defenceman Josh Morrissey sprayed snow on Elliott and the goalie retaliated by shoving Morrissey into the glass. Players from both sides started shoving each other, but Morrissey got a penalty for unsportsmanlike conduct and Elliott for roughing.
Winnipeg heads out for a three-game road trip, starting Monday in Nashville. Calgary returns home to host Pittsburgh on Monday.