Flames expect Foo to play in NHL this season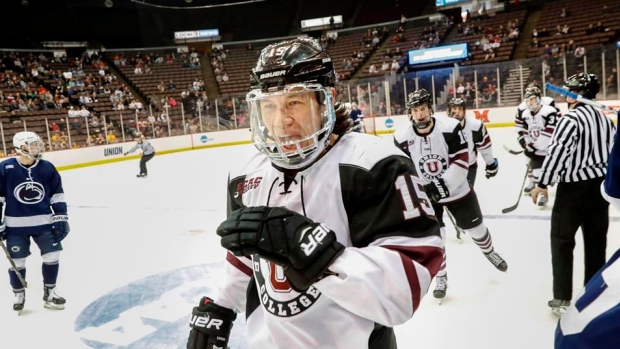 The Calgary Flames won the college free agent sweepstakes earlier this month with the signing of Union College star Spencer Foo.
Foo chose Calgary over the Edmonton Oilers, Detroit Red Wings and Vegas Golden Knights, and the Flames are hoping to see him in their lineup this season.
"My expectation for him is to push and make the NHL club," Calgary assistant general manager Craig Conroy told NHL.com. "He's got speed, he's competitive, and he's got skill. The thing I like probably the most about Spencer is about how hard he competes. Does he start in the NHL? That'll be up to him.
"But I see him playing in the NHL next year. I expect that, and he probably expects that himself too."
Foo ranked fourth among Division 1 skaters with 26 goals and 62 points in 38 games last season. He was a finalist for the 2016-17 Hobey Baker Memorial Award and also had a 21-game point streak.
The 23-year-old owned just 23 goals and 50 points through his first two seasons at Union before breaking out as junior last season.