Flames ready to meet higher expectations?
The Calgary Flames were primed to be a team of regression in 2015-2016, defying statistical odds to not only reach the playoffs last season, but win their first-round series against Vancouver. TSN.ca's team preview for the Flames looks at how their summer upgrades can take them to the next level.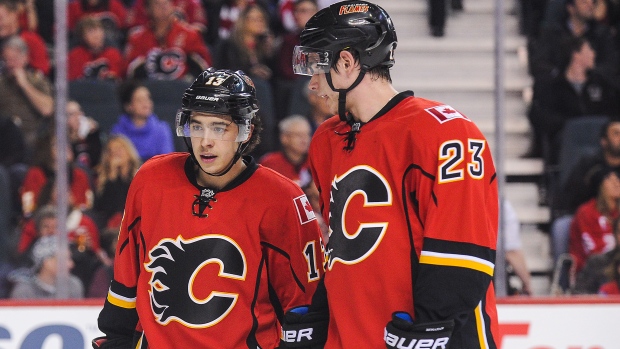 The Calgary Flames were primed to be a team of regression in 2015-2016, defying statistical odds to not only reach the playoffs last season, but win their first-round series against Vancouver.
Because of terrible possession stats, without significant changes the Flames were the team most likely to see their performance decline. But, after some major moves, it's possible that regression can't simply be assumed.
Trading for defenceman Dougie Hamilton and signing free agent winger Michael Frolik were two steps in the right direction and adding Sam Bennett, the fourth pick in the 2014 Draft, to young forwards Sean Monahan and Johnny Gaudreau provides reason for optimism.
While the Flames have upgraded their forward and defence units, the same can't be said of goaltending, where they have Jonas Hiller and Karri Ramo, the same tandem that was primarily responsible for Calgary's middling .911 save percentage last season.
Percentages remain a challenge. The Flames scored on 10.5 per cent of their shots last season, second only to Tampa Bay. In the previous three seasons, they scored on 9.2 per cent of their shots and while that difference might not seem like a lot, when applied to 2,251 shots on goal over a full season, that results in a 31-goal difference (for a team that scored 24 more goals than they allowed in 2014-2015).
So, for the Flames to remain a playoff team, they will either need to improve their possession numbers, or continue to get an edge with high percentages.
OFF-SEASON HEADLINES
June 26: Flames acquire defenceman Dougie Hamilton in stunning draft day trade
July 1: Free agent Frolik heads to Calgary with five-year contract
August 25: Flames lock up captain Giordano with a six-year, $40.5 million extension
2015-16 CALGARY FLAMES
* Off-season Addition
TSN's Projected Lines
| LW | C | RW |
| --- | --- | --- |
| Johnny Gaudreau | Sean Monahan | Jiri Hudler |
| Lance Bouma | Mikael Backlund | Michael Frolik* |
| Micheal Ferland | Matt Stajan | David Jones |
| Brandon Bollig | Sam Bennett | Joe Colborne |
| | Drew Shore | Josh Jooris |
Fighting For Jobs: RW Paul Byron, C Markus Granlund, RW Emile Poirier, LW Mason Raymond
TSN'S Projected Pairs
| LD | RD |
| --- | --- |
| Mark Giordano | Dougie Hamilton* |
| Kris Russell | Dennis Wideman |
| T.J. Brodie | Deryk Engelland |
| | Jakub Nakladal |
Fighting For Jobs: RD Ladislav Smid, LD Ryan Wilson*, RD Tyler Wotherspoon
TSN's Projected Goalies
| No. 1 | No. 2 | No. 3 |
| --- | --- | --- |
| Jonas Hiller | Karri Ramo | Joni Ortio |
Off-season Departures: D Raphael Diaz, RW Brian McGrattan
KEY QUESTIONS
1. Who wins the lottery and gets to be Dougie Hamilton's defence partner on the first pairing?
2. Does Sam Bennett ultimately play centre or wing in his first NHL season?
3. Can one of Jonas Hiller or Karri Ramo emerge as the team's clear-cut No. 1 goalie - or is a platoon in the works again?
CRAIG'S LISTS
Button's Top 2015-16 Prospects
1. Sam Bennett (Kingston, OHL; Calgary, NHL): Highly skilled, equally gritty and competitive. Factors in big time at critical moments.
2. Emile Poirier (Adirondack, AHL): Strong two-way winger who is smart and creates advantages with size and skill.
Button's Top 5 Long-Term Prospects
1. Jon Gillies (Providence, NCAA): NCAA Champion who projects as a big, solid No. 1 goalie in the NHL.
2. Mason McDonald (Charlottetown, QMJHL): Steady, calm and very good. With Gillies, they're the Flames' tandem for years to come.
3. Brandon Hickey (Boston University, NCAA): Strong skating, puck moving defenceman who competes hard.
4. Mark Jankowski (Providence, NCAA): Progression has been steady and consistent. His game resembles that of Riley Sheahan.
5. Rasmus Andersson (Barrie, OHL): Conditioning is improving and with excellent head and hands. Could be a solid NHLer.
* Listed with 2014-15 teams
BY THE NUMBERS
Three-Year Breakdown (League Rank)
| | 2012-13 | 2013-14 | 2014-15 |
| --- | --- | --- | --- |
| Points | 72 (25th)* | 77 (21st) | 97 (16th) |
| Goals For | 2.7 (T-11th) | 2.5 (23rd) | 2.9 (T-6th) |
| Goals Against | 3.3 (28th) | 2.9 (24th) | 2.6 (T-16th) |
| Power Play | 20% (9th) | 16% (24th) | 19% (T-13th) |
| Penalty Killing | 82% (13th) | 82% (T-17th) | 81% (T-20th) |
| SAT% Possession | 47% (24th) | 46% (27th) | 44% (28th) |
* 2012-13 points: Pro-rated lockout-shortened total
ESTIMATED PAYROLL vs. CAP - $68.5M/$71.4M
Despite having several significant contributors on entry-level contracts, the Flames don't have a great deal of cap room. They aren't constricted so much right now, but it won't come as a shock if they move out a vet or two, if possible, in order to create more long-term flexibility.
PARTING SHOT