Flames sign RFA Ferland to two-year deal
The Calgary Flames have agreed to terms on a US$1.65-million, two-year deal with restricted free agent forward Micheal Ferland. Ferland made his NHL debut last season, putting up two goals and three assists in nine games.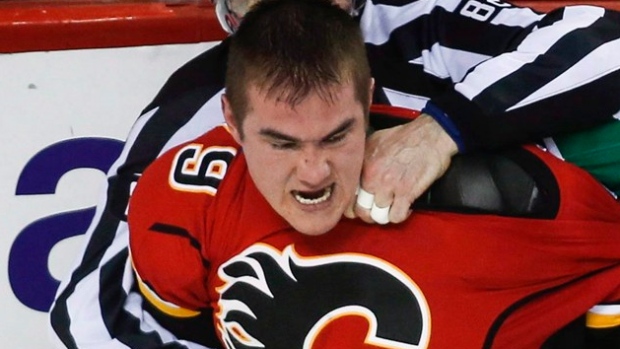 CALGARY - In signing forward Micheal Ferland to a two-year deal, the Calgary Flames became harder to play against.
Ferland had 40 hits in six playoff games for the Flames last spring, prompting "Ferland For Mayor" signs to crop up in the city.
The 23-year-old from Swan River, Man., and the Flames agreed to terms Thursday on a US$1.65-million, two-year deal. He'll count $825,000 against the cap when in the NHL.
The one-way contract is significant for a player who celebrated a year of sobriety March 27.
"I always talk about where I was two years ago," Ferland said Thursday in Calgary. "I was in the East Coast (league) and thought I was going to give up on hockey. I changed my life around.
"People all always told me to change my (life) off ice and 'your career will unfold in front of you.' I'm just very happy, the road I'm on right now."
Using his six-foot-two 215-pound frame as a battering ram, Ferland's emergence late last season gave the Flames — who were fast, but not big and strong — an important ingredient in their first playoff appearance since 2009.
The left-winger opened up room for forwards Matt Stajan and David Jones on Calgary's fourth line. Ferland contributed two goals and two assists in a first-round win over Vancouver in six games.
A torn oblique muscle forced him out of Game 1 in the second round against the Anaheim Ducks. He returned for Game 5 in Anaheim, where the Flames were eliminated 3-2 in overtime.
Calgary's main camp opens next week. Ferland said he's worked hard with Flames strength and conditioning coach Ryan van Asten this summer.
"The biggest thing for me is my cardio and my conditioning," Ferland said.
Ferland, a fifth-round pick in 2010, made his NHL debut last season. He had two goals and three assists in nine regular-season games. He was the last restricted free agent Calgary had to sign.
Flames assistant general manager Craig Conroy wants Ferland to continue his punishment of opposing players on the ice, but also says it's not out of the question for Ferland to be a 20-goal scorer some day.
"What you saw in the playoffs is what we kind of expect," Conroy said. "I think he's going to score more goals. He's got one of the best shots I've seen when he was in the minors, watching him in junior. He just is a big guy, a power forward, that can score. But he needs some confidence. He needs to get used to the NHL, the speed, the size of the guys.
"To see him come in and figure out what he has to do to be an effective NHL player — and he did that in the playoffs — it's to get him to do it consistently throughout the year in an 82-game schedule."