Fleury waives NMC, will be exposed to Vegas barring trade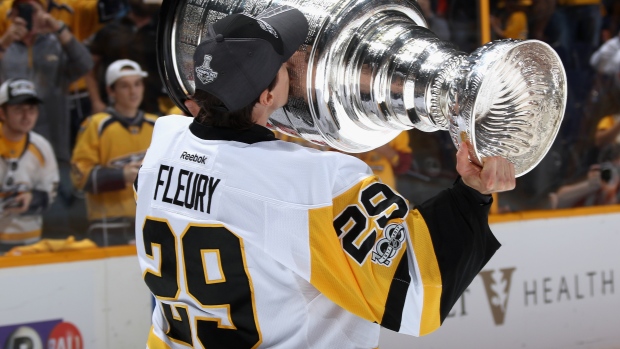 Marc-Andre Fleury waived his no-movement clause back in February, playing the postseason knowing it would almost surely be his last with the Pittsburgh Penguins.
TSN Hockey Insider Pierre LeBrun confirms the Penguins goaltender will be exposed in the expansion draft, barring a trade before Saturday's deadline.
Fleury has been the subject of trade speculation since the 2016 postseason, when Matt Murray replaced him in net due to injury and backstopped the Penguins to their first of two Stanley Cup championships.
In a reverse of last year's situation, Fleury filled in for Murray (lower-body injury) to open the postseason this year and posted a 9-6 with a .924 save percentage and a 2.56 goals against average. Murray replaced Fleury in the first period of Game 3 against the Ottawa Senators in the Eastern Conference Final and held the starting role for the remainder of the playoffs.
Murray posted a 2.41 goals-against average and .923 save percentage to Fleury's .909 save percentage with a 3.02 goals-against average in the regular season.
The Penguins will opt to protect the 23-year-old Murray over Fleury.
Fleury, 32, is signed through next season with a cap hit of $5.75 million.
He is coming off his third career Stanley Cup and handed the Cup to Murray after Sunday's Game 6 victory.
Fleury joined the Penguins as the first overall draft pick of the 2003 NHL Draft and owns a career 375-216-2-66 record with the team.