Flyers' Simmonds on contract talks: 'It is what it is'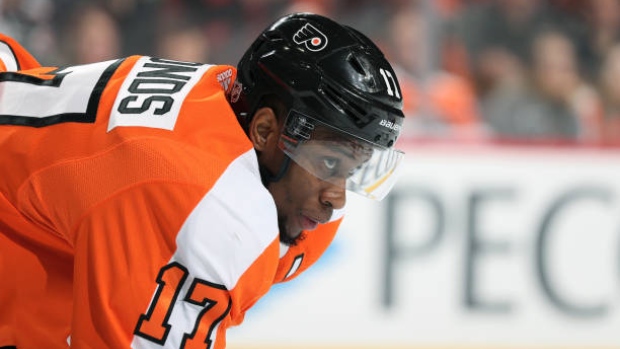 Philadelphia Flyers forward Wayne Simmonds played through multiple injuries last season and said Wednesday that proving he's healthy could go a long way in earning a contract extension.
Simmonds managed to appear in 75 games last season, but required pelvis surgery once the Flyers exited the postseason. He's entering the final season of the six-year, $23.5-million contract he signed in 2012.
"I think they've had preliminary talks, but it is what it is at this point," Simmonds said Monday at BioSteel Camp. "I gotta get healthy, first and foremost, and show that I am the player that I was two years ago. I think for being injured I didn't have a bad season last year, but it's still not to the best of my abilities.
"When we continue to talk, we continue to talk. So it is what it is right now."
Simmonds fell shy of the 30-goal mark – which he topped in each of the previous two years – last season, but still managed to post 24 goals and 46 points. He managed to top the 20-goal mark in each of the previous five seasons.
Should he return to his old form, Simmonds would likely be in for a significant raise on his current $3.975 million cap hit next summer. He said playing in a contract year would not affect his mindset.
"I don't think it's going to change much for me," Simmonds said. "I'm going to be the same player I always am. It's going to have much bearing."
Simmonds, 30 and a veteran of 762 career games with the Flyers and Los Angeles Kings, said he believes his résumé speaks for itself.
"[Do I have anything] to prove? I don't know. I've played 10 years in this league," Simmonds said. "I put together some pretty good years, so I don't think I have much to prove other than just being the player I am."
Flyers general manager Ron Hextall said earlier this summer he hopes to re-sign Simmonds, though the winger's name also emerged in the trade rumour mill earlier this summer.