From the stadium to the stage: Eddie George tackles Titans, theatre and more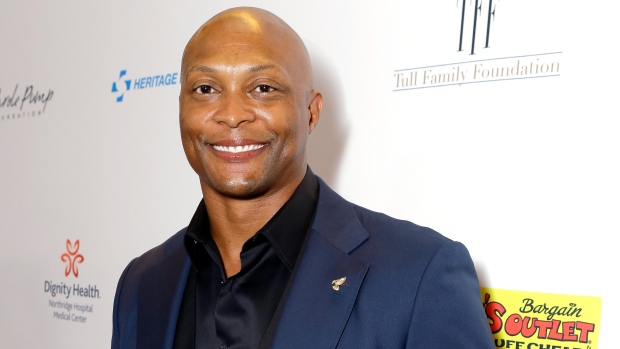 Up until the age of 31, Eddie George was a football player. An NFL great known for his skill, passion, and ability to get past any defender and run the ball to the end zone.
A Heisman Trophy winner.
The NFL's 1996 Offensive Rookie of the Year.
The Tennessee Titans' all-star running back, who never missed a start.
He had the fans, he had the talent, and a lasting legacy that's made its mark on the league.
But in recent years, a new image of George has emerged. Long gone are the days of his sleek footwork on the football field; George has hung up his cleats, put down the playbook, and has replaced it with costumes, dancing shoes, and theatre scripts.
Since retiring, the 44-year-old George has embarked on a number of different career ventures: the restaurant industry, teaching, wealth management projects, and his latest, acting.
Like many athletes, George knows the struggle of facing life after the game – identity loss, depression and restructuring your everyday routine are just a few of the obstacles that lay ahead.
He went from having everything revolve around football to having nothing.
"It was a very difficult phase for me, finding what was next, finding out who I was, what I wanted to do," George told TSN.ca. "I had to find my next passion."
He was able to find just that. After landing a number of acting roles in plays around Nashville such as Shakespeare's Othello and Julius Caesar, George earned himself a spot in the renowned musical Chicago – finding his new passion on a Broadway stage in New York City, playing the iconic role of Billy Flynn.
"The storylines are timeless, songs are timeless," he says with a smile on his face. "I was searching for my next passion and acting is that for me. It allowed me to filter a lot of the energy I had from football to a platform, to characters and that was very therapeutic for me… It was healing."
From George's standpoint, acting isn't so far off from football.
"It's all team-generated and I have to rely on my other actors like I relied on my teammates; the level of work put into understanding a script is the same level of work as learning the plays," he explains.
"It's all done under the bright lights, it's all entertaining, but now mine is done on stage vocally and emoting energy and emotions. But, the same thing held true in football – you emote energy and emotions… It's like you either broke somebody's heart or you filled them with joy – it's the same thing."
While the 6-foot-3, former pro's acting career has grown over the years, it hasn't been without its drawbacks. One of the biggest obstacles George had to face was being attached to the label of a football player.
"There's a stigma attached because people think that's all you do. People think I still play football or I just left the game five years ago," he says. "But, I don't put labels on who I am."
Similar to how he proved himself on the gridiron, George has been determined in changing peoples' perceptions.
"I don't necessarily believe that I have to go out and prove them wrong. I'm out to get jobs, I'm out to create opportunities and I have to be good at what I'm doing. I'm focused on being good at what I'm doing and if I do that, then that will in turn change their perception of who I am."
Though he has a new life on the stage, the Titans' all-time leading rusher hasn't put his life in the NFL completely behind him. He reflects on his pro days as some of the "greatest times" of his life. And yes, that includes that time the Titans were one yard short of a Super Bowl overtime during their '99 season.
"No one expected us to do it. We were just a team that changed a name and became the Titans and nobody really gave us a shot and we just rolled off a series of wins and went on a magical run," he recalls. "We were a hard-nosed, physical football team that ran the ball right down your throat."
It's been nearly 20 years since that heartbreaking play and the Titans have yet to mirror that success since. But George warns not to write them off just yet. "They have all the ingredients to make a serious run."
As for what his future holds after acting, George can't say for sure. But, if one thing is certain, don't expect to find him out of the action on the sidelines anytime soon.