Fucale to get the start for Canada against Denmark in WJC quarter-final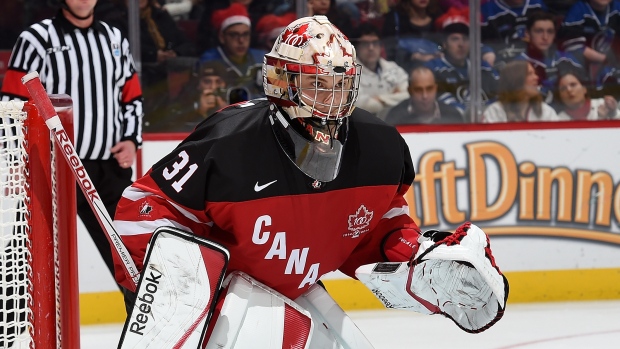 TORONTO - Zach Fucale will return to the Canadian net tonight against Denmark after splitting the preliminary round games with teammate Eric Comrie at the world junior hockey championship.
You can watch the game live on TSN1, TSN3, TSN4, TSN5 and TSN GO NOW or listen to the game on the TSN Radio Network.
Comrie made 25 saves in Canada's 5-3 victory over the United States on Wednesday at Montreal's Bell Centre. Both goaltenders have won two games apiece for the unbeaten host side.
"It just shows how this staff has confidence in both of us and everyone on the team," Fucale said after Thursday's practice at Air Canada Centre. "It's not a problem. (Comrie) and I have been working hard and we just want to contribute."
To an outsider, Canada appears to be simply rotating its two goaltenders. However, head coach Benoit Groulx said there's a process to his staff's decision on who plays.
"We sit down, the coaches, we talk with our hockey people," he said. "When we sit down after each game and we discuss that matter, we all agreed on what we've got to do. For us, we're very comfortable with both goalies.
"No tough debate. We're pretty much on the same page. It's always a tough decision because both of them deserve to play."
The Canada-Denmark winner will play either the Czech Republic or Slovakia in the semifinals. The Sweden-Finland quarter-final winner will play the winner of the Russia-United States game.
Comrie, a Winnipeg Jets' 2013 second-round pick, has a 1.55 goals-against average and .933 save percentage in his two appearances. Fucale, who was drafted in the second round by the Montreal Canadiens, has a 0.50 GAA and .975 save percentage.
Forward Sam Reinhart is thankful he's not the one making the goaltending decision.
"I'm not too surprised we're still switching them," he said. "I don't know how you put one over the other. They've both been great."
Fucale has the edge when it comes to experience.
The 19-year-old netminder was 2-2 with a 2.42 GAA and .902 save percentage at last year's world juniors as Canada settled for a fourth-place finish. He also won a MasterCard Memorial Cup with the Halifax Mooseheads in 2013 and earned a gold medal at the 2012 Ivan Hlinka Memorial tournament.
"You learn a lot when you win, but you learn twice as much when you lose so things like last year is a little extra motivation for us," said Fucale. "We want to make sure we prepare well for this first game of the elimination round."
Both Comrie and Fucale are familiar with Denmark's Nikolaj Ehlers, who has a goal and three assists in four games. He played with Fucale on the Mooseheads and like Comrie, was drafted by the Jets.
"We all know he's at his best when he skates and he's got great hands and shot so it's no secret," said Fucale.
Columbus Blue Jackets prospect Oliver Bjorkstrand leads Denmark with four goals and an assist. Denmark picked up the fourth seed in Group B following a 0-1-2-1 round-robin record.
"They're a big physical team, they play well in the corner, they sacrifice themselves and they have some skill," said Groulx. "When you look at their specialty teams, they're pretty good. Power play and penalty kill is pretty good and when you look at their ratio in terms of turnovers and takeaways they're pretty good too.
"We expect a tough battle tomorrow."
Denmark coach Olaf Eller admitted his team would face a major challenge in Canada.
"We're going to have to have great goaltending. We're going to get our power play going and we're going to work our (expletive) off and then we're going to need some good bounces (pause) and maybe a little bit more than that," Eller said of what his team would need to win.
"It's going to be a tough one for us."
The semifinals will be played Sunday at Air Canada Centre. The medal games are scheduled for the same venue on Monday.