Futures Game will test Guerrero Jr., Bichette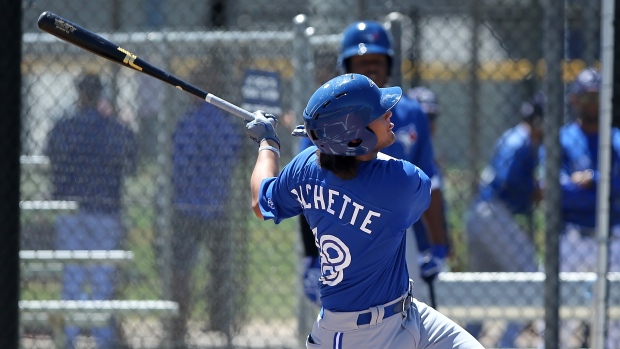 The drive from Lansing, Mich., to Dunedin, Fla., takes about 18 hours.
In the case of Vladimir Guerrero Jr. and Bo Bichette, it took about 300 plate appearances.
When the Toronto Blue Jays' attention-grabbing prospect duo shuffles off Sunday's Futures Game stage in Miami, they'll be done with the Low-A Midwest League they've spent three-plus months tearing apart and onto bigger — and the Jays hope even better — things in the High-A Florida State League.
It's the promotion many both inside and outside the organization have been clamouring for.
"I really wouldn't say there was an Aha! moment or a tipping point," Blue Jays director of player development Gil Kim said. "Obviously, they've been playing well all season, but we felt they were in a good development place and both Bo and Vladdy had established a very good relationship with (the coaching staff in Lansing) and it was a very good development environment for them. We did not feel like there was a rush to move them, but in the end when we saw the continued consistency of them taking ownership of their own careers and their own development and being accountable, and it became a decision that we felt needed to happen."
Midwest League pitchers will tell you it's long overdue.
Bichette is slashing a gaudy .384/.448/.623, and has 35 multi-hit games, compared to only nine hitless outings.
Next to the 19-year-old shortstop, Guerrero Jr. has slashed .316/.409/.480 while playing passable defence at third base.
"What they've done as far as on-field performance, that's been very impressive," Kim said. "Vladdy's 18 years old and he's going 40 walks to 34 strikeouts right now. Bo's only 19 and offensively, he's got a 1.071 OPS with 10 home runs and 12 stolen bases. More impressive than that has been just their commitment to getting better every day and taking ownership of that."
The Futures Game assignment is an interesting one, as both players will get to test themselves against mostly Double-A and Triple-A arms, all of them highly-regarded prospects themselves.
Of the 50 prospects making up the two rosters — U.S. and World — only 15 of them have yet to reach Double-A, and the Blue Jays' prized pair are among the youngest.
"It speaks to the tremendous natural talent that both of them have and how they've been able to transfer their skills into the game at such a young stage of their development," Kim said. "It's very nice to see. Very rewarding for them and they deserve these rewards of going to the Futures Game and to Dunedin because they've really earned it."
The pitching-rich Florida State League will be a good test for Guerrero Jr. and Bichette over the next two months.
While they're likely ticketed to return there to start the 2018 season, solid performances will have the Blue Jays front office feeling even more confident about them heading into the winter.
Last week, Baseball America released its mid-season top 100 prospects list, with Guerrero Jr. moving all the way up to No. 2 overall from the 16th spot on their original winter list.
Bichette landed at No. 44 after just cracking the list at No. 93 coming into the season.
Kim is eager to see the pair continue to develop under the watchful eye of Dunedin manager John Schneider.
"The biggest jump, obviously, is Triple-A to the big leagues, but it's a pretty significant jump from Low-A to High-A given this particular case (because) with both players it's their first full season," said Kim, noting Bichette's arrival will push Cuban prospect Lourdes Gurriel into more of a utility role, including his debut at second base late last week. "The Florida State League has good pitching, but apart from the level of competition, it's the first time both of these players have played as many games as they have. There's the mental and physical component that comes along with their first full season. It is a jump that we wanted to be calculated about.
"We didn't really put a certain pace or a timetable on either of them. We just felt they'd be able to tell us when they were ready for their next move and they certainly have."