Gardiner says he'll play vs. Penguins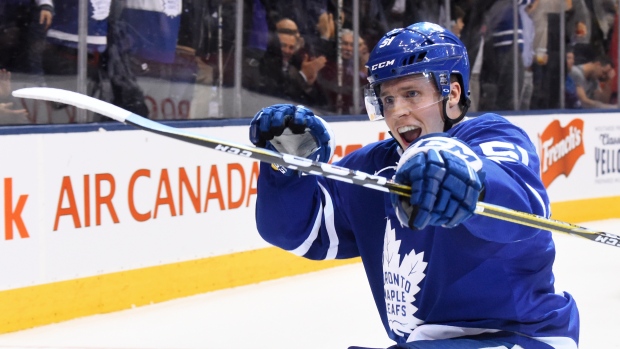 Toronto Maple Leafs defenceman Jake Gardiner told Phil Kessel of the Pittsburgh Penguins that he will play in Saturday's matchup.
According to TSN's Mark Masters, Kessel was walking past Gardiner as the Leafs defenceman was on his way to a mesia session and asked his former teammate if he was good to go.
"Couldn't tell you. That's never happened before. I can't remember getting hit weird or anything ... must have been a quick movement that caused it," Gardiner said of his injury.
"Plan on playing him tomorrow," Head coach Mike Babcock said Friday of Gardiner's status. "When I come in tomorrow, they'll [the team's medical staff] give me the news."
Gardiner left Wednesday's clash against the Columbus Blue Jackets after two periods with a lower-body injury, which Babcock described as "some kind of spasm."
Babcock said the issue had flared up before the game, but the team believed it could be managed as he played.
Gardiner had just 5:44 minutes of playing time over the first two periods.
The 27-year-old has four goals and 31 assists over 59 games with the Leafs in 2017-18, his seventh year with the club.