Gasol trade a risk worth taking for Raptors
Although Marc Gasol isn't the player he once was, the three-time all-star and former Defensive Player of the Year gives the Toronto Raptors the upgrade they need to keep up in a highly competitive race atop the Eastern Conference, Josh Lewenberg writes.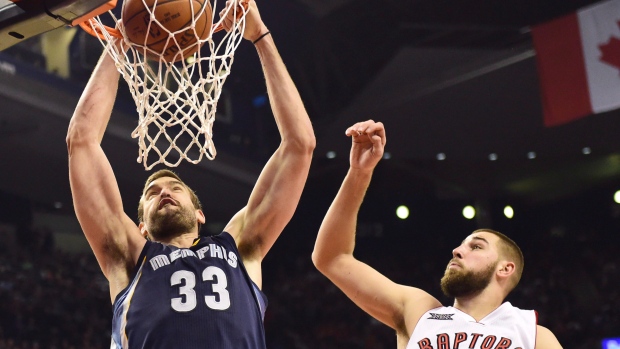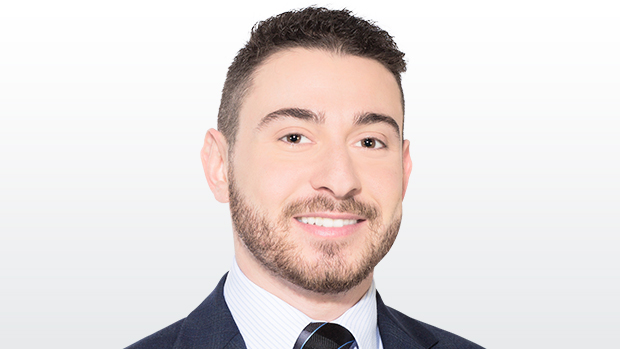 ATLANTA – Typically, Toronto Raptors president Masai Ujiri isn't one to react – or certainly overreact – to what teams around him are doing, but it would have been impossible to ignore what a couple of Eastern Conference rivals were up to ahead of Thursday's NBA trade deadline.
The days, and ultimately the hours, leading up to the deadline were busy, particularly in the East, where the Philadelphia 76ers added talented forward Tobias Harris to an already loaded starting lineup and the Milwaukee Bucks traded for sharpshooter Nikola Mirotic, the perfect fit for their system.
Then, with just over an hour to go before the 3 p.m. ET buzzer, the Raptors made a move of their own, acquiring veteran centre Marc Gasol from the Memphis Grizzlies in exchange for Jonas Valanciunas, Delon Wright, C.J. Miles and a 2024 second-round pick.
Gasol isn't the player he once was, but even at 34-years-old the Spaniard gives the Raptors the upgrade they needed to keep up in a highly competitive race atop the East.
A three-time all-star and former Defensive Player of the Year, Gasol was averaging 15.7 points, 8.6 rebounds and a career-best 4.7 assists to go along with 1.1 steals and 1.2 blocks in 53 games with Memphis this season, his 11th in the NBA.
He got off to a hot start to the year, looking like his old self on both ends of the court, before falling off some as the season's gone on. How much of that can be attributed to playing for a struggling Grizzlies team that has dropped to 14th in the West remains to be seen. The Raptors are hoping that the move to Toronto and a return to the playoffs will help reinvigorate him.
Gasol is one of the NBA's premiere multi-faceted, two-way centres, and has been for most of the last decade. Even as he's gotten older and the league has trended away from traditional 7-foot centres, Gasol's vast skill set has allowed him to adapt his game.
He's averaged at least 4.2 assists in each of his last three seasons – the highest marks of his career – and he's hit 36 per cent of his 809 three-point attempts over that stretch after taking just 66 in his first eight seasons combined. Those are both things – passing and three-point shooting – that the Raptors could use from the position.
"He's one of the best fives in the league for a long time now," Raptors guard Fred VanVleet said. "A perennial all-star, Defensive Player of the Year, so just really excited to see how we can acclimate him to what we do and see how much he can give us a boost. Obviously we are very excited about that."
It's not quite the all-in type of move that some fans were pining for. 'All-in' would have entailed cashing in their chips and putting their future on the line by trading rising star Pascal Siakam or sophomore OG Anunoby or first-round picks for a superstar calibre player, like Anthony Davis, who wasn't dealt after all.
Gasol, while talented enough to move the needle, isn't quite at that level, at least not anymore. This move is more measured. They haven't gone all-in, but they're more in. It gives them a better chance to compete for a conference title and get to the Finals this season, but the long-term risk is less significant.
This upgrade did not come at the cost of those coveted assets that Ujiri and general manager Bobby Webster would need to pivot in a different direction if free agent-to-be Kawhi Leonard leaves this summer.
It also doesn't alter their timeline much. Like Valanciunas and Miles, Gasol has a player option that he's likely to pick up for next season. Assuming all three opt in, as expected, Gasol will make $25.6 million, a hair less than Valanciunas and Miles are due – $26.3 million combined. Meanwhile, Wright will be a restricted free agent over the summer.
The Raptors are still lined up to have a clean cap sheet in the summer of 2020, when Gasol, Kyle Lowry, Serge Ibaka and VanVleet come off the books. Currently, they only have two players under contract past the 2019-20 season: Anunoby and Norman Powell.
The price to get Gasol was reasonable, although the three outgoing players will all be missed in some way, both on and off the court. Drafted fifth-overall by Toronto in 2011, Valanciunas was the longest-tenured Raptor and the consummate team player. Despite a fluctuating role, especially this season as he split the starting centre gig with Ibaka, he never complained and always worked hard.
Valanciunas could barely speak the language when he came over from Lithuania in 2012, but he's grown as both a player and a young man in his seven seasons with Toronto – the only NBA home he's ever known.
Out for two months after dislocating his thumb in early-December, Valanciunas was finally set to return to the lineup ahead of Thursday's game in Atlanta before learning he had been dealt. The 26-year-old Lithuanian is no stranger to hearing his name in trade rumours.
"I have been in rumours so many times I don't even look at it," Valanciunas said ahead of morning shoot around on Thursday, hours before finding out he was bound for Memphis. "We have a good team. We have a good future in front of us, so I just want to go on the court and play ball and win the games. That is what I want to do. I love Toronto and I want to stay there."
"It's tough, man," VanVleet said hours later, after learning about the trade. "It's a whirlwind of emotions. We're going through it like all you guys are in real time. Obviously for a guy like JV who has been out so long and was just anticipating getting back on the floor tonight, he's probably just more frustrated that he doesn't get to play today than anything. Obviously as teammates we feel for those guys and it's sad to see them go."
The Raptors have shopped Valanciunas on and off for the past few years, unsuccessfully, but it was JV's strong start to this season that likely sold Memphis on his upside. While his minutes were down before his injury, he was averaging 12.8 points – tying his career-high – and 7.2 rebounds while shooting a typically efficient 58 per cent from the field.
In many ways, he was the ideal player for his role platooning with Ibaka, and the Raptors missed what he brings – particularly his rebounding, screening and rim protection – while he was out.
At his best, Gasol brings many of those same strengths with fewer weaknesses. While Valanciunas had become more of a situational player in head coach Nick Nurse's system, Gasol should have more utility in different types of matchups. Of course, all of that is dependent on Gasol being at or near his best.
Like Valanciunas, Gasol is coming from the only NBA team he's ever played for. He had a strong connection with Memphis – the city, franchise, community, and fan base. Still, the trade wouldn't have come as a surprise to him. The Grizzlies missed the playoffs for the first time in eight years last season. As things continued to go south this season, they've been transparent about their intention to turn the page, which meant openly taking offers for Gasol and his long-time teammate, point guard Mike Conley, who wasn't dealt ahead of Thursday's deadline.
Given his experience and desire to win, it shouldn't take Gasol long to transition to a new situation in Toronto. He'll re-join a few familiar faces. Sergio Scariolo, his coach with the Spanish national team, is an assistant on Nurse's staff. He and Ibaka shared the frontcourt for Spain. He and Lowry played 49 games together with Memphis in 2008-09 – Gasol's rookie season.
Depending when he joins the Raptors – possibly Saturday in New York or back in Toronto for Mondays' contest against the Nets – Gasol could have 25 to 26 games to get acclimated before the playoffs. Toronto is betting the transition will be relatively seamless.
They're also hoping that the depth they gave up this week won't come back to bite them.
The Raptors also dealt reserve centre Greg Monroe and their 2021 second-round pick to the Brooklyn Nets for cash considerations. On Wednesday they moved sparingly used guard Malachi Richardson to the Philadelphia 76ers, along with their 2022 second-round pick, also for cash considerations. Both of them were financially motivated deals, aimed to cut salary.
With the three deals, the Raptors essentially traded five players for one. In other words, they have more work to do. Currently, their roster stands at 10 players. The NBA requires teams to have a minimum of 14. They'll have two weeks to fill out their roster, though they'll need to add at least one more player in the coming days.
To do so, they have a few options. They can sign players to 10-day contracts, they can convert the contracts of their two-way players – big man Chris Boucher and guard Jordan Lyod – and they can scour the buyout market, which should continue to grow as losing teams waive veteran players they couldn't trade in the next week.
The Raptors haven't had much luck selling buyout players on Toronto in years past, striking out on guys like Marco Belinelli and Ersan Ilyasova last season. However, unlike last season, they can offer regular rotation minutes, with Wright and Miles on the way out.
How did the Raptors fare on deadline day? Well, they made a trade and got the best player in it. The depth pieces they gave up were expendable. They upgraded their talent going into the stretch run. Initially, that looks like a win.
There are still some questions left to be answered though. Can Gasol turn back the clock, even for a year or two, and look like the young 34-year-old we saw earlier this season? How does he fit with Leonard and Lowry, and how will Nurse manage his improved frontcourt? Could he possibly bring Gasol off the bench, or will he break up the duo of Ibaka and Siakam, who were both having career years in the starting lineup? And how will they fill out the rest of their roster?
Going into Thursday, the Raptors trailed first-place Milwaukee by two games and held a 3.5 game lead on the Boston Celtics and Indiana Pacers. The Sixers were 4.5 games behind.
For years, the East was a punch line, the NBA's inferior conference, but nobody's laughing now. With Boston coming on of late and Milwaukee, Toronto and Philly all getting better at the deadline, these next few months should be a dogfight.​