Gaudreau reaching new heights at 3-on-3 OT
Erik Karlsson doesn't think it's "really hockey," and Dustin Byfuglien called it "terrible," but Johnny Gaudreau couldn't be happier the NHL has adopted 3-on-3 overtime.
Andrew Robichaud, TSN.ca Staff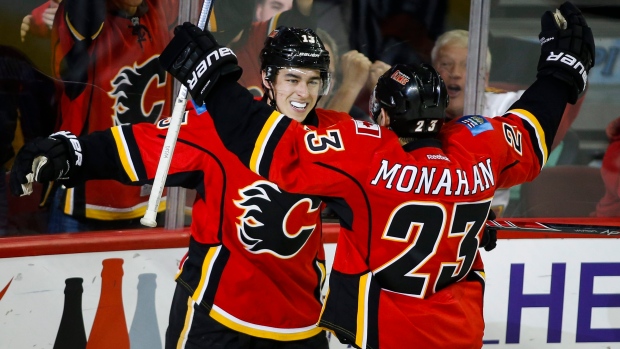 Erik Karlsson doesn't think it's "really hockey," and Dustin Byfuglien called it "terrible," but Johnny Gaudreau couldn't be happier the NHL has adopted 3-on-3 overtime.

The 22-year-old Salem, N.J. native is lighting up the extra frame in record fashion. His assist on Kris Russell's overtime winner in a 2-1 triumph over the Nashville Predators on Tuesday gives him three goals and four assists in nine overtime contests this season, tying the mark set by Joe Thornton in 2005-2006 for the most overtime points in a single season in the shootout era (seven).

"In the summer when I was younger, we'd have 3-on-3 tournaments and that was my favourite time - I wanted the season over so I could play 3-on-3 tournaments," the Calgary Flames sophomore told the Ottawa Sun in October.

"Thankfully, it's in the NHL now. It's a lot of fun for me."

Though the Flames stumbled out of the gate this season, Gaudreau's performances in 3-on-3 have helped the team forget early struggles. The Flames have come out on top in nine of 11 games gone past regulation, including eight before the shootout.

The Detroit Red Wings and Philadelphia Flyers are the next closest clubs with six overtime wins.
"I like it," Gaudreau said Tuesday. "I think the whole team smiles because we've been playing well 3-on-3. There's a lot of time and space."

The Flames are rolling on a six-game win streak with three coming in OT and Gaudreau has factored in every one. Simply put, if the Flames after tied through three periods, expect the 2015 Calder Trophy nominee to be on the ice in extra time.

"It's exciting … gets me going," Gaudreau said Tuesday. "It shows they have confidence in me and gets me to have a little more confidence in myself and feel more comfortable out there, to relax and make plays."

Gaudreau's remarkable efforts in overtime have come in just about every way possible. He beat the Boston Bruins and Chicago Blackhawks with a masterclass display of stickhandling, sent the Flames over the New York Rangers with an assist from his own goal line and sunk the Philadelphia Flyers with a rebound cleaned up by teammate T.J. Brodie.

The former Hobey Baker Award winner leads the league with his record-tying seven overtime points, followed by Flyers' forwards Jakub Voracek (1G, 4A) and Claude Giroux (1G, 3A), Blackhawks' defenceman Brent Seabrook (0G, 4A) and New Jersey Devils' forward Lee Stempniak (1G, 3A).

"Johnny wants the puck and I think he's at his best in those moments," Flames' head coach Bob Hartley said after Tuesday's victory.

Gaudreau is doing exactly what the NHL envisioned with the implementation of 3-on-3 overtime this season - ending games before the shootout.
As of Nov. 4, 24 of 34 tied games have been resolved in 3-on-3 overtime this season. The 70.6 per cent finishing rate is an overwhelming improvement on the 44.4 per cent (136 of 306) rate of last season.

It has also been a catalyst for changes to the All-Star Game in Nashville on January 31, 2016.

The four NHL divisions - Atlantic, Metropolitan, Central, and Pacific - will play in a 3-on-3 tournament for a $1 million prize. The Atlantic and Metropolitan divisions will lock horns in a 20-minute contest for a shot to represent the Eastern Conference in the final, while the Central and Pacific will do the same to represent the West.

Gaudreau is the vote leader among All-Star candidates from the Pacific division and will be named team captain if the ballot stays that way.

Here's guessing his teammates won't mind following the leader.