Getzlaf has five helpers, Ducks top Flames
Rickard Rakell and Corey Perry scored two goals apiece, and the Anaheim Ducks rallied from a third-period deficit for their 21st straight home victory over the Calgary Flames, 5-3 Tuesday night. Captain Ryan Getzlaf tied a franchise record with five assists for the Ducks.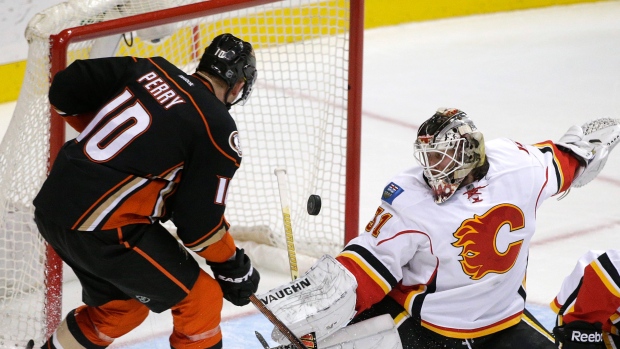 ANAHEIM, Calif. - The Anaheim Ducks haven't lost at home to Calgary in nearly 12 years, and their top line kept the streak alive with a phenomenal finish.
Rickard Rakell and Corey Perry scored two goals apiece, and the Ducks rallied from a third-period deficit for their 21st consecutive home victory over the Flames, 5-3 Tuesday night.
Captain Ryan Getzlaf tied a franchise record and personal best with five assists for the Ducks, who haven't lost a regular-season game to Calgary at Honda Center since Jan. 19, 2004.
Getzlaf, Perry and Rakell had the biggest night yet for their still-unfamiliar line combination, racking up 10 points and leading a dominant third-period rally back from a 3-2 deficit. The Ducks made such comebacks regularly last season, but they've been scarce during their mediocre start to the new campaign.
"It was big to play from behind and have the belief in the locker room that we could come back," Getzlaf said. "We have to be able to maintain throughout a hockey game. We did a better job of that tonight. Not all night, but we did a lot better job."
Having Calgary in town helps, for some inexplicable reason: The Ducks' home streak against the Flames is the NHL's longest in a two-team series since Philadelphia won an NHL-record 23 straight over Pittsburgh in the 1980s.
"We didn't quit," Ducks coach Bruce Boudreau said. "This was more like last year or the year before where we didn't shrug our shoulders and go, 'Oh man, the luck is going against us.' We just kept coming."
Ryan Kesler scored an empty-net goal in the final second, and Getzlaf completed just the fourth five-assist game in Anaheim history. The Ducks captain tied his career highs in points and assists with his first five-assist game since Oct. 29, 2008.
Defencemen Cam Fowler and Sami Vatanen had two assists apiece for the Ducks, who finished strong in the season's first meeting between underachieving Pacific Division rivals. Anaheim eliminated Calgary from the second round of last year's playoffs, but both clubs have stumbled through the first quarter of the new season.
Michael Frolik scored two goals and Sam Bennett had a goal and an assist for the Flames, who couldn't complete their first three-game winning streak of the season. Karri Ramo stopped 27 shots for Calgary.
"It's a tough lesson," Calgary coach Bob Hartley said. "You're leading 3-2 after the second period. We have the potential to play the right way with those leads, but tonight we didn't, and we got what we deserved."
Anton Khudobin gave up two goals on Calgary's first five shots before John Gibson replaced him midway through the first period. Gibson made 19 saves in his first NHL action and first victory of the season.
Gibson's entry awoke his teammates, and Perry forced home a power-play chance moments later. Rakell then tied it with an exceptional move around Dougie Hamilton and a sharp backhand for his fourth goal.
After Frolik scored late in the second period to put Calgary ahead again, the Ducks' top line took over — and Anaheim needed a victory after losing five of its previous seven, including three straight at home.
Rakell tied it 1:52 into the third, securing his first multigoal game since last January on Perry's behind-the-net pass.
Perry then put the Ducks ahead just over two minutes later, beating Ramo with a wrist shot on a power-play breakaway set up by a long pass from Getzlaf.
"We've been like that on the road for quite a bit," Frolik said. "We can't finish up the whole 60 minutes. We had a good start tonight, but we just need to find a way to win those kinds of games."
NOTES: Ducks G Frederik Andersen was scratched with an apparent case of the flu, forcing the Ducks to recall Gibson, who has spent the season with San Diego in the AHL. ... Anaheim hadn't scored a 5-on-5 goal in nearly 151 minutes before Rakell's first goal. ... The Ducks have been outscored 29-8 in the second period this season.