Fowler scores winner as Ducks down Leafs
The Anaheim Ducks scored two power-play goals, including the go-ahead game-winner from Cam Fowler, to beat the Toronto Maple Leafs 3-2 on Monday night. Nick Ritchie and Ryan Getzlaf added goals in the win, while John Gibson was impressive with 33 saves.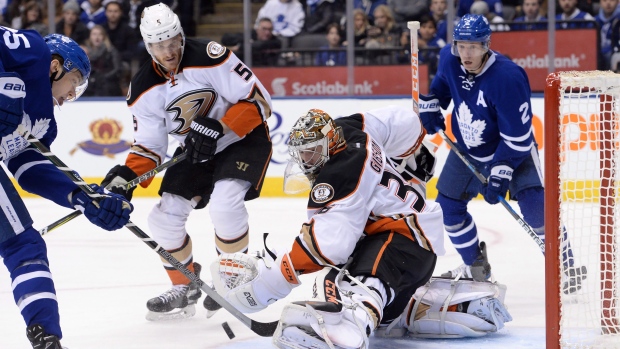 TORONTO — Randy Carlyle wasn't exactly sentimental after winning his first game back in Toronto.
"I think a lot of people have made a bigger deal out of it (than I have)," Carlyle said. "From a personal standpoint, yeah it's nice, but the bottom line is our hockey club needed the win more than I needed the win and that's really why we're here."
The Ducks scored two power-play goals and John Gibson came up large to help Carlyle capture a 3-2 victory in his first game back at Air Canada Centre following his firing as the Maple Leafs head coach almost two years ago.
Carlyle coached almost 200 regular season games behind the Toronto bench, leading the club to its one and only playoff appearance since 2004. He was fired in Jan. 2015 with the team sliding and underlying numbers suggesting a product that wasn't built for the long haul.
After sitting out last season Carlyle returned to coach the Ducks for a second time this past summer.
Despite his assertions otherwise players in the Ducks dressing room believed the win had extra meaning for their second-time head coach.
"We're all a family in here so we know what it means to him," captain Ryan Getzlaf said. "There's always a little bit of an edge that you want to win that game."
Getzlaf scored the first of two power-play goals for a Ducks squad that entered the night ranked second in the NHL with the man advantage. Cam Fowler would notch the game-winner in the back-half of the third period, whistling a one-timer past former Ducks goaltender Frederik Andersen, who was also facing his former team for the first time.
Anaheim was coming off a 6-4 loss in Detroit, one that saw a 3-1 lead slip away in defeat. It was the second time in four games that the club had allowed six goals and eighth time all season yielding four or more.
Gibson helped ensure that didn't happen again versus Toronto. The 23-year-old came up huge, especially during a third period that saw the Leafs pelt 19 shots. Gibson stopped all but one, only a harmless Nazem Kadri point shot finding its way in, deflected off of Ducks defenceman Korbinian Holzer.
On a Toronto power play in the third period Gibson made an emphatic glove stop of Kadri and then got in front of an Auston Matthews one-time attempt in the slot, subsequent rebounds also denied. He later snared a William Nylander attempt with another highlight-reel glove save.
The Ducks traded Andersen to the Leafs for a pair of draft picks with the intent of handing Gibson No. 1 duties for the first time. He had a lowly .906 save percentage ahead of Monday's action though, yielding five goals in two of his previous three starts.
Backup Jonathan Bernier got the last start against Detroit before getting pulled after 40 minutes.
"We knew we had to have a good game and I put a little extra pressure on myself to make sure I was there for them and it worked out," said Gibson, who finished with 33 saves.
Matthews was the other Leaf to beat him, notching his team-leading 15th goal in the first period.
After Zach Hyman helped free a puck loose from Getzlaf along the wall in the Ducks zone, Nikita Zaitsev fired a point shot that was eventually redirected by Matthews. The 19-year-old had one hand on the stick when he extended to guide it past Gibson.
It was Matthews's ninth goal in the last 12 games. He sits second among all NHL rookies in goals (15) and points (24), trailing only Winnipeg's Patrik Laine.
"I thought he was our best player," Leafs coach Mike Babcock said. "I thought he was really good."
The Leafs opted to match Matthews up against Getzlaf, a three-time all-star, for much of the night. It was a hearty test for the first-year centre, which followed a Saturday evening matchup against Penguins superstar Evgeni Malkin.
While the Ducks scored twice with the man advantage the Leafs came up empty with their three opportunities, despite firing eight shots.
Faceoffs also proved critical. Anaheim, the NHL's top faceoff team, won 67 per cent of the draws on Monday (42 of 63), led by Antoine Vermette who won an impressive 18 of 21.
Vermette leads the NHL with a 65.6 per cent success rate in the faceoff circle.
Ryan Kesler won 17 of his 25 draws, including the one that directly led to Fowler's game-winner.
The Leafs were missing their two best on the draw with centres Tyler Bozak (57.8 per cent) and Ben Smith (53.1 per cent) both sidelined by injury. Ducks defenceman Kevin Bieksa, meanwhile, was forced to leave the game in the second period after taking a puck to the face. He was held out for precautionary reasons, suffering only a swollen lip.
Carlyle said Monday morning that he had long moved past his rough end in Toronto.
"If you're going to dwell on the past you're in the wrong business," he said. "My experience here was a positive one. I got to work for a great organization, a storied organization, worked with some great people. I've got no qualms about what happened in Toronto. You move on to the next chapter in your life."