Giordano, Simmonds, Williams nominated for Messier Leadership Award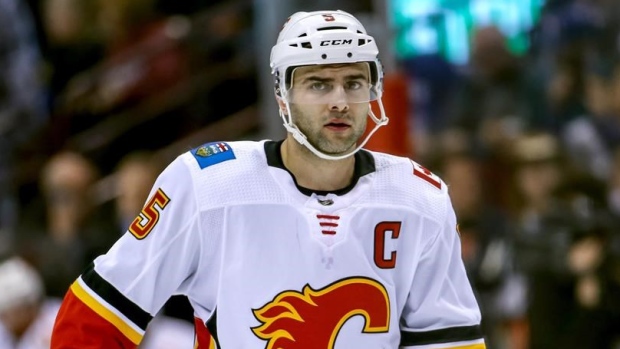 Mark Giordano of the Calgary Flames, Wayne Simmonds of the Nashville Predators and Justin Williams of the Carolina Hurricanes were named finalists for the Mark Messier NHL Leadership Award on Wednesday.
The award is given annually to the player who "exemplifies great leadership qualities to his team, on and off the ice, during the regular season and plays a role in his community growing the game of hockey."
Deryk Engelland of the Vegas Golden Knights won the award last season.
Giordano finished second among defencemen in scoring and earned a Norris Trophy nomination. The 35-year-old partnered with the Calgary Board of Education in 2014 to launch Team Giordano to promote improved physical fitness and academics, as well as leadership development, at five high-needs schools in the area. Giordano also participated in other community endeavors, including the Flames' literacy program and the Calgary Pride Parade.
Simmonds, who was also a finalist for the Messier Award last season, had 30 points in 79 games with the Philadelphia Flyers and Predators. Much of his off-ice work took place in Philadelphia where the 30-year-old forward is a board member of the Ed Snider Youth Hockey Foundation (ESYHF), and while with the Flyers visited community rinks and engaged students. Simmonds was honorary chairman of the foundation's annual golf tournament four straight years and worked with the planning committee in hosting the organization's Willie O'Ree Skills Weekend, writing welcome letters to each participant. Simmonds hosted a different military unit in a private suite and met each group at the end of every other Flyers home game. He also hosted Wayne's Road Hockey Warriors to help grow the sport in his hometown of Scarborough, Ontario, since 2012.
Williams, 37, was named Hurricanes captain Sept. 13, had 53 points in 82 games; reaching the 50-point mark for the seventh time in his 18 NHL seasons. A three-time Stanley Cup champion, Williams also mentored the youth hockey community in North Carolina, where he helped coach the Junior Hurricanes Under-10 team and assisted local girls' hockey events. His efforts extended to his hometown of Cobourg, Ontario, where he hosted the annual Justin Williams Skills Development Camp in support of charity over the summer.