Giovinco hat trick puts TFC over Orlando
Sebastian Giovinco stole the show again Wednesday, scoring a hat trick to lead Toronto FC to a 4-1 win over Orlando City. It was another MVP performance for the former Juventus star, who is forcing early revisions to the Toronto record book in his debut MLS season.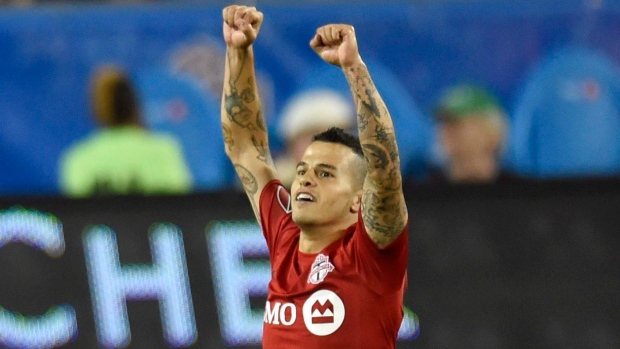 TORONTO - Sebastian Giovinco continues to raise the MVP bar in Major League Soccer this season.
The five-foot-four 135-pound Italian scored his second hat trick of the season Wednesday, lifting Toronto to a 4-1 win over Orlando City.
The former Juventus star known as the Atomic Ant now has 16 goals, moving him into the league lead ahead of Columbus' Kei Kamara (15) and breaking Toronto's single-season record of 15 set in 2010 by Dwayne De Rosario. With 10 assists, Giovinco has been directly involved in 26 of Toronto's 36 goals (72.2 per cent) this season.
"It's special every time we get to see him play," said Toronto coach Greg Vanney. "He comes up with some amazing moments."
It marked the first ever hat trick by a Toronto player at BMO Field in league play.
The win moved Toronto (9-8-4) into third place in the tight Eastern Conference playoff race, four points ahead of seventh-place Orlando (7-10-6).
When Giovinco wasn't threatening the Orlando goal himself, he was creating chances for teammates.
Giovinco opened the scoring via a 12th-minute penalty after being hacked down by a lunging tackle from Aurelien Collin. The French defender looked like a plow horse matched against Secretariat after a fine pass by Marky Delgado found the Italian in space.
Goal No. 2 came off a world-class free kick in the 56th minute from some 28 yards out that curled over the Orlando wall and beat 'keeper Tally Hall.
"For me every goal is the best goal," Giovinco, speaking through an interpreter, said when asked where the free kick goal rated in his scoring pantheon. "As the expression goes, the next one will be the best one."
In the 88th minute, Giovinco beat Hall with a low angled shot after a long seeing-eye pass from Benoit Cheyrou, prompting the crowd of 26,648 to chant "MVP, MVP."
"If we'd hit a couple of more passes, he might have had five or six at the end of the night," said Vanney. "But that's being greedy, I guess."
The Italian had seven shots, two more than the entire Orlando team.
Given Giovinco's pace and skill on the ball, few defenders can mark him one-on-one. And when he catches sight of goal, he can shoot with both feet.
Toronto is now 6-0-0 when it scores first, with Giovinco a big part of that success. When Toronto leads, it stretches the game by forcing the opposition to attack. That leaves holes for Giovinco to operate in.
"When we get ahead, space is our friend, especially for Sebastian," said Vanney.
Giovinco's performance had Tim Leiweke's phone buzzing, with praise for his prize off-season acquisition. The CEO of Maple Leafs Sports & Entertainment sat in the Toronto locker-room after the game, shaking his head in amazement at what he had just seen.
After just 21 games in the league, Giovinco now is tied with Chad Barrett for third place on Toronto's all-time scoring list. He needs just one more goal to tie Danny Koevermans for second. De Rosario holds the club record of 28, accomplished in 76 games.
Giovinco already holds the club single-season records for assists, shots, shots on goal, and fouls suffered.
He also tied the club career mark for penalty-kick goals (three). And he stands second in Toronto all-time multi-goal games (with four) and second in all-time game-winning goals (five).
Giovinco was sent flying through the air in the eighth minute in a nasty challenge from behind by centre back Seb Hines, who was booked on the play. The TFC forward was clearly upset at other rough treatment.
"I think when he sees people want to play like that, he's going to show you a little more and he's going to take it personal," said Vanney. "And that's what you get when they do it. I think they saw enough of him tonight."
Asked if he worried about his star player succumbing to injury, Vanney said dryly: "I try not to."
As usual, Giovinco dismissed the rough treatment.
Collen Warner scored Toronto's other goal. Luke Boden scored for Orlando.
Both teams were missing a lot of star power, with US$18.42 million worth of designated player — based on their 2015 salaries — on the sidelines. Orlando's Kaka and Toronto's Michael Bradley, the two captains, were both injured while Toronto striker Jozy Altidore was suspended.
That left the spotlight on Giovinco and Orlando rookie Cyle Larin.
Larin got little service on the night. The 20-year-old native of Brampton, Ont., came into the game with five goals in his last two outings, tying Damani Ralph's 2003 league rookie record of 11 goals.
He had a chance to set the record four minutes in when a long ball beat both Brazil's Jackson and Damien Perquis, leaving Larin behind the Toronto defence. But Bendik stopped him from close range and Larin's shot off the rebound deflected off a defender.
"I thought we started quite bright. Cyle had a couple of early opportunities, and I thought we started OK," said Orlando head coach Adrian Heath.
"I was disappointed with the response in the second half," he added. "We have to get better, and the players who we're bringing in can't come quickly enough."
---
Follow @NeilMDavidson on Twitter