Girardi belongs on Mount Rushmore of bad NHL contracts
Coming up with a Mount Rushmore of bad NHL contracts is harder than you might imagine. But as TSN's Travis Yost explains, Rangers defenceman Dan Girardi belongs on it.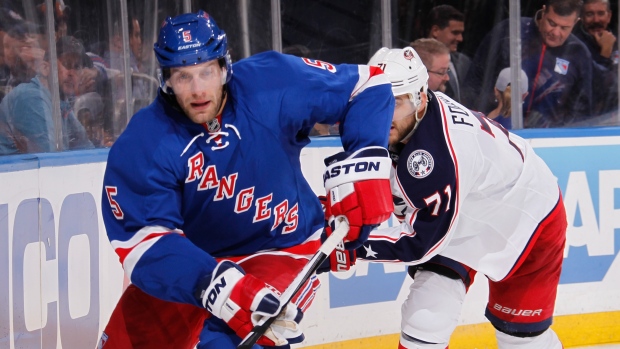 Coming up with a Mount Rushmore of bad NHL contracts is harder than you might imagine. There was such an impressive run of ill-fated signings a few summers ago that you probably have at least a dozen qualified candidates.
Andrew MacDonald and David Clarkson seem to be right at the top of the list – your George Washington and Abraham Lincoln, I'd say. Many words have been spent on both of these players, but the story goes as follows: Philadelphia and Toronto ignored innumerable warning signs and abysmal underlying statistics, and paid a dear price. This, of course, is not hindsight. And it's probably not a coincidence that three of the most out-spoken critics of these signings (including Cam Charron, Tyler Dellow, and Eric Tulsky) are all now gainfully employed by NHL teams.
There are many reasons why these players would end up on a theoretical Mount Rushmore, but perhaps the biggest driver is the fact that these contracts were so, so avoidable. Had either organization paid attention to the publicly-available data, they would've walked away. And fast.
Instead, they inked deals that more or less crippled their salary cap for a number of years.
The debate about who become Thomas Jefferson and Theodore Roosevelt is probably much more interesting, but I think New York Rangers defenceman Dan Girardi is very much a candidate for one of those two hats.
I can't emphasize these two points enough: (1) Girardi just isn't very good; and (2) Girardi's perceived value around the league is way, way higher than his realizable value, making his contract movable. The second part is the one that's of interest to the Rangers, since they are on the hook for $26 million running through 2019-20. (Brief reminder: he turns 32 in April.)
There's a real difference between MacDonald and Girardi. MacDonald was billed as a two-way defenceman, a guy who can distribute the puck and assist on the offensive end. He also was written about ad nauseam by many in the blogosphere as a candidate for a truly terrible new deal. The lustre quickly wore off MacDonald, and his game was quickly exposed as wholly deficient. The new regime in Philadelphia wasted no time marginalizing his minutes (then waiving him to the AHL). Credit to them for cutting bait, but the fate of his contract has been sealed: it's almost unmovable, unless the Flyers are willing to overpay to get him out of their budget.
The perception around Girardi, to some degree anyway, is different. Part of this is because he's billed as a prototypical defensive defenceman – a guy whose value (and perhaps sole value) comes from blocking shots and suppressing scoring chances in the defensive zone. And part of this is because the coaching staff is still wholly committed to him. He's logging big minutes for that Rangers team, and as such, he's treated as a reliable mainstay on the Rangers (or any team's) blueline.
Hard to know exactly what the Rangers are thinking, but I'd argue that the only thought should be finding a team desperate enough to take on Girardi and his soon-to-be-revealed-as-poisonous contract.
For the MacDonald/Girardi comparison, let's look at what was frequently pointed to as problematic for MacDonald, namely, the fact that his teams – every single year – were frequently caved in whenever he stepped onto the ice.
Here's MacDonald's on-ice v. off-ice Corsi% over the years: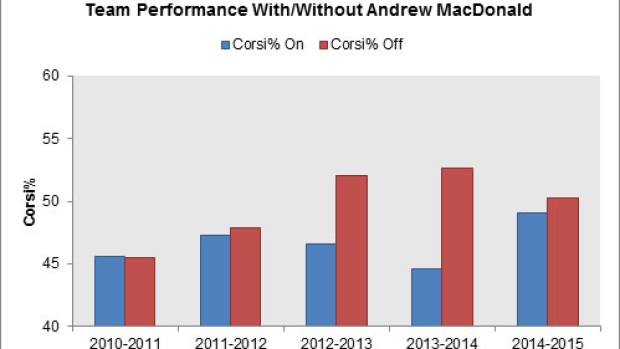 You'll see that MacDonald was consistently a possession drag. It didn't matter the situation he was deployed in or the partner he played with – his results only ranged from subpar to very, very bad. His scoring chance numbers are almost identical, if you're more inclined to look there.
This is performance you might expect from a third-pairing guy. Look at any bona fide first pairing talent, which is what MacDonald was paid to be, and you'll consistently see the opposite – teams getting huge possession or scoring chance boosts with them on the ice.
You will not be surprised to see that Girardi's numbers mirror MacDonald's, and to a really scary degree. Again, same idea: let's look at the Rangers performance (multi-year) by possession and scoring chances.
First, possession: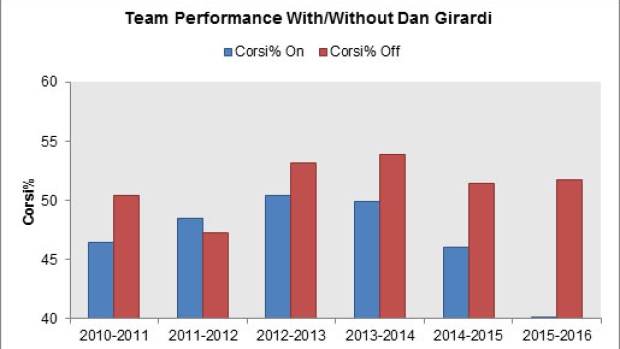 As we expected, Girardi's been a total possession drag on his team's performance. This year's kind of epitomized what his career has become – that of a guy who is sent on the ice to get shelled for 45-seconds, at least until superior defencemen can spell him and turn things around.
Let's check the scoring chances. Maybe Girardi suppresses shot quality better than he does shot volume.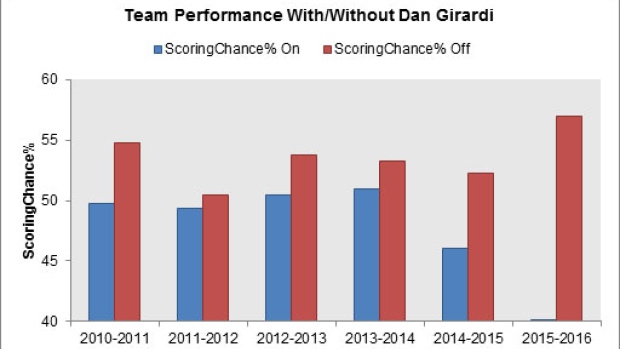 It's hard to not arrive at the following conclusion: (1) Girardi leaks scoring chances way more frequently than what some hockey observers believe; and/or (2) Girardi is so limited offensively, he can't offset the number of scoring chances he does concede by way of creating opportunity in the offensive end.
I think we have found our Thomas Jefferson. And I think that point becomes solidified when you remember what this contract meant – the loss of the super-talented Anton Stralman to Tampa Bay.
Now, all that's left is finding our Theodore Roosevelt. Truthfully I don't think there's as easy of an answer here. Dave Bolland, Travis Zajac, Dustin Brown immediately come to mind, but there's probably another half-dozen guys who should be in the conversation. Who do you have in mind?"
The Takeaway
Unlike other players around the NHL, Girardi's reputation has yet to be sullied. Part of that is because the league still struggles with proper evaluation of defencemen. Part of that is because he still is heavily relied upon in New York. This gives New York a great opportunity to get out of a deal that's going to be absolutely unmovable in short time.