Golden Knights close to agreement for van Riemsdyk, Kruger
TSN Senior Hockey Reporter Frank Seravalli reports the Blackhawks are working on a deal that would allow the Golden Knights to select defenceman Trevor van Riemsdyk in the expansion draft on the condition Vegas also trades for forward Marcus Kruger.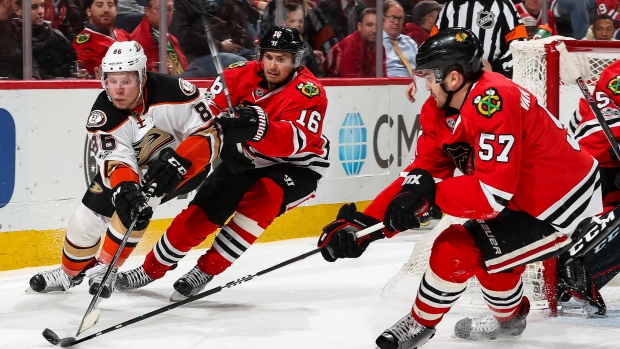 The Vegas Golden Knights and Chicago Blackhawks could be working out a deal ahead of the expansion draft in June.
TSN Senior Hockey Reporter Frank Seravalli reports the Blackhawks could allow the Golden Knights to select Trevor van Riemsdyk in the expansion draft, on the condition Vegas also takes forward Marcus Kruger in a trade.
Seravalli, who added the situation could be flipped, with the Golden Knights taking Kruger in the draft and trading for van Riemsdyk, said the deal is not 100% done yet but is looking likely.
The Blackhawks are motivated to make the move because should the salary cap remain flat for next season, they would be $4 million over. Kruger is scheduled to make a little over $3 million per year the next two seasons.
The Blackhawks, should they choose the seven forwards, three defence and one goaltender option, will be forced to expose van Riemsdyk as Brent Seabrook, Duncan Keith and Niklas Hjalmarsson all own no-move movement clauses. The Blackhawks could choose the eight skaters and one defence option, but that would require them to expose Kruger in order to protect van Riemsdyk as four forwards (Artem Anisimov, Jonathan Toews, Marian Hossa and Patrick Kane) also own no-move clauses.
Kruger, 26, scored five goals and added 12 assists in 70 games with the Blackhawks this season. He added one assist in four playoff games. Earlier this month, Kruger won a gold medal with Sweden at the world hockey championship. He had three assists in 10 games at the tournament.
van Riemsdyk, the younger brother of Toronto Maple Leafs winger James van Riemsdyk, is scheduled to make $825 thousand next season before becoming a restricted free agent. The 25-year-old appeared in 58 games this season, scoring five goals and adding 11 assists. He played in all four playoff games as the Blackhawks were swept by the Nashville Predators, but failed to record a point.
Last June, the Blackhawks traded Bryan Bickell to the Carolina Hurricanes to free up cap space, but had to give up Teuvo Teravainen in the process. The Blackhawks received a second and a third-round draft pick back in the deal.