Treliving expects a lot of action around expansion draft
The market is quiet right now, but Calgary Flames GM Brad Treliving expects a number of opportunities could present themselves leading up to, and right after the Vegas expansion draft.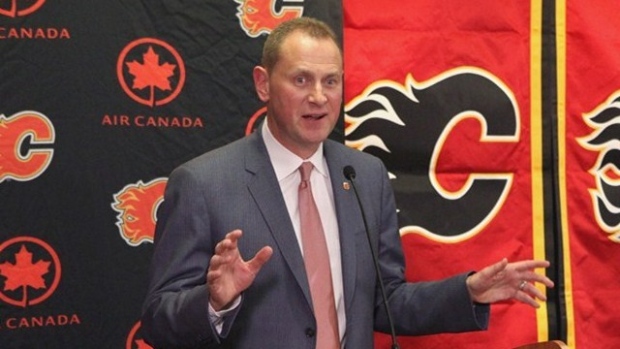 Calgary Flames GM Brad Treliving said the upcoming Vegas expansion draft has led to a unique offseason.
Speaking to TSN Hockey Insider Pierre LeBrun, Treliving said the market is quiet right now, but he's sure that won't last as the expansion draft draws closer, even saying some tentative deals could already be agreed to.
"The market is somewhat stalled. The closer we get to naming our protection list and then eventually once those protection lists come out, I think you'll see more activity," Treliving told LeBrun. "I think there have been deals that have been consummated that probably will get announced soon – not necessarily involving us – but once we leave the combine and you get closer to the expansion draft, we'll see some more fluidity in the market."
Treliving said part of the quiet is because teams can't add players right now and still fit them into their protected lists. But for that same reason there could be a flurry of post-expansion draft activity.
"That's the interesting curveball that expansion has provided. You've got teams that have expansion issues," Treliving said, adding the Flames aren't necessarily one of them. "Vegas is going to draft a number of players and not all of them are going to be in Vegas come the start of the season. That may open up opportunities. We're active in trying to explore all the options."
Treliving said he expects one area where Vegas could be dealing in a position of strength is goaltending, and that could be a situation Calgary looks into.
"There are a lot of potentials. We've run through a couple mock drafts ourselves. When you look positionally, and when you look at all the teams protection scenarios and who they have to make available, I think (goaltending's) a position of strength. Depending on what the waiver rules are, I think there could be opportunities there. At the end of the day Vegas is going to have goaltenders and I don't think all of them are going to be in Vegas come October.
Treliving did state he was very happy with the job Chad Johnson and Brian Elliott, both pending unrestricted free agents, did last season in helping the Flames reach the playoffs. And he added he is happy with the team's crop of goalies in the minors, including Tyler Parsons, Jon Gillies, David Rittich, Nick Schneider, and Mason McDonald.
In other notes, Treliving said the team has had discussions to re-sign pending unrestricted free agent defenceman Michael Stone and is unlikely to move up or down in the first round of the NHL Draft, where they are currently slated to pick 16th overall.