Glen Abbey gets another Open but future up in the air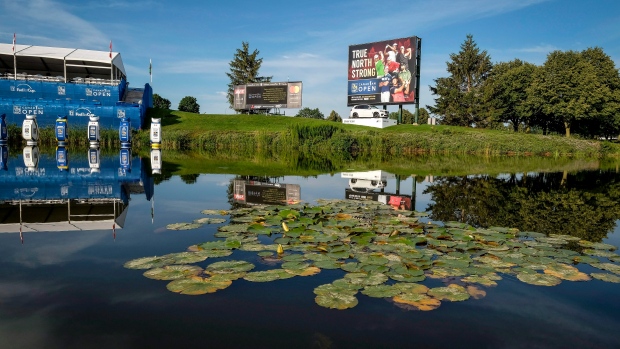 OAKVILLE, ONT. -- As play continues at the RBC Canadian Open this week, it might be a bit premature to write the obituary for the course on which it is being held.
If it has its way, the owner of Glen Abbey, Clublink, will soon turn the fairways into driveways. It's put forth a plan to build 3,300 homes on the land that Jack Nicklaus turned into a semi-permanent home for the national championship.
That's still not a sure thing and even if it is, it will be a few years before any shovels hit the ground. A spirited community effort is trying to thwart the development.
With that delay, Golf Canada is going to get at least one and possibly two more Opens out of the Abbey, a course that has proven successful as a host site from both a competitive and a financial standpoint.
On Saturday, Laurence Applebaum, Golf Canada's CEO, confirmed that Glen Abbey will play host in 2018 and also saying that an announcement on the 2019 event is imminent.
Abbey or no Abbey, he also made it apparent that it's unlikely the RBC Canadian Open will be leaving the Greater Toronto Area any time soon, a move that will no doubt disappoint golf fans in other parts of the country. However the tournament is a business and in past years when it's been held in other Canadian cities, it's lost money, something Golf Canada can't really afford right now.
The last time the tournament was held outside Toronto was in 2014 at Royal Montreal. That event lost $1 million, a huge blow to an organization that uses funds generated from the Open to operate other golf programs.
"We have so many events that we run across Canada, but really we feel as an operational staff, as a world-class facility, it's really important to be in the central core of the GTA," he stated. "It's really something that's important fundamentally to our business and our partners. And so that's our outlook."
Where exactly Golf Canada might play the tournament if the Abbey disappears remains to be seen, however plans are already underway to build a new course that may rectify that. Nicklaus has made two trips to the area to survey a number of possible locations that include re-developing existing courses as well as building on undeveloped ground. It's likely that he would be the lead designer possibly with a Canadian co-designer.
Right now the area at the top of the wish list is in Halton Region but other possible spots are located in Vaughan and Burlington.
"Our hope is having a long-term site strategy and something that we can really have all of our golf fans enjoy and get behind is really what our goal is," Applebaum said.
Of course a new course would need money to be built and that part of the plan is still not locked down. It's possible a partnership with a company such as Clublink could help but for the moment, the financial plan is still to be determined.
If a new course isn't ready by 2020 and Glen Abbey does fall to development, possible hosts include Hamilton G&CC, St. George's G&CC and Coppinwood Golf Club, all of which have expressed varying degrees of interest in the tournament.
That would be a mid-term strategy according to Applebaum, with the goal being another permanent site sometime in the future. This week, however, Glen Abbey is providing a solid – albeit somewhat soft – test for the best players on the PGA Tour as it has for 28 previous editions. How many more times it will do that is yet to be seen.