Henderson's year deserves some attention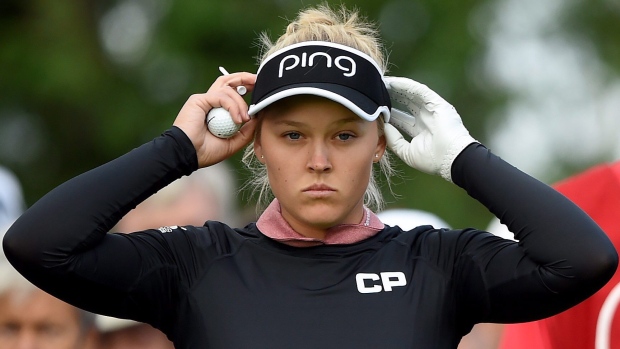 Have Canadian golf fans become used to Brooke Henderson's great play? Is it simply understood that the 20-year-old will get multiple wins and a boatload of top finishes on an annual basis?
It sure seems that way as the Smiths Falls, Ont., sensation tees off in the final LPGA tournament of the year. Henderson has enjoyed a stellar campaign in 2017, highlighted by two victories, eight top-10s and more than $1.4 million in earnings. She's also one of just five golfers who can win the season-ending Race to the CME Globe title with a victory and no help from other players, grabbing a $1 million bonus payout with it.
And yet the attention given to Henderson's stellar year almost seems blasé. Perhaps in just a short time that's just how good she's become, that the expectations are already sky high for this golfer in just her second full campaign as an LPGA member. Certainly her 2016 season, which included a major win, was among the best in Canadian golf history. But 2017 has been right up there too.
"I believe it was a great follow-up to last year," Henderson said at her pre-tournament press conference. "I had the perfect season last year. So many things went perfect for me.
"This year I battled through a little more, a little more up and down but to get two wins out here with the amount of talented players and the consistency that's out there, I'm really proud of that."
Henderson got off to a slower start in 2017, notching just a single top-10 finish in her first nine events. A year earlier, she'd logged eight in the opening nine and ended the season with 15.
But that is about the only marked difference in her results and statistics from a year ago. The rest is eerily similar.
She has the exact same mark in Putts Per Green in Regulation at 1.79. Average driving distance? Last year, 263.36; this year, 263.89. Scoring average? It was 69.86 this season and 70.37 a year ago. The list goes on.
If there is one area where Henderson feels she has improved, it's her mental game.
"Mentally, I think I'm a lot stronger than I was a year ago, which is a big improvement," she stated. "It definitely helped both on and off the course."
Henderson acknowledged that the difference this year was shifting her attention to what's really important and away from things that really didn't matter. Distractions were limited and the focus was narrowed.
That didn't mean she and sister/caddie/traveling companion Brittany didn't have fun. The two traveled the world in chasing the LPGA Tour, playing 29 events in 14 countries. Once again, it was an arduous schedule that saw her play 104 rounds, second most on the LPGA Tour to this point.
"The travel is tough at times but just the adrenaline of new places all the time really keeps us going," she said.
Despite becoming just the third Canadian golfer to win a major last year, Henderson wasn't able to repeat as winner of the Canadian athlete of the year which she won in 2015. That award rightly went to swimmer Penny Oleksiak.
But will she get consideration this time around? Who else in any other sport, male or female, has had as much success on an international level as Henderson? Is her play getting enough credit? The number of Canadians who have enjoyed multiple-win seasons in professional golf is three – Sandra Post, George Knudson and Mike Weir. Only Post was able to do it in consecutive years.
Henderson would love to add one more victory to her resume for the season with a win this week. Perhaps that would garner her just a little more attention.