Three-hole stretch hinders McIlroy's strong start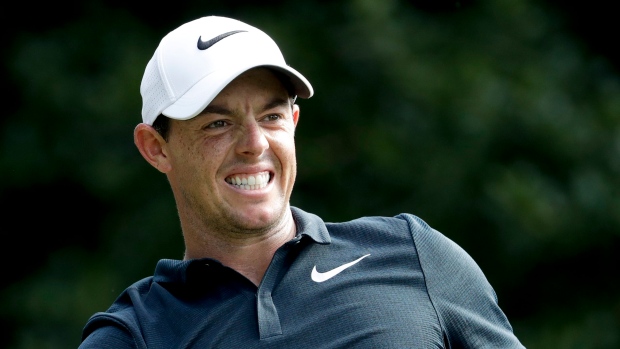 CHARLOTTE, N.C. – Rory McIlroy played 15 solid holes of golf on Thursday. But those other three? Not so much.
McIlroy, the pre-tournament favourite, was cruising along at two-under when he hit the 13th, 14th and 15th, a stretch of scoring holes that much of the field feasted on in the opening round. When he emerged on the other side, he'd gone from two-under to one-over.
"Played that stretch of holes, 13, 14, 15, in 3-over," stated the two-time PGA Championship winner. "So if I just could have had that three-hole stretch back, but I think other than that, I played nicely."
If the last three holes at Quail Hollow are known collectively as the Green Mile, the 13th through the 15th might be the Fast Lane. Especially the latter two. The par 5 15th was the easiest hole on the course in the opening round, playing almost half a shot under its par.
The 14th was the 14th easiest hole. There were just two double-bogeys there on Thursday, one of them from McIlroy, who sent his tee shot into the water. But it was the follow-up, especially his poor chipping, that really got him in trouble.
Despite the big number, he said that his decision to go for the green on the hole that was playing 354 yards was the right one.
"That wasn't the reason I made double," he stated. "Obviously hit it in the water but it was the first chip shot, that was the disappointing thing. I still could have made a par from that and moved on. But no, the play, it was the right play. Especially for that back pin. I just didn't execute it properly."
Despite finishing over par, McIlroy is still confident in his game and happy with his position on the scoreboard. There is a sense that his game, which has been a stutter-step of good play and not-so-good play all year, is finally rounding into shape.
"I'm only five behind," he stated. "Four-under is the best score out there. It's a tough golf course. I shoot something in the 60s tomorrow, move right up there. So yeah, I'm in it."
Injuries have hampered McIlroy for much of the year. A rib ailment has kept him out of many of his usual starts and at times limited his ability to practice. That said, he has top-10 finishes in two of the first three majors with a tie for seventh at the Masters and a tie for fourth at the Open Championship. Last week, at the World Golf Championship event in Akron, Ohio, he was tied for fifth.
Still, he's clearly not happy with his overall performance and seems to be searching for a clear path. Two weeks ago, he parted ways with longtime caddie J.P. Fitzgerald which seemed to be more about change for change's sake than anything else.
An early tee time on Friday should give the Northern Irishman a chance to get closer to the leaders. He'll have some better putting surfaces on the grainy Bermuda grass greens at Quail Hollow which get tougher as the day goes on. And that part of his game needs to be a bit sharper heading to the weekend. He was ranked 117th in the field in Strokes Gained: Putting.
The rest of his arsenal looks to be in good shape, especially his driver which he is bombing off the tees, if not always with the perfect line.
It's been a so-so year for McIlroy by his own tough standards, but a win here at the PGA would go a long way towards changing that. Although he's got some catching up to do, don't be surprised if his name is near the top come Sunday afternoon.