Gossage rants profanely again on MLB game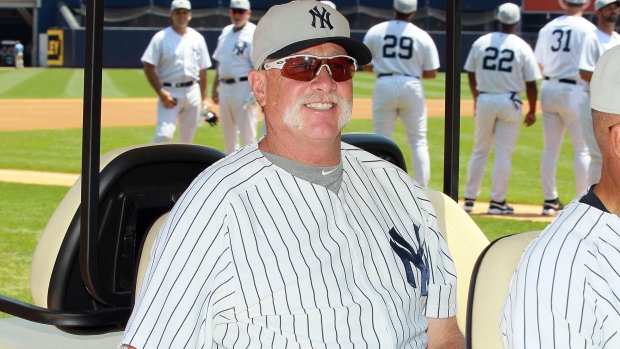 A year after ripping Toronto Blue Jays slugger Jose Bautista and other aspects of the modern game, Baseball Hall of Famer Rich "Goose" Gossage went on another profane rant on the ills of baseball on Friday.
Gossage spoke to NJ.com's Randy Miller in Tampa where he's currently serving as a guest instructor at New York Yankees camp.
The nine-time All-Star was particularly critical of modern pitching and took umbrage with being compared with all-time saves leader, Mariano Rivera.
"These guys that pitch one inning with the three-run lead [and get a] save," Gossage said. "It shouldn't even be a save for one inning and a three-run lead. This is not a knock against Mo. I'm just trying to make a point that I'd like to know how many of Mo's saves are of one inning with a three-run lead. If everybody in that [expletive] bullpen can't save a three-run lead for one inning, they shouldn't even be in the big leagues. I'd like to know what percentage of Mo's 650 saves [652] or whatever he's got are one inning. I'll bet it's over 20 percent. Look it up."
Elected to Cooperstown in 2008, Gossage is widely considered to be the first true closer enshrined in the Hall of Fame. He doesn't see any similarities between himself and today's closers.
"We were workhorses," Gossage said of himself and fellow Hall of Famer, Bruce Sutton. "Starters still prided themselves in finishing what they started and when they got in trouble, that's when we came into the game. I'd like to know how many of my saves ... how many inherited runners I came in with and a guy like Mo, how many inherited runners did he come in with? My point is not to knock what Mo did. I'm saying that he could be utilized more efficiently and more beneficial to your team by bringing him into games earlier."
Gossage believes today's closers are too coddled.
"I wished I had pitched one inning," Gossage said. "I might be still pitching at 65. I already had won the Firemen Award in '75 and then [the Chicago White Sox] came to me in the offseason and said, 'Hey, Goose, would you start? We need starters.' I said, 'Hey, I'll do whatever you guys want me to do.' I had 15 complete games. ... You know what? I don't want this to be a negative thing, but if we don't say anything nothing is ever going to happen. Not that even if I say anything [things will change]."
The 65-year-old native of Colorado Springs, Colorado says that there's a difference between overworking relievers and helping them build arm strength.
"I think I pitched seven days in a row, if I remember correctly," Gossage said. "That was not the norm. There is a fine line in killing a kid [by overworking] and not, where we built up endurance."
Gossage was also harshly critical of the introduction of replay to the game.
"They can take replay and shove it up their ass," Gossage said. "It's taking all the character out of the game. You're not going to have managers (like) Billy Martin or Earl Weaver or Lou Piniella coming out of the [expletive] dugout and bringing people out of their seats. Whether you were the home team or the visitors, [fans] loved it. That's character. That's gone. Why do we have to control everything? Let me tell you something: Those of us who played the game like we played it gave up a long time ago trying to control this game. You let it come to you, and whatever happens then dictates what you do."
For Gossage, part of that is due to the advent of analytics.
"These guys don't know baseball, so they've got one thing to tell them how to do it, and that's numbers," Gossage said. "And they won their rotisserie leagues at [expletive] Harvard and all these [expletive] Ivy League schools, and that's all it is. And they think they're [expletive] general managers! And that's the way the game has gone. They're taking all the character out of the game and creating a bunch of soft guys."
Gossage believes things will only get "worse."
"The horse is out of the barn," Gossage said. "It's gone. And who knows where this game is going to go. They're going to do away with umpires. We're not even going to have umpires on the field. Why would we need umpires? Robots. That's what it's become. Players are becoming robots. They're turning them into it."
A veteran of 22 seasons with the White Sox, Pittsburgh Pirates, Yankees, San Diego Padres, Chicago Cubs, San Francisco Giants, Texas Rangers, Oakland Athletics and Seattle Mariners, Gossage again voiced his displeasure with the Steroid Era.
"They talk about Barry Bonds," Gossage said. "He broke the most sacred record in the record books, the home run record. He broke it. Ken Griffey Jr. was supposed to break that record and he didn't make the end of the race because he broke down. And Bonds had the greatest years of his career the last four or five years. That doesn't happen. That doesn't [expletive] happen. So I think Bud Selig should have reinstated that damn record. Make a [expletive] statement! ... Just be realistic and don't poo-poo it. Don't say that he was a Hall of Famer. He broke the most sacred record in the books because of steroids."