Grabner can be a valuable deadline addition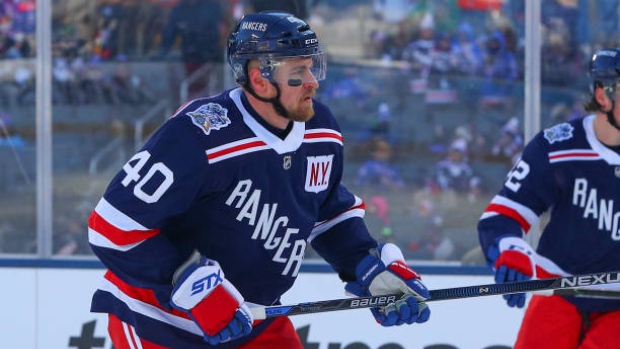 A few years ago, there were legitimate questions about whether or not Michael Grabner was playing himself out of a National Hockey League job.
The low point was surely his 2015-16 campaign with a rebuilding Toronto Maple Leafs team. Grabner's goal-scoring production had fizzled in prior seasons on Long Island, and the Islanders decided to move him up north that summer. Grabner would go on to score just nine goals in an 80-game season, and the Leafs let him walk as an unrestricted free agent.
With little leverage after a series of mediocre seasons, Grabner inked what would end up being one of the best discount contracts the league has seen in some time in the summer of 2016 – a two-year, $1.6 million AAV contract with the New York Rangers. Grabner has scored 52 goals (a pace of 31 goals per 82 games) in the last two seasons on Broadway, and has consistently been a huge bright spot for a Rangers organization that hasn't had many recently.
Now holding an expiring contract on a team that has signalled its intent to rebuild, the Grabner renaissance has entered a new stage – one that's likely going to end with a trade in the next few days. TSN's Trade Bait board has him slotted seventh, which is impressively high for a player whose career was in question just a few years ago.
And yet, I still think it undersells how much value Grabner can bring to a team here. Fit is going to matter, no question, but from a production and cap perspective there's an argument to be made that Grabner is one of the more valuable players in the league. It's hard to find such consistent goal scoring for such a low price in a hard cap league.
His goal scoring over the last two years ranks favourably against pretty much any other forward in the league. But the interesting part about Grabner is he has done it with few opportunities on the power play. In fact, 100 per cent of Grabner's goals over the last two seasons have either come at 5-on-5 or on the penalty kill. As far as I can tell, Grabner hasn't logged a single minute on the man advantage.
Grabner's 52 goals across all situations are 21st best in the NHL, which is already impressive. Back out the power-play minutes that virtually every forward above him gets, though, and Grabner looks even better.
Here are the top 20 goal scorers across the league if you exclude power-play time. Grabner moves all the way up to the second spot, just a few goals back of Toronto's Auston Matthews: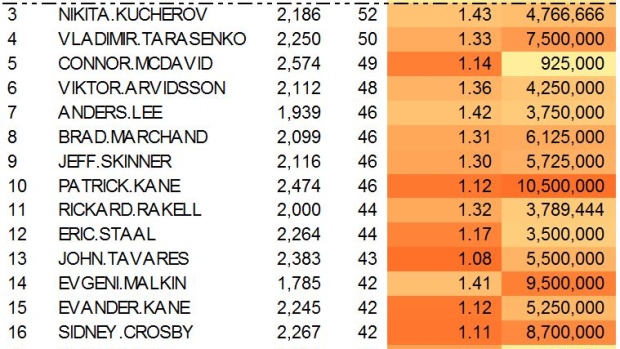 It's important to note that there are probably legitimately hockey reasons for why Grabner doesn't play on the power play. His biggest strength, speed attacking on the outside, can be neutralized by penalty-kill units that sit back and protect the blueline.
But Grabner has been incredibly dangerous everywhere else – more dangerous than names like Nikita Kucherov, Vladimir Tarasenko and Connor McDavid.
Reconciling that against his tiny cap hit (his total hold would be worth about 2 per cent of the cap), and you have an extremely valuable trade chip for the Rangers, and an extremely intriguing asset worth targeting for a team in need of a speed upgrade.
One last note – there are three players on our top-20 list who carry a smaller cap hit than Grabner over the measured period. They are Matthews, McDavid and Patrik Laine – three guys still on their rookie deals. It only further emphasizes the kind of crazy goal-versus-spend value Grabner has created.
The Rangers squeezed just about everything they could have out of Grabner. Now, it's up to one of the big trade deadline buyers to capitalize on the tail end of perhaps the league's best value contract.