Countdown to TradeCentre: Grabner sweepstakes heating up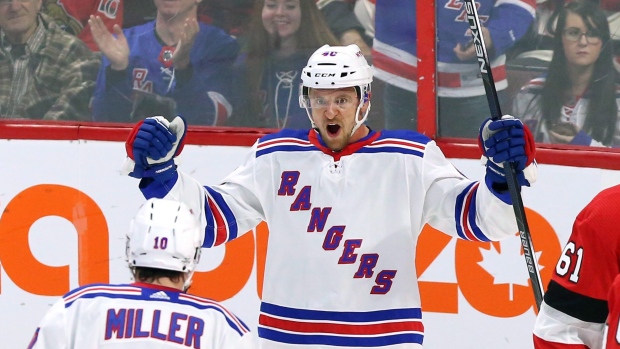 The National Hockey League's Trade Deadline is on Monday, and teams will be making decisions on whether to buy or sell and decide which players can make the biggest difference and hold the greatest value. Check out the latest trade rumours and speculation from around the NHL beat.
---

Is Today the Day?
TSN Hockey Insider Pierre LeBrun reports interest in New York Rangers forward Michael Grabner is heating up.
LeBrun reports it appears teams are "coming harder" at the Rangers today for the 30-year-old winger, who carries just a $1.65 million cap hit for the remainder of the season.
Grabner has 25 goals and six assists in 59 games with the Rangers this season. He scored 27 goals and posted 40 points in 76 games with the club last season.
TSN Hockey Insider Bob McKenzie reported earlier this week the price for Grabner is expected to be a second-round pick and another piece.
Grabner is listed at No. 7 on the TSN Trade Bait board, though he has more goals this season than any other player on the list. However, Grabner leads the NHL with seven empty-net goals this season, three more than any other player.

---

Market Heating Up?
It's been a relatively quiet lead up to the trade deadline to date, with only six trades coming through in the past week and none involving anything higher than a third-round pick.
TSN Hockey Insider Pierre LeBrun, however, says that the trade market is starting to heat up and he expects trade news to break over the next few days.
"Tons of chatter. Really, really, really busy out there right now. Honest to goodness," Pierre LeBrun told TSN Radio 1050 Toronto. "You can always tell from sources on teams because they're asking you as many questions as you're asking them, so the flow of information is all over the place. People are trying to separate fact from fiction.
"As I always say, June is a bit bigger these days because of the cap system. It's easier to make blockbuster deals more in the off-season, but still I think we'll get some decent news here the next few days."
Among the chatter, according to TSN Hockey Insider Bob McKenzie, is the Ottawa Senators engaging in dialogue involving star defenceman Erik Karlsson.
McKenzie wrote Wednesday the chances Karlsson gets traded could be as high as 50-50, focusing on the fact that the Senators are willing to trade the defenceman if they receive an "acceptable" offer by Monday's 3 p.m. ET deadline.
Karlsson shot to the top of the TSN Trade Bait board with McKenzie's report, leaping over pending free agents Rick Nash and Mike Green and teammate Derick Brassard.

---

An Eye On The Future
Columbus Blue Jackets general manager Jarmo Kekalainen believes his team will need 28 to 29 points over their remaining 22 games to make the playoffs this season.
Kekalainen told The Columbus Dispatch on Sunday he will weigh his options ahead of the deadline, but the team's future remains a top priority.
"That's always going to be the decision faced on every potential trade proposal," Kekalainen said. "Teams are calling each other now and everybody's feeling each other out. Thirty-one GMs are doing the same thing. There's going to be some offers that come across the table and we're going to have to make decisions.
"We'd like to help the team, obviously - that's what we do, every day. But not at any cost, where we make sure we put all our marbles in one basket this spring and make the playoffs - that's not the goal for this organization. The goal that we have as a management team is to ... get to a point where our core is strong enough where we can get to playoffs every year, at minimum, and then be in that group that competes for the Stanley Cup.
"I'd rather get to that position a little bit later than get to the playoffs and sacrifice some of that possibility of being in that group for a longer time."
Kekalainen told the Dispatch he believes the Blue Jackets will need 93 or 94 points to make the playoffs, Columbus currently owns the final Eastern conference wild-card spot with 65 points through 60 games.
TSN Hockey Insider Bob McKenzie has said that last season's acquisition of Martin Hanzal by the Minnesota Wild could create a buyer beware situation for teams in the rental market this year. Kekalainen also pointed to the Hanzal deal as a reason he does not want to part with prospects for pending free agents.
"No," Kekalainen said when asked of moving prospects for rentals. "Especially with the guys we have here.
"There could be a prospect that's a reasonable price for somebody that's a rental. A first-round pick was already in a trade last year. We don't want to make a hole - that's two years in a row. To me, that creates a huge hole in the depth chart, if you trade away your first-round pick two years in a row. I don't think that would be wise for the future of the organization.
"That could be the price of a rental, as we've seen it in the past. The (Martin) Hanzal trade to Minnesota was for a first and a second last year."
The Blue Jackets parted with their first and second-round picks last season in the Vegas expansion draft in order to send injured winger David Clarkson to the Golden Knights.
Steve Gorton of The Dispatch adds that the two biggest questions for the Blue Jackets ahead of the deadline is whether the team will add a scoring forward and if the team will move defenceman Jack Johnson, who requested a trade earlier this year.

---

No Discounts
Jim Matheson of The Edmonton Journal reports that the Edmonton Oilers have no plans to sell low on pending free agent Mark Letestu.
According to Matheson, the Pittsburgh Penguins and Columbus Blue Jackets are interested in the 33-year-old centre, while the Toronto Maple Leafs could also pursue him if they can't pry Luke Glendening from the Detroit Red Wings.
Letestu has eight goals and 18 points this season with a minus-16 rating in 58 games. He emerged as a power-play specialist for the Oilers last season, scoring 11 of his 16 goals on the man advantage.
Matheson writes the Oilers are pointing to giving up Brandon Davidson at the deadline last year to get David Desharnais from the Montreal Canadiens as they're reasoning for keeping the price tag on Letestu high. He adds, though, that Letestu is considered a second choice for the Maple Leafs and the Penguins, who are eyeing the return of Matt Cullen from the Minnesota Wild.
Matheson believes Jujhar Khaira could fill Letestu's third-line centre role next season, but notes the team lacks anyone in their prospect pool to fill his roles on special teams.