Grading the Canucks at the 20-game mark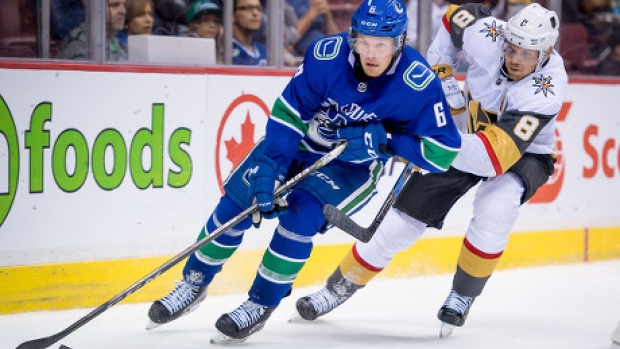 VANCOUVER – Spoiler alert: on the radio Friday afternoon I awarded the Vancouver Canucks a C+ for their first 20 games. If you care to read on, I'll explain how I arrived at that letter grade. While there have been moments of excitement through the first quarter of the season, the bottom line is the Canucks are an average-at-best hockey club being propped up by a strong first 10-game segment to the season.
In their first 10 games, the Canucks posted an impressive 6-3-1 record which included a 4-1 road trip that featured a pair of shutout victories. After Saturday's 4-3 overtime loss to the St. Louis Blues, the Canucks just stumbled across the finish line of a 3-5-2 segment to reach the 20-game mark. Among those were two shutout losses, a no-show in Anaheim, an inexcusable third period against the expansion Vegas Golden Knights, and a blown 3-1 second period lead against the Blues.
It's impossible to overlook the home woes that have spilled over into this season with the Canucks now posting victories in just three of 11 games played to this point at Rogers Arena. Perhaps it's a blessing that they are heading back out on the road for six straight to complete a stretch of the schedule that has them playing 10 of 12 games away from home.
While the Canucks have managed to keep their heads above water with injuries to arguably their three best defensemen, the strain placed on the blueline depth has started to show in recent games. And if any progress the Canucks have made is being compared to where they were at this time last season, then overall there has barely been a bump. Last year's disaster started 8-10-2 (18 points in 20 games). This year's Canucks have 21 in their first 20 outings.
And while changes were made in the off-season to address the Canucks' many needs, after Saturday's loss – the team's fourth in five games – the hockey club remains entrenched in the bottom third of the league in almost every significant team statistic: 25th in goals per game (2.55), 20th in goals against per game (2.80), 22nd on the power play (16.3%), 20th on the penalty kill (79.5%) and 19th in even-strength shot attempts (49.34%).
Under new head coach Travis Green the Canucks employ a more entertaining style of hockey than had been on display the past couple of seasons. But through 20 games, they find themselves fourth in a mediocre Pacific Division and trending in a direction that will make it tough to stay with the pack over the next 20 games.
The biggest difference between last year and this season – and the reason for the letter grade slightly above average – is the emergence of a legitimate scoring line with Brock Boeser, Bo Horvat and Sven Baertschi. Boeser leads the team with 17 points, followed closely by Horvat's 16 and Baertschi's 15. All three are currently on pace for better than 60-point seasons. Last year Horvat led the Canucks with 52 points. So there is reason for fans to be encouraged by Boeser's phenomenal play (he's on a point a game clip after sitting out the first two games of the season and missing another with a foot injury). And Horvat is living up the expectations that come with the kind of contract he signed in the summer (6-years/$33 million dollars). And speaking of money, Baertschi's going to get paid as a restricted free agent if he continues to produce at his current rate.
The other reason for optimism is the performance of goaltending tandem of Jacob Markstrom and Anders Nilsson. Thought to be a massive question mark entering the season with the hope that one of the two Swedes would provide adequate goaltending, both have met the challenge so far. The notion of internal competition seems to have brought out the best in each of them most nights. Sure, there have been a few soft goals along the way. But goaltending really has been the least of the Canucks concerns through the first 20 games of the season.
The biggest issue for the hockey club remains inconsistent production behind the new top line. With the Sedins, Loui Eriksson, Brandon Sutter and free agent addition Sam Gagner collectively cashing $27 million worth of cheques this season, that quintet has combined to score eight goals so far this season. Derek Dorsett, a nice surprise in the early going after off-season neck surgery, has seven goals of his own and was a huge part of the team's early season surge. But like many on the team, he, too, has cooled in the goal-scoring department leaving almost all of the heavy lifting to the Horvat-Boeser-Baertschi trio.
Thomas Vanek, on a one-year, $2 million deal, has proven to be a solid addition to the hockey club and it's impossible to argue with his five goals and 11 points so far. But it's a long season and it'll be interesting to see if the well-traveled veteran who turns 34 early in the new year can stay at anything close to that clip.
The success of this season won't be defined by goals scored or games won, but rather how much progress this organization makes in transitioning beyond the Sedins to that next wave of scoring forwards. There has been plenty to like in that regard so far. But Green was hired to develop the youth on this hockey club and his work with Jake Virtanen remains very much under the microscope. Virtanen had moments in the first 20 games, but they were few and far between. The Canucks need him to take several steps to reach his potential and to do that he has to play. Green needs to live with whatever mistakes may come with additional ice time for Virtanen. And if there is a knock on the new head coach in his first 20 games at this level, it's his allegiance to a checking line that is simply playing too much and taking time away from others who need it and can help.
Overall, there have been some fascinating storylines produced over the first quarter of the Canucks schedule. The next 20 will be interesting too. That stretch starts with a six-game road trip beginning on Tuesday in Philadelphia. All along, many said we'd learn a lot about the Canucks in November. We'll soon find out if this past week was simply a swoon or a sign of things to come.