Granlund scores two; Wild top Habs
Mikael Granlund scored twice — including the eventual winner — as the Minnesota Wild topped the Montreal Canadiens 4-1 on Saturday. Nino Niederreiter opened the scoring for Minnesota (33-27-10), while Erik Haula put the puck into an empty net for some insurance.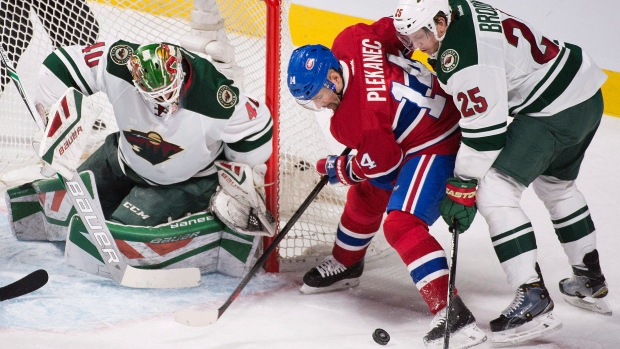 MONTREAL - It's not easy to put a positive spin on a 4-1 loss, but Canadiens coach Michel Therrien said he liked what he saw from his rookie squad Saturday night.
The injury-plagued team was handily defeated by the Minnesota Wild, who improved their chances of clawing their way into the post-season buoyed by a two-goal effort from Mikael Granlund.
The Canadiens called up rookies Charles Hudon and Darren Dietz from the American Hockey League's St. John's IceCaps, and moved defenceman Mikael Barber into the top defensive spot vacated by P.K. Subban, who sat out the game after being stretchered off the ice in Thursday's game against Buffalo with a neck injury.
"The guys competed," Therrien said following the loss. "We had a lot of chances around the net but lacked finishing. Their goaltender was very solid, and I liked the level of competition from our team tonight."
Barberio, who scored the Canadiens' only goal of the night, admitted he had been "anxious and excited" about being paired with Markov but said he felt comfortable in the spot.
He, like Therrien, chalked up his team's loss to a lack execution on the part of his team and a strong effort Minnesota.
"Sometimes passes didn't quite make it on the tape or they were cut out by their sticks, but at the same time you have to give them credit," said Barberio, who has four points in his last four games.
"They're a pretty veteran team who are battling for a playoff spot and I think they were just a little more desperate than us."
The Wild, who came into Saturday's game sitting ninth in the Western Conference, continued to shine on the road. Saturday was the team's sixth win in their last eight road games.
Granlund scored twice in his first-ever multiple-goal game, with his second of the night, on the power play at 11:49 of the second period, standing as the winner.
He fired a rebound past Condon's left pad while Montreal's Michael McCarron served a costly hooking penalty to lift his team to a 3-1 lead.
Minnesota opened the scoring midway through the first period after Niederreiter capitalized on a weak passing attempt by Condon, who found himself far from his net.
The Canadiens evened the score less than two minutes later when Barberio scored his second of the season on a quick rebound from Sven Andrighetto, but the Wild left the period with a 2-1 lead after Granlund's goal.
After Granlund's second-period goal, Haula added an empty-netter in the third.
The Canadiens were coming off a two-game winning streak as well as a run of success at home, having gone 7-1-1 at the Bell Centre since the beginning of February.
Alex Galchenyuk, who was key to Montreal's last two wins, could not extend his scoring streak to four games.
Therrien credited the Wild's defence for holding his top line scoreless.
"They're quality players," he said. "Their defencemen are really good, they skate well and they're good one-on-one."
Goaltender Devan Dubnyk made 30 saves for the Wild.
Condon, who stopped 18-of-21 shots in net for the Canadiens, said his teammates came close to scoring on several occasions.
"A couple of pucks went just in front of the goal line," he said. "It was a game of inches tonight and we just didn't have them."
Saturday marked the first time the Canadiens had to play without Subban since Jan. 30, 2013. He ended an impressive iron man streak of 274 consecutive regular-season games.
Therrien said he had no timeline for Subban's return, listing his condition as day-to-day.