Greinke leads Dodgers into Kansas City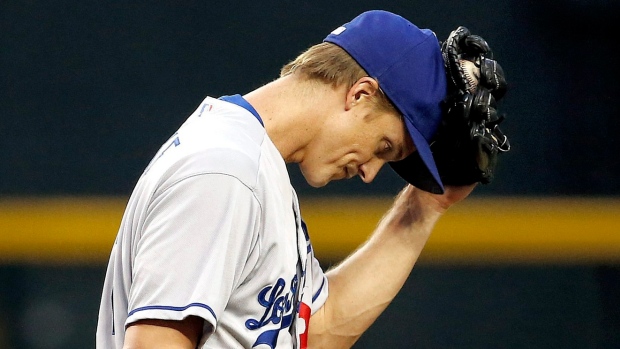 (SportsNetwork.com) - Former American League Cy Young Award winner Zack Greinke returns to Kansas City on Monday night, when the Los Angeles Dodgers visit Kauffman Stadium for the first of three games with the Royals.
Greinke was the AL's best pitcher in 2009 -- his seventh season with the Royals -- before being dealt to Milwaukee before the 2010 schedule began. He returned to Kansas City with the Brewers in 2012, then came back as a member of the Los Angeles Angels of Anaheim after a trade later that season.
He's gotten no-decisions in each of the return trips while allowing two runs in 15 1/3 innings.
The Dodgers haven't played in Kansas City since 2005.
Greinke was winless in three starts before defeating Colorado, 4-2, on Tuesday.
Kansas City has lost four straight since winning 10 in a row.
Los Angeles has won seven interleague road games in a row and 10 of its last 14 overall.
Royals starter Jeremy Guthrie is facing the Dodgers for the first time, crossing the only team in the majors off the list of those he hadn't previously met over 11 seasons.
He's now won two straight starts after defeating Detroit, 2-1, on Wednesday after giving up a single run in 6 2/3 innings. In his last five at home, though, he's 0-4 with a 3.71 ERA.
On Sunday in San Diego, Los Angeles starter Hyun-Jin Ryu and a trio of Dodgers relievers made an early lead stand up in a 2-1 win over the Padres at Petco Park.
Ryu (9-3) tossed five shutout innings before allowing a run in the sixth. The Padres had just one baserunner in the final three innings against the Los Angeles bullpen. Kenley Jansen threw 13 pitches while striking out the side in the ninth for his 22nd save of the season.
The Dodgers scored a run in each of the first two innings against San Diego starter Eric Stults (2-10).
In Kansas City, Mike Zunino accounted for both Seattle runs as the Mariners completed a three-game sweep over the Royals with a 2-1 win.
Justin Maxwell drove in Kansas City's lone run and Salvador Perez had two hits for the Royals. Yordano Ventura (5-6), who entered the game with three straight wins, was tagged with the loss after giving up two runs on six hits in seven frames.