Grey Cup fans will have entertainment options
Thousands of football fans from across Canada and the U.S. will converge on Toronto for the 2016 Grey Cup. Organizers promise there will be many entertainment options.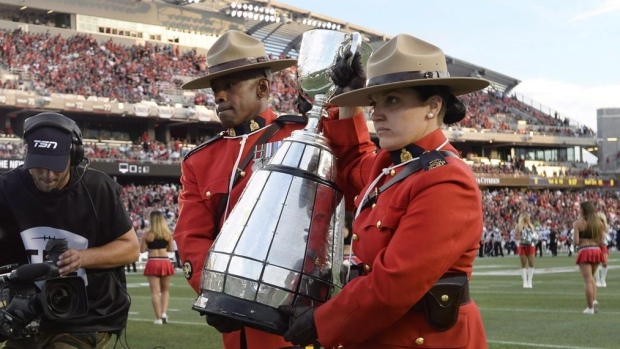 TORONTO — Thousands of football fans from across Canada and the U.S. will converge on Toronto for the 2016 Grey Cup, and it's Sara Moore's job to ensure they're entertained.
Moore, the chief operating officer of the 104th Grey Cup Festival, unveiled many of the events that will run leading up to the Grey Cup game Nov. 27 at BMO Field.
"If you're a diehard football fan you're going to go to the alumni luncheon, you're going to attend the autograph sessions," Moore said following a news conference at Roundhouse Park, located across from Ripley's Aquarium of Canada. "You're going to be able to go to all of those events that feed the inner football fan.
"Your family that wants something to do with your kids on a Saturday, you're going to come down here and be able to pass and kick and punt and do all those things and really get a love for football. We're going to make sure people have a ton of things to do once we get them here."
Eleanor McMahon, Ontario's Minister of Tourism, Culture and Sport, said having the game in Toronto is important for both the city and province. This will mark the third time since '07 that Toronto has staged the CFL championship, including the historic 100th Grey Cup in 2012.
"It's going to be a big score for the city's economy and jobs," she said. "We're proud to host Canada's 104th football championship here in Ontario, and we invite everyone to come and join the party."
Moore said the economic benefits of hosting the game are big.
"It's in excess of $100 million," she said. "It's a huge event.
"Thousands of fans come from across Canada to be part of it."
As do some from the U.S. Each year a small group of diehard Baltimore fans makes the annual trek north to enjoy the Grey Cup since the Stallions — who in '95 became the first and only American-based franchise to win a CFL title — relocated to Montreal in '96.
Something new during Grey Cup week will be the Empowering Women and Community Through Sport Summit luncheon. It will be held Nov. 25 at the Metro Toronto Convention Centre and feature women who have leadership positions within sport.
The Festival begins Nov. 24 with the official kickoff party slated for the following night at Ripley's. There will be special Grey Cup and CFL-themed activities in and outside the tanks.
Many Grey Cup events will be held at the Metro Toronto Convention Centre, Roundhouse Park, Ripley's Aquarium across Exhibition Place on game day. A street festival along Bremner Blvd. and Roundhouse Park will offer games and activities for children with food available at both an outdoor lodge and food truck alley.
A concert stage will be located at the street festival for free concerts featuring Canadian musicians.
The pre-game tailgate party the Toronto Argonauts initiated this season will be held on game day in the Ontario Place parking lot. Again, $4 beer will be available for sale.
Moore said having the Grey Cup in Toronto again provides the CFL with an opportunity to attract newer, younger fans.
"We're really creating a lot of activities for families," she said. "We're really going to increase opportunities for kids to come down and play and be part of it with their parents.
"We're also going to have great music on the stage and create an event that goes beyond football for those who really want to be part of something. They're going to come down for the music and we're going to get them with the football when they're here."
Unlike the '07 and '12 games, which were both played indoors at Rogers Centre, this year's contest will be outdoors. But Moore said the recent renovations done to BMO Field — including the construction of canopies over both stands — will provide fans protection from the elements.
"So should we get precipitation of any kind that day, the players will feel it (but) the fans won't," she said. "It's the best of both worlds being outdoors at beautiful BMO Field.
"I love the outdoor Grey Cup, I've been to quite a few now and there's something more exciting about it. It's dark, the lights are on, you can see the breath coming out of the players when they're on the field. It's just exciting."