Gudas turns down in-person hearing for slash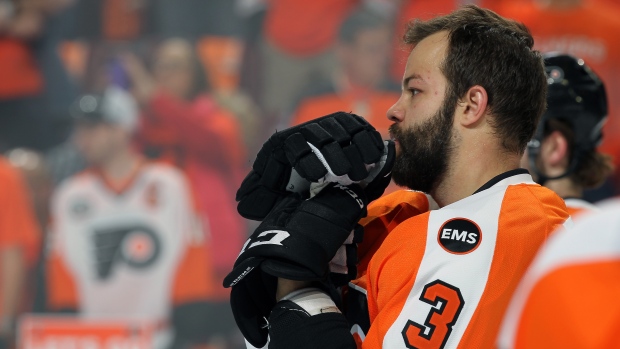 Philadelphia Flyers defenceman Radko Gudas has waived his right to an in-person hearing to discuss his slash to the back of the head of Winnipeg Jets forward Mathieu Perreault in Thursday night's game. Subsequently, a phone hearing will be conducted on Sunday.
The offer from the league's Department of Player Safety means Gudas can now be suspended five or more games.
Gudas and Perreault were among six players battling for the puck along the boards behind the Flyers' net when Perreault knocked Gudas' helmet off, which led Gudas to respond by tripping the Jets forward and slashing him over the head as he returned his stick to the ice. Gudas received a five-minute major and a game misconduct for the incident.
The two were initially given off-setting minors on the play before the referees saw the replay and ejected Gudas from the game. Perreault was uninjured on the play and scored the Jets' first goal of the game in the second period.
Gudas will be considered a repeat offender by the league. He picked up a six-game suspension last October for boarding and has been ejected for multiple games since for his borderline play. He was first suspended in December 2015 for a hit to the head of Mika Zibanejad.
After the game, Perreault said Gudas did apologize, but he does not believe the contact was accidental.
"He got the meaty part of the neck," said Perreault, who returned Thursday after missing 12 games with a lower-body injury. "It could have been worse, I guess.
"He apologized in the penalty box, but when you look at the replay, it looks like he did it on purpose. It wasn't an accident. He's been known for doing stuff like that, so I certainly don't appreciate it. I'm sure the league will take care of it."
TSN Director of Scouting Craig Button said Thursday he believes Gudas deserves a 10-game suspension for the slash.