Habs draft D Juulsen with 26th selection
The Montreal Canadiens added to their rearguard on Friday night. The team selected defenceman Noah Juulsen from the Everett Silvertips of the Western Hockey League with the 26th-overall pick in the 2015 NHL Entry Draft. Juulsen, a native of Surrey, BC, was the Silvertips' highest-scoring defenceman last season with nine goals and 43 assists in 68 games.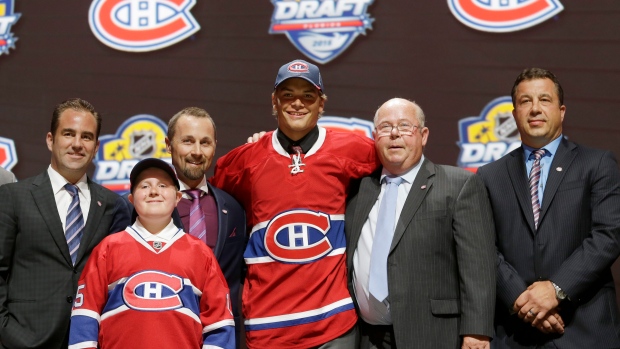 SUNRISE, Fla. - The Montreal Canadiens went with a defenceman with their first-round pick at the NHL draft and it was just what they were looking for.
Noah Juulsen, a six-foot-two blue liner from the Western Hockey League's Everett Silvertips, was selected 26th overall by Montreal on Friday night.
"He was the player that we wanted. We had no hesitation," Canadiens general manager Marc Bergevin said in French. "Our scouts that saw him the most told me that I'll sleep like a baby knowing that we drafted him. Members from other organizations came to tell me that we made a good pick."
Juulsen had nine goals and 43 assists in 68 games for the Silvertips. The No. 22 ranked North American skater also had an excellent plus-22 rating.
"I'm surprised that I was picked in the first round but it's an amazing feeling," Juulsen said.
The Surrey, B.C., native isn't the first Silvertip to be drafted by the Canadiens. Last year, Montreal used its 26th pick on Juulsen's teammate Nikita Scherbak, who was a member of the Saskatoon Blades at the time.
"I think it was a factor that the Habs came to watch a lot of Nikita Scherbak's games. They could look a lot at me," Juulsen said. "The work that I put in has set me for this I think."
At 174 pounds, Juulsen models his game after Kevin Bieksa of the Vancouver Canucks — his favourite team before Friday.
Juulsen is good offensively but is particularly proud of the quality of his defensive game.
Juulsen says that he was aware of the Canadiens' interest leading up to the draft.
"I had a meeting with them this morning and I had a lot of positive feedback out of it," Juulsen said. "I felt pretty good coming out for tonight."
Bergevin said the Habs got some help from several teams before being able to draft Juulsen. He also says that directors of player development, Martin Lapointe and Rob Ramage, included their voice along with the amateur scouts. Bergevin noted that Lapointe particularly appreciated Juulsen's style of play.
Bergevin said that he had some serious trade discussions but nothing materialized.
Montreal has four selections on Saturday — the 87th, 131st, 177th and 207th picks.