Habs' Price out indefinitely with concussion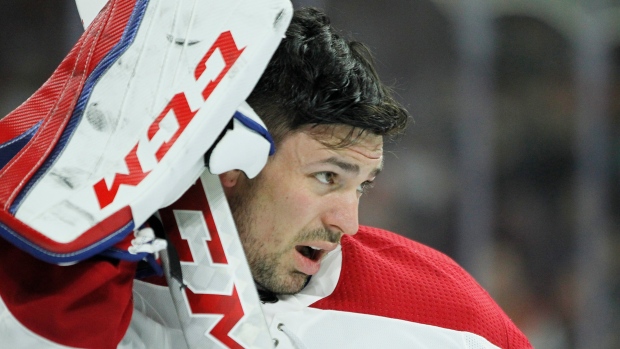 MONTREAL — The Montreal Canadiens announced on Thursday that goaltender Carey Price will be sidelined indefinitely with a concussion. Price took a shot to the mask in Tuesday's loss to the Philadelphia Flyers.
"It seems that everything that could have gone wrong this year, has," said coach Claude Julien before Montreal's game against the New York Rangers on Thursday. "From the start of the season, and Price getting injured, and now Shea (Weber)."
Price is out indefinitely after being struck by a shot from Shayne Gostisbehere in the second period of a 3-2 overtime defeat in Philadelphia on Tuesday night.
Price appeared shaken up by the shot but stayed in the game. Julien said the 30-year-old began showing signs of concussion on Wednesday.
"The next morning the trainers came to see me and told me that he had some symptoms and that we had to have a closer look at him," said Julien. "He'll continue to get evaluated on a daily basis. You never know with concussions. It could be short term. It could be long term. So we'll see."
Price has a 15-22-6 record this season with a 2.98 goals-against-average and an uncharacteristically low .904 save percentage.
Antti Niemi will get the start in net against the Rangers on Thursday. Backup Charlie Lindgren was recalled from the AHL on an emergency basis.
"If Carey is out for a while, you'll probably see both goalies play," said Julien.
The Habs are 13 points out of a playoff spot with the fourth-worst record in the league (22-29-8).