Hadwin frustrated by Shinnecock's greens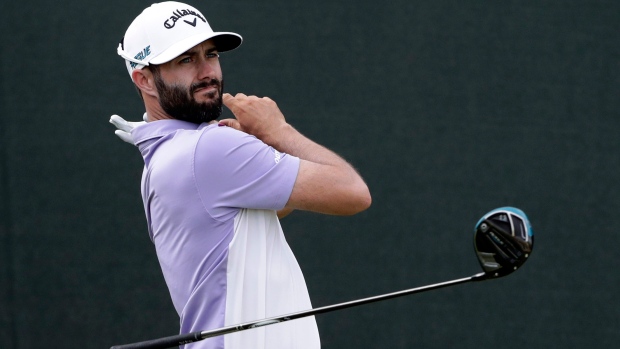 TUCKAHOE, N.J. – It took Wayne Gretzky to put Adam Hadwin's round of 83 into perspective on Thursday at the U.S. Open.
While speaking to the Canadian golfer after his day, Gretzky asked how he did. When informed that he shot the same score as Garrett Rank, the NHL referee, the Great One quipped: "Well at least you didn't lose to him."
Small consolation for Hadwin, who said later that it felt as if he shot 99.
The first round of the U.S. Open was certainly not a memorable one for Hadwin, who ended up beating just four players in the field of 156. After shooting four over on his opening nine (the back side), a somewhat respectable score considering the conditions, he lost control on the second nine with two doubles and a triple.
"I can tell you I was trying on every single shot," Hadwin lamented. "It was a comedy of errors and I was just playing bad."
The main cause of his struggles was a club that is usually his chief asset – the putter. However on the bumpy poa annua grass, he looked just average with the flatstick.
The Abbotsford, B.C., product needed 36 putts on the day and had six three-putts in an eight-hole stretch. He was ranked 155th out of 156 players in Strokes Gained: Putting.
"These greens are really tough. The poa is awful and it makes every putt a tough one. It's like Pebble Beach but faster."
While fully admitting his putter wasn't the best club in his bag, Hadwin said the surfaces turned the greens into lottery tickets, adding an element of luck to many putts.
Since he arrived on Monday, the 30-year-old he hasn't found any warm and fuzzy feelings for Shinnecock; it's just a course that doesn't fit his eye.
"I have a tough time with the lines off the tees," he said. "I'm a guy who likes more tree-lined courses where you can pick your targets. And the greens, of course."
He rattled off names such as Shaughnessy in Vancouver and Firestone in Akron, Ohio, as examples of layouts he prefers.
But, he added, not liking the course didn't lead to any lack of emotion for playing in the U.S. Open.
"Just playing bad killed my emotion," he said with a laugh.
Hadwin will now need a minor miracle on Friday to continue his streak of cuts made, which sits at 19 and is currently the longest on the PGA Tour.