Hamelin says world short-track championships won't be his last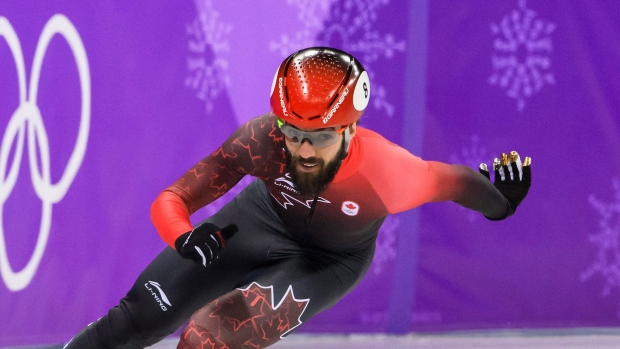 MONTREAL — The world short-track speed skating championships will be the last hurrah for the old guard of the Canadian team, with one exception — 33-year-old Charles Hamelin.
Hamelin, the star of Canada's team for more than a decade with five medals from four Winter Olympics, made the surprise announcement Wednesday that he has decided to put off retirement for at least one more year.
The Ste-Julie, Que., skater said he has never felt stronger on skates going into the world championships this weekend on the team's home ice at the Maurice Richard Arena and sees no reason to stop.
"I don't want to have any regrets in my mind or my heart about the sport," said Hamelin. "If I was to quit after these world championships I would have had regrets."
He admits it made a difference that he and women's team star Marianne St-Gelais recently broke up after 10 years as a couple, a match made famous by their long track-side kiss after Hamelin won gold at the 2010 Games in Vancouver.
"It would be really difficult for me to say no but it was already in my mind before everything. . ." said Hamelin, not wanting to go into details of the split. "For me, it's just straightforward in my mind.
"I still have the fire of short-track speedskating in my mind and in my heart so I just want to continue what I love the most and see what I can do."
He said he will skate one more season and then decide whether to continue.
St-Gelais and Hamelin's brother, Francois, are to retire after the worlds, while Valerie Maltais of Saguenay, Que., is moving into long-track skating.
The competition comes only three weeks after the 2018 Winter Games in Pyeongchang, South Korea, where Canada won one gold, a silver and three bronze medals in short track.
Pyeongchang saw a changeover of generations for Canada, with Hamelin and St-Gelais shut out of the medals in the individual events, while 21-year-old Samuel Girard picked up a gold and a bronze medal and 23-year-old Kim Boutin won a silver and two bronzes. Hamelin settled for bronze in the men's relay.
While Girard is now top dog on the men's team, he's delighted that Hamelin will be back.
"He's a friend of mine and I really love to train with him," said Girard. "We always want to be the best in training so we challenge each other.
"Pyeongchang confirmed a lot of things, but it's short-track. Each year can be pretty up and down. Injuries and all that stuff can change a lot. But yeah, I want to stay on top and having Charles with me will help me a lot."
St-Gelais, 28, has been at her best in recent seasons, finishing second overall at the last two world championships, but said she is not up for another four-year Olympic cycle.
"Those girls are so strong, they're coming after me and I don't feel I'll have the same energy I had, the same passion," said St-Gelais, a double silver medallist at the Vancouver Olympics.
"I feel great. For sure it's a bit emotional doing my last laps here in Montreal, in front of my crowd, my family. I know it'll be emotional on Sunday night for sure, saying goodbye to my sport and everything, but I'm happy to do it here. I feel that no matter what, people are going to be there for me."
St-Gelais, a native of St-Felicien, Que., hopes to go into the media as her next career, but promised to stay in touch with Boutin to help the Sherbrooke, Que., skater in her new role as leader of the women's squad.
Boutin,who was named Canada's closing ceremony flag-bearer in Pyeongchang, will be closely watched at the worlds, where sellout crowds of 4,500 are expected for the three-day event.
"Maybe it's nice that people think that about me, but I don't think about the pressure," said Boutin. "Short track is a sport where we never really know what's going to happen.
"I'm going to try to do my best and be myself all the way."
Last year's overall world champion, Elise Christie of Britain, is to miss the world's with an injury, but all the women medallists from Pyeongchang will be there, including triple medallist Ariana Fontana of Italy and the strong South Korean team led by Choi Min-jeong.
Boutin, St-Gelais and Jamie MacDonald of Fort St. James, B.C., on the women's side and Hamelin, Girard and Pascal Dion of Montreal for the men will race the individual distance events for Canada.
Seo Yi Ra of South Korea will try to retain his men's overall title.