Harvard star Kerfoot to sign with Avalanche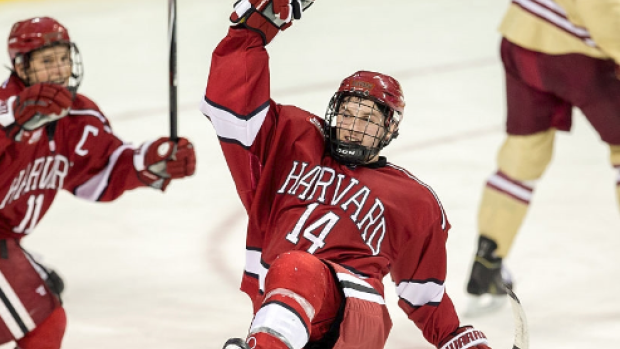 Harvard standout forward Alex Kerfoot will be joining the Colorado Avalanche, according to TSN Hockey Insider Darren Dreger.
The 23-year-old will sign an entry-level contract with the club after becoming a free agent last week when his rights with the New Jersey Devils expired.
Dreger tweeted on Tuesday that Kerfoot drew interest from as many as 10 NHL teams, including the Canucks, Rangers, Islanders, Sharks and Avalanche. He reports Avalanche general manager Joe Sakic sold Kerfoot on his fit with the Avalanche. Dreger adds Kerfoot could own a large role with the club in the near future with Colorado expected to be active in the trade market.
Kerfoot - a native of West Vancouver - scored 16 goals and posted 45 points in 36 games with Harvard last season. He scored eight goals in both his freshman and sophomore seasons and posted four as a junior in 2015-16. He also tallied a career-high 30 assists in his junior year.
Kerfoot is the second college free agent the Avalanche have signed since losing standout defenceman Will Butcher when the window opened. The Avalanche signed former Toronto Maple Leafs draft pick Dominic Toninato last week, while Butcher is still deciding on who to sign with.