Avs land ex-Leafs prospect Toninato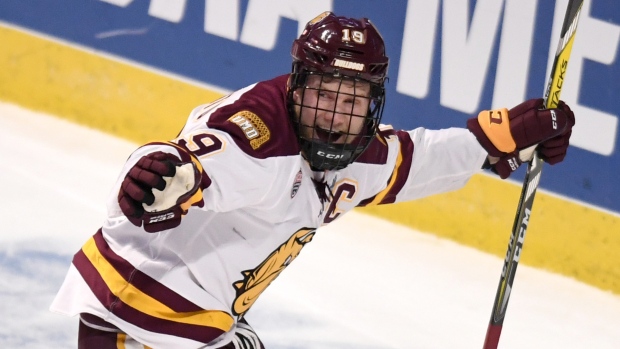 The Colorado Avalanche signed former Toronto Maple Leafs fifth-round pick Dominic Toninato to an entry-level contract on Wednesday.
Toninato became a free agent earlier Wednesday, five years after the Maple Leafs selected him 126th overall in 2012.
According to the Duluth News Tribune, the Maple Leafs offered Toninato an entry-level contract before the 2016-17 season, but the forward opted to return to school. This summer, the team could only offer him an AHL contract, which he declined.
The 23-year-old scored 16 goals and added 13 assists in 42 games with the University of Minnesota-Duluth last season.
Toninato, who served as captain of the Bulldogs last season, stands at 6-foot-2 and 200 lbs.
"He is a big, responsible two-way center and represents a solid prospect for the future of our team," Avalanche general manager Joe Sakic said.
The Denver Post reports the deal is worth $800,000 at the NHL level and $70,000 at the AHL level.